Hygge Flooring Options for a Cozy Space
When it comes to creating the ultimate cozy space, hygge is a perfect choice. This unique design style is derived from Norway, and it means "well-being." The hygge style focuses on the Scandinavian way of life, which presents clean lines, simple living, and a relaxed atmosphere. When it comes to installing hygge flooring in your home, how do you know what to do? This guide will explain more about the concept of hygge and how you can incorporate it into your home for a cozy space you'll love.
What is Hygge?
The word hygge is pronounced "hue-gah" and is a synonym in Danish for happiness. The design concept is reflective of a happy way of life, especially during the cold winter months when things seem a little bit darker outside. The philosophy of hygge is to make your own happiness through the use of interior design so you can live in the moment. A focus on comfort and harmony is the key to the hygge style. The basic principle of hygge is to infuse simplicity into the home and into your day by creating a space that you can feel good in. Instead of bold colors, the focus is more on the ambiance and the cozy atmosphere as a whole. You can create a hygge space in the bedroom, living room, or even in a cozy smaller space in the home.
Hygge Flooring Ideas
Once you have a concept in mind, it's time to consider installing your new hygge flooring. Remember that the idea of hygge is to focus on simplicity and happiness, so do your best to choose flooring materials presented in neutral tones. Colors like light brown, walnut, and oak in a gorgeous whitewash finish are all wonderful options. Stay away from flooring in rich, dark colors or materials that are too bold like colorful patterned tile. Material such as real wood or anything wood-like is the ideal choice when choosing hygge flooring. Engineered hardwood is an economical option that features the look of real wood without the high price tag. Try something with a low gloss and a scraped surface to give the room an authentic aesthetic.
You can install your new hygge flooring in any space where you feel inspired. The room doesn't have to be huge to evoke that cozy feeling. In fact, hygge flooring might look and feel best in smaller spaces. Consider using this design in a small guest bedroom, a home office, or any other room where you want to experience a relaxing escape. The idea is to make the floor as simple and inviting as possible while giving you a warm, welcoming feel. Install flooring that shows off the natural grain of the wood to create an inviting aura. This flooring can be wood-look, real hardwood, or engineered wood. You can even try wood-look tiles if you prefer but remember to keep the colorways neutral and warm in tone.
Accenting Your Hygge Flooring
Of course, you'll want to include a few simple room accessories to make your space feel even cozier. Toss a thick, soft sheepskin rug over the flooring to give it a soft layer. Wool rugs are another wonderful option that evokes the classic hygge style. Natural materials are best if your aim is to be authentically hygge. Stay away from synthetic area rugs in bright colors whenever possible. Add a simple table lamp to the room to give the space a warm glow when you need some extra light. If the room has a fireplace, enhance it by installing wood-look tiles around the hearth and surround. These tiles will warm up the room and add an even more inviting element to the entire area.
A thick, warm area rug really makes hygge flooring a lot more inviting and cozy. Use a sturdy brown wood accent table so you have a place to read and relax while you spend time in your new happy place. You can dress the space up any way you want as long as it remains fairly neutral and simple. The concept of the hygge ideal is to have a separate area where you can feel at ease. Too much clutter or too many wall accents will make the room feel distracting. Keep things simple, use neutral colors, and your room will exemplify the epitome of hygge design.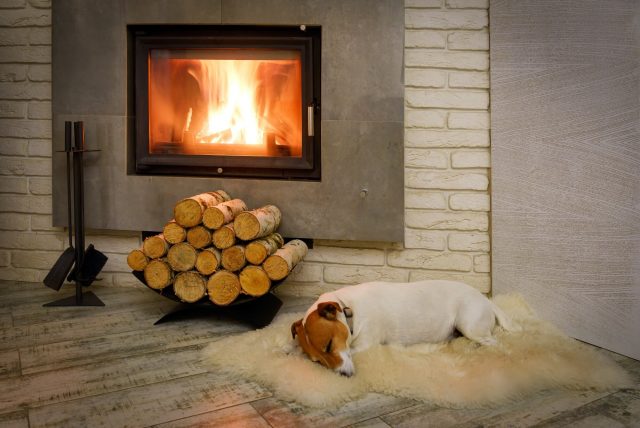 Other Helpful Hygge Tips
As you think about how you want to plan your new hygge space, remember to keep the flooring as simple as possible. This design style is all about clean lines, so you don't want to opt for complicated flooring patterns. Designs like chevron or herringbone should be avoided. Instead, choose simple clean lines and use plank-style wood or engineered wood floors. The combination of neutral colors and clean, sleek lines will give the space the iconic hygge look you're aiming for. To maintain the hygge style throughout the room, here are some other simple but helpful tips:
Incorporate the use of candles in the room to give it a cozy and welcoming atmosphere. Scented candles can be used, but make sure they're not too overpowering.
Use blankets in the room to make it warmer. If you use hygge flooring and design in the bedroom, layer your bed with extra throw blankets and comfy pillows. For living spaces, toss some throw blankets on a loveseat or sofa to add layers of coziness and softness.
Bring some potted plants into the room to add life to your space. Anything with luscious green leaves looks amazing in a white ceramic pot or one made of gray concrete. Remember to keep the pots and plants simple but use them anywhere you like for a fresh touch and a bit of organic inspiration.
Books are a fantastic choice for a hygge-inspired room. Create a cozy book nook or bring in a wood bookshelf where you can display and organize all your favorite reading material. This will inspire you to use the space as a relaxing place to unwind and read a great book at the end of a long, hard day.
---
---