Retro Pattern Vinyl Flooring Can Create a Stunning Blast From the Past Look
Many people underestimate the visual impact that a floor can have in a room, especially since retro-patterned floors are making a comeback. From art-deco to Mediterranean motifs, you can elevate numerous design aesthetics with retro floors.
However, retro floors can be expensive, particularly when using traditional materials, including hand-painted porcelain tile and carefully crafted mosaics. The retro-look doesn't usually come without a hefty price tag.
This is where vinyl flooring comes into play. Vinyl flooring is cost-effective, durable, and stylish, too. There are numerous patterns to choose from, so you can get the retro look you want from retro pattern vinyl flooring.
What is the Retro Look? An Introduction to Retro Pattern Vinyl Flooring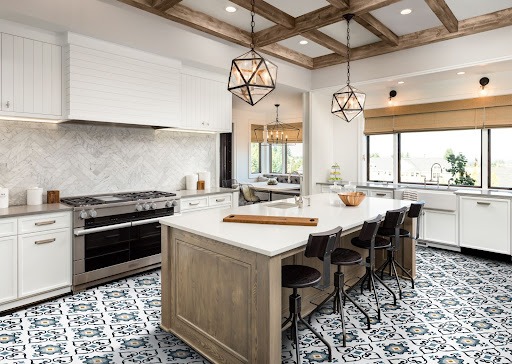 A retro look is any style that is inspired by the past. Often, these looks are considered classics because of their ability to stand the test of time. Generally, retro-themed spaces are based on a particular historical era, like the 1950s or 1970s, etc.
When it comes to modern home design, you'll rarely find a completely retro room. Instead, designers and homeowners pop vintage elements into modern aesthetics to marry classic motifs with modern sensibilities.
The floors are an excellent way to add a splash of vintage charm to a room for some retro inspiration. Traditionally, when people wanted to add retro floors to their space, they'd use the actual materials.
For instance, if homeowners wanted a historical pine floor look, they used actual pine floors to achieve it. That's one way to do it, but it's costly and not necessarily the best material. Instead, they could use vinyl or engineered hardwood to get the same look without the cost or maintenance headaches.
This is where vinyl flooring shines. Vinyl flooring has been around a long time. It first became popular in the 1960s and surged to even more popularity in the 1970s when vinyl plank debuted. Today, luxury vinyl has high durability and photorealistic graphic designs, making it possible to get the retro look without the hefty price tag.
The Many Modern Retro Look Options
There are several popular retro styles. Here are four of the most popular:
Black and White Checkered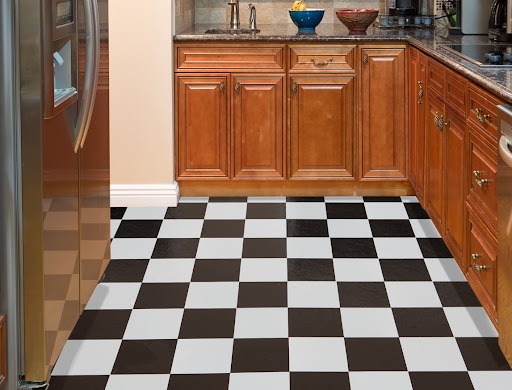 From Masonic lodges to Egyptian temples, black and white checkered floors date back to the Renaissance era. Black and white often represents the duality of human nature and is a constant reminder of good versus evil. However, when people think of the black and white checkered look, it's usually an homage to the 1950s diner. For that reason, this design is trendy in kitchens.
Bold Colors, Patterns, and Shapes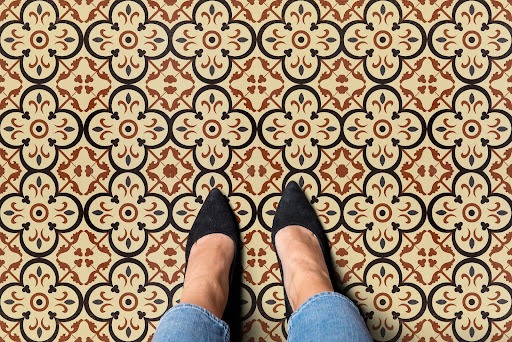 Bold colors, patterns, and shapes like Vesdura Brown and Retro Dark Blue Vinyl Tiles, are often a play on traditional Spanish tile designs. Historically, these tiles were hand-painted to create awe-inspiring floors. Today, you can get this same retro look in vinyl tiles.
Geometric Patterns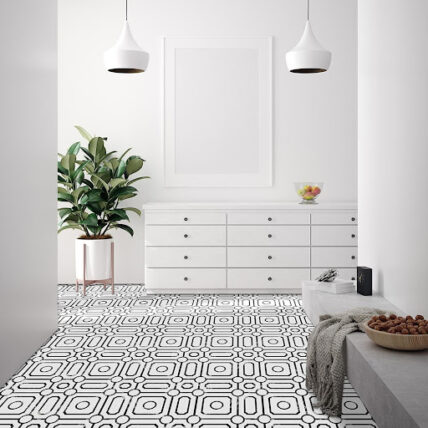 Geometric designs, like Vesdura Carrera Vinyl Tiles, are a nod to the art deco design movement. The art deco movement happened during the 1920s and 1930s, and was inspired by industrialism and technology, but it actually wasn't recognized as an official movement until the 1960s.
Chevron Shapes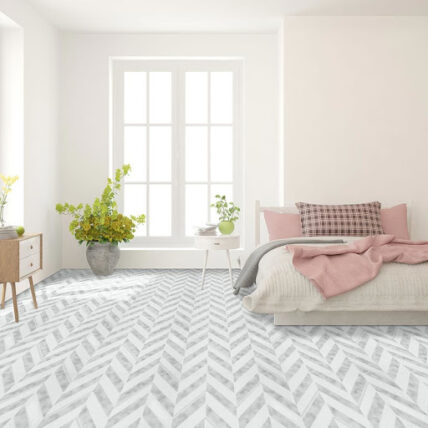 Chevron patterns, like Vesdura Chevron Vinyl Tiles, are a retro-themed floor design that ties back to 16th century Europe. It's also referential to the herringbone pattern that became popular during the Roman empire. Chevron floors are a terrific way to include traditional and ornate home design aesthetics or elevate casual motifs.
Vinyl Flooring: The Chameleon of Floors
When it comes to vinyl flooring, you can't go wrong. Modern luxury vinyl tiles and planks provide durable, scratch-resistant, and water-resistant floors in an array of colors and styles.
In fact, vinyl floors don't just emulate retro tiles. Vinyl can also imitate other popular flooring types, like hardwood and natural stone.
In addition, vinyl flooring is a more cost-effective and lower-maintenance flooring option to help homeowners get the floors they want, no matter their budget or maintenance goals.
Where to Find the Best Retro Pattern Vinyl Flooring?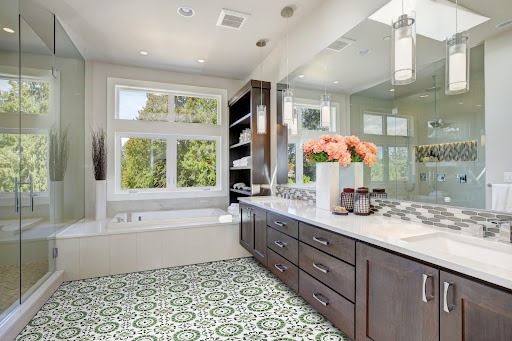 If you're in the market for retro pattern vinyl flooring, look no further than BuildDirect. We have lots of patterns and styles to match your retro design, and we also have vinyl that looks like hardwood, natural stone, and more. No matter your flooring goals, we have a vinyl flooring design to fit your needs.
BuildDirect partners with the best suppliers and manufacturers to bring you the highest-quality flooring materials at a price point that makes sense for your budget. If you want that retro look, start in our vinyl tile section.
Plus, if you become a PRO Rewards member, you get access to tons of bonuses, like exclusive discounts, on-site delivery, unlimited samples, and more. Become a Pro for free today.
---
---