What Are the Best Carpet Tiles for a Basement?
Are you looking for the perfect flooring option for your basement? Basement floors require a bit more consideration than other areas of the home. There are several different flooring options to consider, but carpet tiles are one of the best.
Let's look at different basement flooring types and why carpet tiles should be at the top of your list. Plus, we'll chat about the best carpet tiles for basements and more.
Things to Keep in Mind with Basement Flooring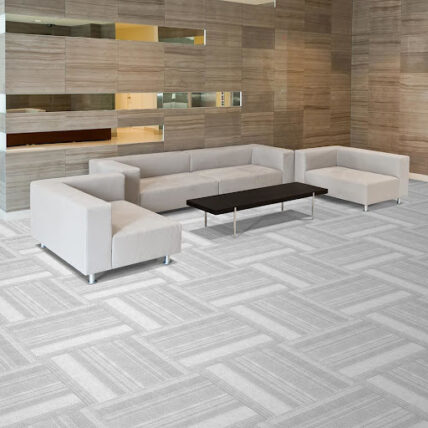 You have to be thoughtful when choosing a flooring material for a basement because basements are prone to moisture and humidity. Since they're built below grade, water and moisture from the earth can easily seep through the walls and floors and build up over time.
Additionally, if there's any flooding in the home, the basement is unlikely to be unscathed since it's the home's lowest level. If you plan to keep your washer and dryer in the basement, there's even more potential for flooding.
When choosing a basement flooring type, you have to consider moisture resistance and overall durability. You don't want to use wood, because it easily rots with moisture exposure.
Instead, you'll want to choose an option that's moisture and stain-resistant as well as being easy and cost-effective to repair.
4 Options for Basement Flooring Options
There are several basement flooring options available on the market. Here are four of our top picks.
1. Luxury Vinyl Planks
Luxury vinyl planks are water-resistant and, in most cases, waterproof. They come in many styles and can mimic the look of natural hardwood without all of the water concerns.
2. Tiles
Porcelain and ceramic are both great for water resistance. They come in a variety of different styles, too. They're a bit hard to install and can be costly, though. They also don't absorb sound or provide any warmth. However, they're a durable and stylish option to stand up to the water and moisture in a basement.
3. Laminate
Laminate is budget-friendly and easy to install. When paired with a moisture-resistant underlayment, it's an excellent choice for basement flooring.
4. Carpet Tiles
Carpet tiles are one of the best choices for basement floors. They're cost-effective and simple to install. They're also stylish, comfortable, and warm. High-quality options also offer moisture and stain resistance, making them a terrific choice for basements.
Benefits of Carpet Tiles for the Basement Floor
Carpet tiles are one of our top choices because they provide so many unique benefits. Here are some of them:
Easy Installation
Carpet tiles are incredibly straightforward to install. Most of them are peel and stick, making it easy to DIY your initial installation and/or replace tiles down the road.
Cost-Effective
Carpet tiles are also budget-friendly. They come in many options, so you're sure to find one that fits your budget. Cost-effectiveness is essential when shopping for basement flooring because of the high likelihood of replacement and repairs. Moisture and humidity are inevitable in a basement, so you want to select a flooring type that you can easily afford to repair and replace when needed.
Durability
Whether you're converting your basement to a living space, play area, workout room, or storage area – the floor will have to withstand a bit of wear and tear. Carpet tiles are durable and can easily stand up to daily use. Many are also stain-resistant, making them a terrific option for basements.
Easy Maintenance and Repairs
One of the most considerable advantages of using carpet tiles is how straightforward it is to maintain and repair them. Daily maintenance requires simple spot cleaning and vacuuming, much like regular carpet. However, unlike traditional carpet, if a tile gets damaged or stained beyond saving, simply remove that tile and replace it, and just like that, the floor looks brand new. This benefit is terrific for areas like the basement.
Water-Resistant
Most carpet tiles are moisture and water-resistant, meaning they won't be ruined with a bit of water. Simply blot up water with a towel, and the carpet tile should go back to normal. However, if water pools for too long and the tile is ruined, it's simple to replace the ruined tile.
Comfort
There's no denying that carpet is the most comfortable flooring option on the market. It's cozy to walk on, soft underfoot, and absorbs excess noise. Carpet also has excellent insulative properties. If comfort is a factor for you, you can't go wrong with carpet tiles.
Versatile Style Choices
Carpet comes in various styles, so you're sure to find one that fits your aesthetic. You can even get creative and mix and match patterns. With seemingly limitless designs, there's a carpet tile style to suit your basement's design.
Best Carpet Tiles for a Basement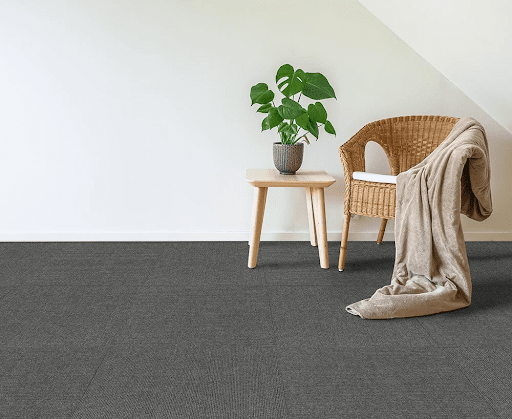 First, you want to look for carpet tiles that fit your style and budget. You also want carpet tiles that are durable and stain-, fade-, mold-, mildew-, and moisture resistant – especially since they're going in the basement!
Second, you want to keep in mind that not all carpet tiles are created equally, so you'll want to find a reputable carpet tile manufacturer to make sure you get the best carpet tiles for your basement project.
Luckily, you've come to the right place. At BuildDirect, we partner with the best flooring manufacturers on the market to provide you with the widest selection of high-quality carpet squares possible. As a result, you're sure to find carpet tiles that match your budget and style.
Plus, if you become a BuildDirect ProRewards member, you get access to exclusive deals, unlimited samples, on-site delivery, and more. Become a ProRewards member today.
---
---