6 Ways to Improve Balcony Privacy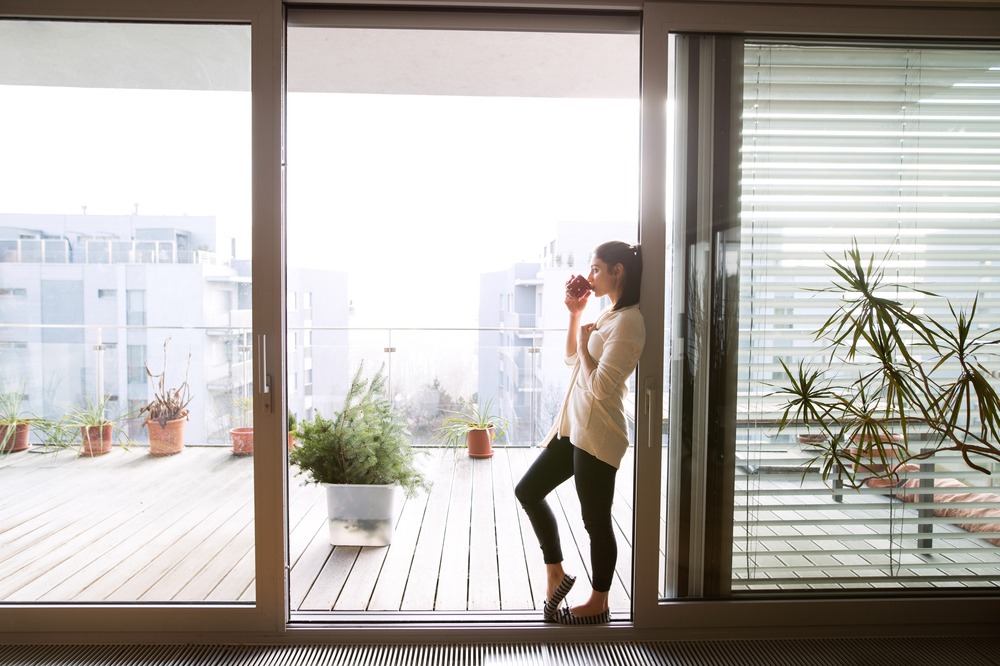 Honestly, sometimes the best thing about apartment living is spying on the neighbors. The flipside is, sometimes the worst thing is knowing neighbours are spying on you and losing your balcony privacy.
It doesn't have to be that way. With creativity and crafty splurging, you too can enjoy a special outdoor space while not letting yourself be a spectator sport and improve your balcony privacy.
Building rules are tricky, since they vary from place to place. Do your research before you start, as you may have to use freestanding solutions – or else lose a damage deposit or incur wrath from other residents.
Another consideration is climate. With frequent windstorms and rain on the Pacific, anything installed on a balcony needs to come down with minimal fuss. Hooks or fabric are your best friend for a quick transition in inclement weather.
Take a moment to think about the conditions of the porch at all points throughout the year and use that assessment to help determine the best balcony privacy project for your space. Here are a few ways to build yourself a private retreat on the must public of balconies.
6 Balcony Privacy Options
1. Outdoor Plants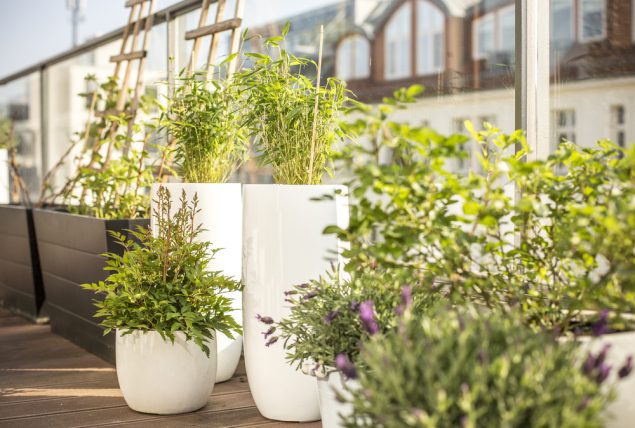 Jungle Cover
There's a lot to be said for plant-covered balconies. Besides being pretty, it pumps needed oxygen into the polluted city. Plus, busting out jungle cover means you can even buffer some noise around you as an added bonus. If you do opt for this route, plants need to be local, hardy, and able to survive year-round life at that exposure. Keep in mind the added wind shear of elevated balconies. For added ambiance, choose plants with relaxing fragrances such as jasmine.
Unfortunately, having a lot of plants on your balcony does require upkeep, as watering can be problematic on balconies. Hauling pots filled at the sink or bathtub through the living room to the deck isn't the wild party you'd think. So, if your watering source isn't at close proximity, or if gardening isn't your strong suit, opt for faux jungle cover instead. Get creative with artifical greenery that attaches directly to fences.
2. Balcony Shutters
The Shutter-up
If you can install permanent features, consider hanging hooks for hinged shutters. This way you can raise and clip shutters to the ceiling. It's a great installation for anyone committing long-term to a space, as it'll offer a year-after-year use without between-season fussing.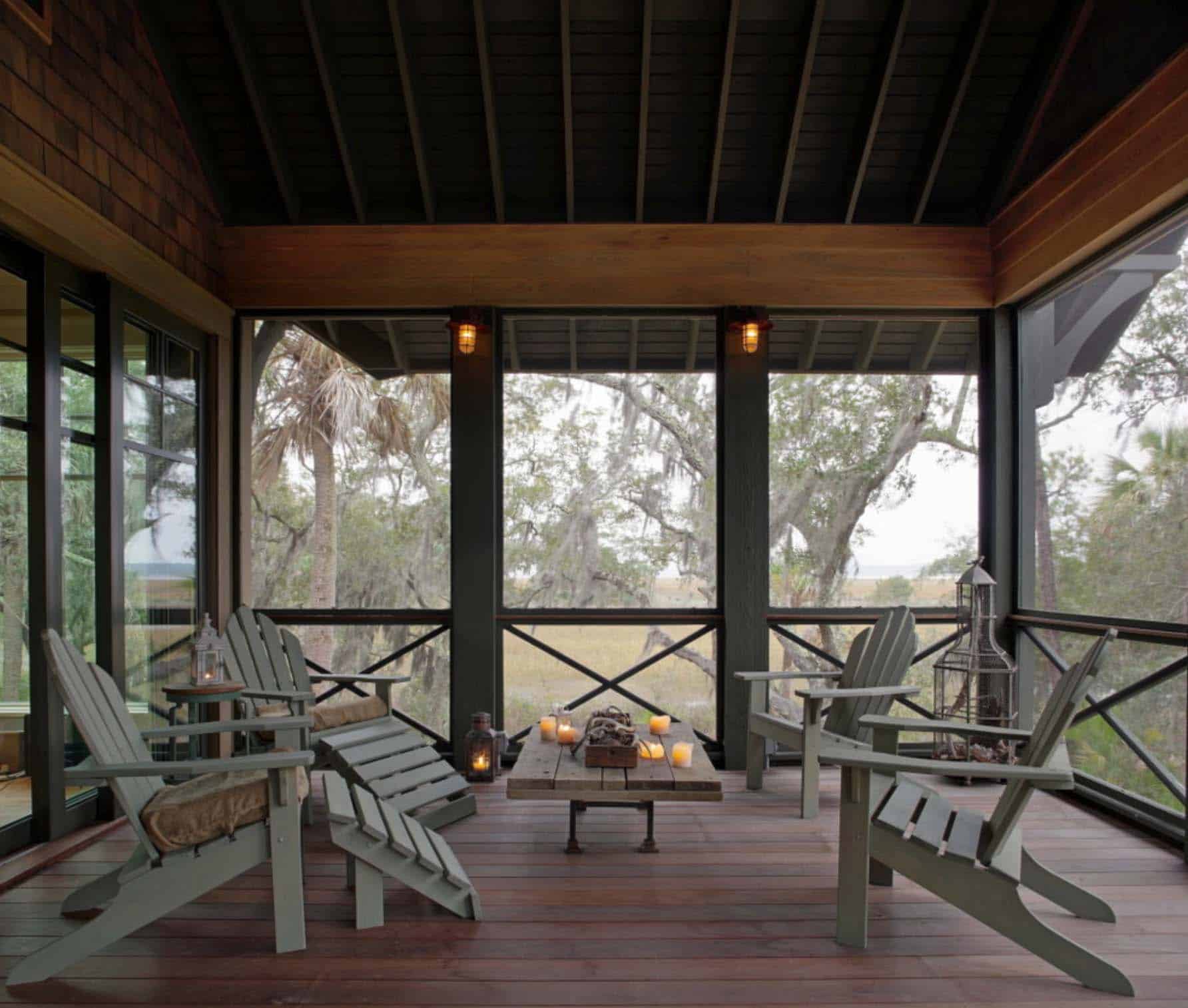 3. Balcony Privacy Screens
Shoji-Style
If your building doesn't allow built-in solutions, don't fret! You can bring out or put away a simple freestanding screen with ease. This is a simple solution, and one you can invest in knowing it'll effortlessly move with you when it's time for a new home.
4. Bamboo Roller Blinds
Bamboo-zled
Bamboo roller blinds are a popular choice, especially in tropical climates. Nicer-looking ones are installed with a hook on the balcony rail that the blind can be secured to, keeping them spiffy and orderly. As bamboo weathers quickly, in hardy areas you'll want an installation that can ve easily taken down at the end of summer. The upside in August is, bamboo gives great shade and can really cool a hot deck down. Breeze can travel through the bamboo (unlike most Roman blinds). Similarly, wooden slat blinds will also do the trick here – seasonally.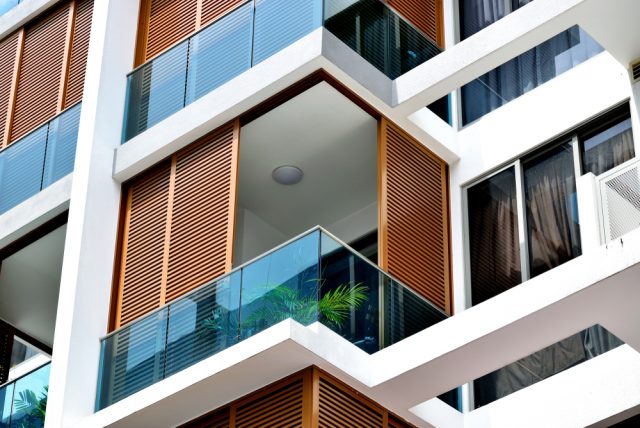 5. Sheer Mosquito-netting Curtains
It's Curtains for You
Installing sheer curtains gives a deck an exotic, tropical feel. Choosing canvas curtains provides a "safari" or "pioneer" appeal, while offering protection from the hot summer sun. With easy-to-install curtain "wires," curtains are now among the most flexible solutions for balconies. They're washable, seasonal, and able to be opened or closed depending on the level of privacy needed on any given day. They're also the most affordable and least-risky installation for storm-prone areas.
6. Beaded Curtains
Just Bead-it
Old-school beaded curtains, and similar beatnik-shop finds, can affordably be bought in multiples and used as one larger privacy object on a deck. The beads sure won't hide you from the masses, but will make you less noticeable, and your deck a whole lot more groovy. Beware of neighbors who might loathe you as it click-clacks in soft breezes, if untied too long while not in use.
Completing the Look with Deck Tiles
Once your privacy screen is in place, complete the design of your deck or patio by styling the rest of the space. Transform the look of the deck by installing click-together deck tiles on the floor or on the ceiling for a modern look. Comfortable and inviting outdoor seating and a table to rest a cup of coffee or tea will make the area every bit as functional as an indoor room.
There's so much you can do to personalize any of these projects. Feel free to explore your own creative solutions, inspired by these ideas. Walk through apartment-dense neighborhoods and look at how others achieve privacy on their decks.
When your life's tucked into an itty-bitty apartment, the balcony is important space that too many urban dwellers leave largely unused. By making it a slightly private getaway, you might find yourself enjoying summer moments at home more often. With a little creativity, a small investment, and an afternoon of work, it's a gift that'll pay off time and time again this summer.
---
---