The Best Flooring for a Rental Basement Suite
If you have extra space in your home like a large basement that you're considering renting, you can make extra income that could easily turn into a profitable venture. Whether you have a separate casita or a rental basement suite, it's important to know which types of flooring will give you the most for your investment. Before you decide on rental suite flooring for your home, take a closer look at the many options available to you. From beautiful looks to rugged durability, there are plenty of things to consider, so read on to learn more.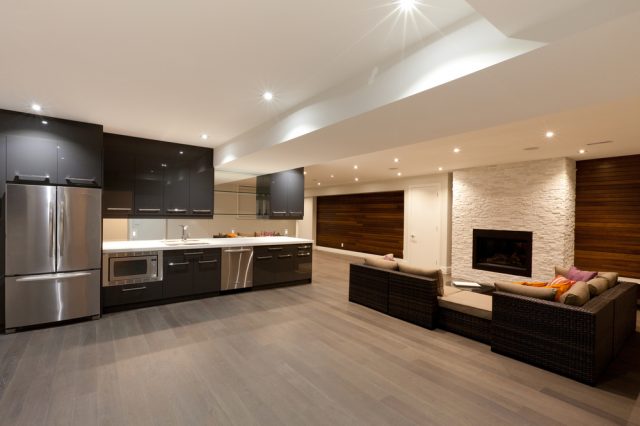 Important Factors to Consider for Rental Suite Flooring
Durability & Lifespan
When you're shopping for rental suite flooring, the most important thing to consider is its lifespan. Ideally, you want to install flooring that will last a long time so you get the most return on your investment. While carpet is a great insulator, it also has a very short lifespan and requires a lot of maintenance. Tile is beautiful in any room but it can be prone to cracking or chipping depending on the material. Laminate and vinyl flooring is a wise choice since both of these types of floors can handle heavy foot traffic and they clean up nicely. Since basements are prone to moisture, it's important to make sure that the entire space is waterproof.
Color and Tone
A basement rental suite is usually not very large or bright, so consider the color choices you make when it comes to flooring. Light-colored floors will make the space appear larger and give it the illusion of being more open. Avoid darker tones such as black or deep brown colors whenever possible. The darker the tone, the more closed-in the space will usually feel. On the other hand, dark-colored flooring can usually hide damage and stains more easily than light colors. Try flooring with a distressed look that will help to conceal excess wear and tear.
Cost
As you shop for your rental suite flooring, you'll want to consider the cost of the material itself along with installation. Carpet requires padding, which can make it more expensive overall. Tile can be affordable if you choose options that come at a reasonable price per square foot. For the bathrooms, you will need to install a subfloor under the tile, so keep that in mind. Look for click-lock vinyl planks that are extremely easy to install, offer the beauty of real wood, and provide your renters with durable flooring that will last. Calculate your cost per square foot and factor in the price of installation to help you decide which flooring will fit into your budget.
Appropriate Flooring for Each Area
Flooring isn't one-size-fits-all, which means you'll want to choose the right material for each individual room. Select vinyl, laminate, or tile for your rental suite flooring in the bathrooms and kitchen. This flooring is water-resistant and made to clean up easily in rooms with high levels of moisture or exposure to spills. Hardwood and laminate both work beautifully in bedrooms and living areas. You can install one type of flooring throughout your rental – just make sure it's durable and versatile enough for each individual space.
Flooring Types: Pros and Cons
When shopping for your rental suite flooring, it's a good idea to understand the pros and cons of some of the most popular selections. This can help you decide what flooring will work best for your basement renovation before you put it on the market.
Vinyl
Vinyl is an affordable flooring choice that works well in most spaces. It's simple to install which helps to keep costs down, but it comes in a range of finishes to help you create a beautiful look in your rental space.
•   Pros: highly water-resistant, easy to install, affordable, easy to clean, comes in a wide range of finishes and styles
•   Cons: prone to rips and tears, can develop mold and mildew if moisture gets undeath the vinyl
Laminate
You can find laminate sold in planks that look just like wood, which makes this rental suite flooring a popular choice for many landlords and renters.
•   Pros: looks like real hardwood but is much more affordable and easier to install, resists scratches for a low-maintenance floor
•   Cons: prone to chips, won't last as long as some other flooring options, can't be refinished like real hardwood
Engineered Hardwood
If you want the look of real wood without the high cost or heavy maintenance, engineered hardwood is a wonderful alternative. This type of flooring is recommended for high-end renters and modern basement suites.
•   Pros: easy to install over concrete basement floors, has the look of real wood, comes in many finishes and styles
•   Cons: prone to scratches and scuffs, the veneer can wear off quickly, not moisture-proof, some brands are comparable in price to real hardwood, cannot be refinished
Carpet
Carpet adds a soft layer to your rental suite floors, and it's a great insulator to keep the area warm. You can find carpet in a huge range of pile heights, material, and colors which makes it a versatile option for many rentals.
•   Pros: soft, adds insulation, comes in a variety of colors and styles, can reduce noise between rental units
•   Cons: difficult to maintain, gets damaged easily, padding required, traps allergens and odors
Make the Right Choice for Your Rental Suite Flooring
Now that you're aware of some of the most common options for rental suite flooring, you can make a better decision that will suit your needs and the needs of your renters. Durability and easy care are two of the biggest factors to consider along with the overall cost of the flooring and installation. Choose something that can hold up well to heavy foot traffic and resist things like moisture, stains, and damage. Don't forget to choose flooring in a color that will make your rental look beautiful while hiding wear and tear. No matter what type of flooring you install, it should be something that lasts for a long time to come.

---
---