Matching Countertops and Floors: Is It Necessary?
In the world of home remodeling and design, the concept of matching countertops and floors was once considered the norm. Today, homeowners are looking for a more unique and eclectic way to design their kitchen, so that this part of the home stands apart from the crowd. You may wonder if it's necessary to have matching countertops and floors, and the answer might surprise you. Read on for some tips, tricks, and ideas for how you can create a beautiful kitchen and pair your new floors and countertops in a visually satisfying way.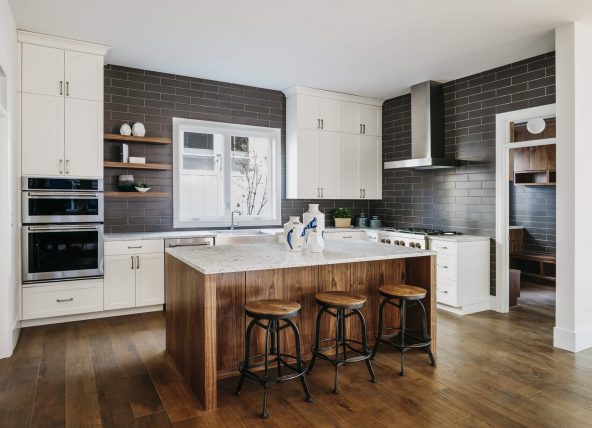 Choosing and Matching Countertops and Flooring
Your floor and countertop don't have to be an exact match however, they should complement each other in some way. Before you decide what color scheme you want, it's a good idea to get a few samples and try them out in your home. When comparing samples, always do so in natural light. Open the blinds or curtains and place your samples directly against the countertops and floors to help you see how they'd look in natural light on a large scale. Ideally, you should choose the color of your countertop first, then test new samples for the floors against it. Choose a countertop color you really like so you're happy with the outcome. Your new countertops will serve as a starting point that you can build on from there.
As far as color family, it's always best to choose neutral colors when matching countertops and floors. You can always bring in a few pops of color with some fun linens like a vibrant tablecloth, curtains, or placemats. Even your small appliances can add color to the kitchen with selections in bold tones like cherry red or a fun retro turquoise blue. Then, if you change your mind, it's much easier (and less expensive) to remove the accents you don't love than it is to redo your floors or countertops again.
Understanding Color Temperature
When you're deciding on a color palette, it's important to ensure that everything is similar in terms of color temperature. If you decide to choose different colors, try to use material in hues that either has cool or warm undertones. If you mix the two undertones together, it can make the room appear slightly off. This might result in a look you're unhappy with. For example, cool colors like a creamy white or ivory might not mix well with warm colors like a deep brown or tan color in the kitchen.
Even the finishes in your kitchen can give off warm or cool undertones. Gold and brass hardware and lighting have a warm tone, while brushed nickel and chrome have a cool "temperature". Consider the tones before you purchase your flooring, countertops, and finishes so everything has a nice synergy once it's all installed. If you prefer a two-toned look, anchor the kitchen with a dark-colored floor and pair it with a light countertop. You can also install white cabinets to add visual balance to a room with dark floors and counters.
Material Options
Tile and Wood
Picking out new colors for your kitchen countertops and floors is challenging enough, but you'll also need to determine what materials you plan to use. If you do want everything to match, porcelain or slate tiles installed on the floor and the countertops can be an easy, seamless solution. Butcher block countertops are a trendy choice for many farmhouse-inspired kitchens, but they're not always practical in terms of maintenance. If you love the look of butcher block, wood-look tiles are a great alternative that offers the aesthetic of real wood, but they're much more durable and easier to clean. This design is available in laminate, porcelain, ceramic, and even concrete.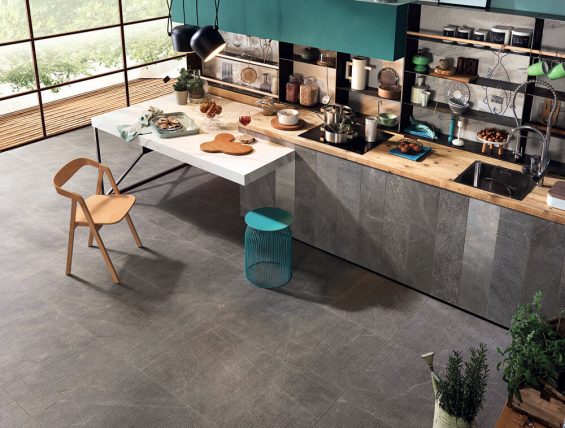 Stone
Marble and granite are excellent materials for kitchen countertops. These natural materials contain inclusions and a lot of color variation, which can make finding flooring to match a challenge. If your countertops show variations in color, consider new floors that coordinate with and complement these highlights. A white marble countertop with gray veining looks stunning with dark gray flooring, for example. If you have stone countertops, that's one more reason to use them as a starting point as you look for new floors to match. Mixing materials is an easy way to get more variation in your kitchen without worrying about color. For example, stone countertops with wood floors bring a warm, inviting element to this space and can work well whether you choose cool or warm undertones.
Choosing the perfect color may seem daunting, but one way to streamline the process is to allow variation in color for your counters and keep the floors solid. Instead of choosing flooring with different shades of brown, for example, try something in a simple solid color throughout. This provides a strong anchor for the room, and then you can add new counters and accents in more varied tones. Always make sure you're installing products and colors you love. Even if something is currently trending, it doesn't mean that it's right for you, your home, or your personal taste. Have fun selecting different colors and mix and match several samples until you find the perfect pairing.
Tips and Takeaways
There is no rule that says matching floors and countertops is a must. Here are a few final tips to help you find the right combination for your home.
If you have a décor theme, use that theme to help influence your color choices. For example, a modern kitchen looks best with cool tones, while a rustic kitchen may do better with warm tones. Distressed textures can add to the rustic design, while materials that are sleek and smooth work best in modern spaces.
Make sure you're fully prepared for your kitchen renovation. Once you have the right materials and color selections, the installation process will be easier and less stressful.
If you fall in love with a color combo, don't sacrifice on quality. Choose durable materials for both your floors and countertops and remember that there are materials available in every color imaginable, so take your time to find the right options for you.
---
---