BuildDirect Interviews: Camille Swanson
We sat down with one of Arizona's most exciting Realtors for International Women's Day
Camille was originally born in Kingston, Jamaica, and emigrated to New York, US at 11 months old. She graduated from the College of Williams & Mary with a Bachelors of Business Administration in '98. After a brief stint as a digital media buyer at SoHo ad agency, she moved to LA in '99, Married in '02, and moved to Phoenix, Arizona to be a homemaker in '04 before digital media had taken root there. She became a licensed realtor in 2005.
So, tell us a little about yourself:
In 16 years as a REALTOR®, I've completed hundreds of transactions with institutional & individual clients during some of the most tumultuous periods of real estate history. The skills I learned are invaluable to my career & people I serve.
Along the way, I received accolades like Top Producer & awards like the Executive Awards (top 10% at Realty Executives Phoenix) & 100% Club Award. None of it is as important to me as the friendships and relationships that I've fostered with my clients & friends. [I'm] fortunate & grateful for the opportunities I've had working alongside innovative folks with some of the best & brightest business minds there are!
What do you do for a living and where are you based?
I'm a realtor by trade, but I specialize in pre-list & post-purchase renovations. Friends & clients ask me for inspiration regularly. Some clients will contact me as much as a year in advance to start preparing for a sale.
How did you get into this line of work?
It was accidental. I have a business degree with a fine arts minor. I planned to go into investment banking & walked away from a job at Merrill Lynch in World Financial Center, but fell into the world of digital media. Good thing because I'd have been right at ground zero on 9/11. Real estate was a new career after I moved to the desert barefoot & pregnant from the beach in SoCal. I walked away from the interview process at the University of Phoenix to be their in-house media buyer. I always loved houses; looking at them & seeing how they could be transformed from ugly ducklings to swans. The rest, as they say, is history.
What is your favorite part of your job?
Seeing the "ah ha!" moment when clients realize that a property is perfect for them; whether they're buying it or after they finished fixing it. After 16 years, I still have those moments when a carefully planned idea comes to fruition & I scratch my head going "I can't believe I pulled this off."
What sets you apart from other Realtors?
When [issues come] up, I dive in to figure them out where my colleagues might say "not my job" & walk away or simply make something up that sounds good. I've saved clients tons of money over the years diagnosing the problem & finding a solution (or advising them to walk away). In return, they come back and/or refer others to me.
What do you think will be the biggest trend in real estate in the years to come?
Gosh! So many things happening at once… "Aging in place" & multi-generational living will stay big globally: our population is aging faster than we can reproduce. Severe drought in the Southwest will make everyone rethink landscaping & water use. Also here [in AZ], we'll have to get creative with space. Phoenicians took for granted the wide open spaces & ranch living. PHX is the 5th largest US city! There are more people than there are homes to put them in. A lot of folks will be forced to make do with smaller homes & less land. They'll need to think like New Yorkers: vertical storage & growth, not horizontal!
Are there any challenges in this industry that you think are unique to women?
Is that a trick question? *Laughs* Yes- I don't think every guy likes taking orders from a small girl (about 5'1 and ~95lbs). I've only had an issue once with a contractor spending an hour [trying] to convince me that the right way to hang upper cabinets was to align them to a soffit… I called my superintendent to get the guy off my job. For the most part, when they hear me talk they know I have a clue & it'll be harder to pull one over on me.
How have you overcome these challenges?
I spent a lot of time learning as much as I could about construction early on. The rest was on the job learning or "trial by fire". There've been plenty of mistakes along the way, but I try to stay up to date on new technology & trends everywhere to keep refining what I have or am [a] part of.
What do you wish more clients understood about what you do?
I think most of my clients appreciate what I do for them, but have no idea how many pieces I'm managing to give them a full-service, concierge-like experience. I try to shield them from a lot, like they're my kids. My goal is to make the process less painful & more like it appears on TV, which couldn't be further from reality.
How did you discover BuildDirect?
I was looking for affordable wood flooring for a major home renovation. I needed everything. BuildDirect had good variety, quality & was in my budget.
What drew you to us?
I was very impressed with the overnight samples & the customer service. When we ordered, and even now, [you're] often my most reliable supplier. I actually complained (jokingly) to my rep that my last order came so fast I wasn't ready & had no place to put it. It was really a compliment, considering most of the world is in a state of supply chain disruption.
How did our products help you achieve your goals?
Consistently high-quality products, at an affordable price that arrive on time? Not sure what else to say. I like reliability, not surprises. It's a good fit!
What advice do you have for homeowners?
P.O.O.F.: Prioritize, be Organized, Objective and (somewhat) Flexible.
Prioritize your needs.
Organize: Plan, and keep [planning]. Schedules change, material/labor availability changes. The more organized you are, (like having materials on-site ahead of time) the less you'll have surprises & the less expensive it'll be (in theory!).
Being Objective is important because sometimes we get "stuck" on little things that don't matter in the grand scheme of the project. Sometimes, we have to abort-mission when part of the plan won't work or isn't worth the cost to meet the objective. If you can't be objective about it, you might hurt the project or your bottom line, or both!
Being Flexible makes the experience less painful for everyone involved. I don't suggest letting people trample you. Good contractors are slammed, but they're human. We all are: mistakes happen. There is miscommunication. We already discussed supply chain disruptions; It's life. Either we bend and adapt, or we're inflexible.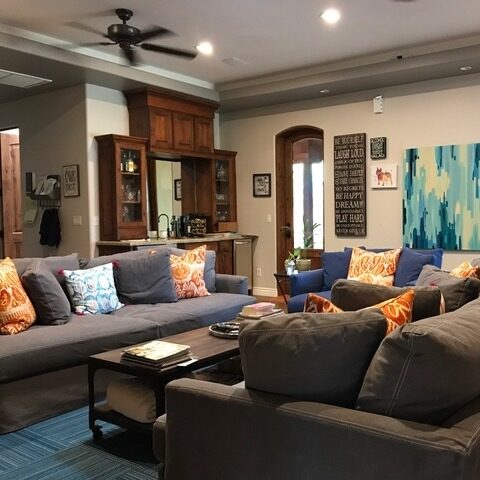 Life is short; I just finished a prolonged, ugly divorce, followed by living though my own remodel. To stay in my neighborhood, I got a home I could afford. It is half the size of my old house, arguably a "dream house", but I couldn't be more pleased with it. It's not done, but I LOVE it! There were a few hiccups, but I survived & am better off for it.
A friend told me this morning my kitchen was "gorgeous!" I'm a survivor of domestic violence, so there is NOTHING more empowering than standing in the middle of a home I contributed to rebuilding after someone has commented on some part of it.
I own my fate. Every woman should know she can and should do what's necessary to thrive! You can achieve any goal, if you're committed to it!
You can see more examples of Camille's work below:
IG: @Camille.swanson
Pinterest: @camilleswanson
YouTube: CamilleSwansonREALTY
LinkedIn: camilleswanson
---
---