Design Tips for Matching Ceramic and Vinyl Floor and Wall Tiles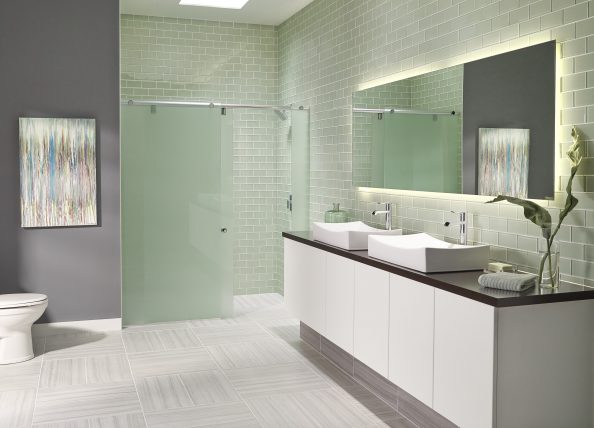 There are two schools of thought when it comes to tiling the bathroom or kitchen. One camp says that the wall and floor tiles should complement each other but should not match. This is because matching floor and wall tiles make a room feel smaller and more closed up. The other camp says that running floor tile up the wall is a dramatic way to add interest to the kitchen or bathroom, particularly when you're using large-format tiles.
So, which camp is right? Well, either or both. Matching floor and wall tiles is a design choice that should be entirely based on what you like. Here's what you need to know about floor and wall tiles, along with some great ideas for installing matching tiles on the floors and walls.
The Difference Between Floor Tile and Wall Tile
Perhaps you've heard rules of thumb like "ceramic tiles are for walls, and porcelain tiles are for floors" or "small tiles go on the wall, large tiles go on the floor." To set the record straight, these old adages are, well, hogwash. You can put ceramic or porcelain on the wall or the floor, and both the wall and the floor can be decked out in large or small tile.
But there are some key differences between wall tile and floor tile. Tiles made for flooring are very strong and resist wear and tear. PEI rating measures the strength and durability of tile. This evaluates a tile's resistance to wear on a scale of zero to five. A zero rating means the tile can only be used on the wall. PEI-0 tiles, can't bear much weight and are generally fairly small and made from ceramic. Tiles with ratings one through five are good for the floor.
When it comes to tiling the walls, you're not limited to wall tiles. Floor tiles can also be used on the walls and, in fact, they often are, for a variety of reasons:
Floor tiles are generally larger, so those who want large tiles on their walls will likely choose a floor tile.
There's a growing trend of running the floor tile up the walls of the bathroom to create a dramatic, minimalist look.
Floor tiles come in more colors, shapes, sizes, and textures than wall-only tiles.
Highly polished tiles on the walls are another design trend that's hot in 2019, but it's hard to find highly polished wall tiles.
All of that said, it's important to understand that not all floor tiles can necessarily be installed on all walls. You have to consider the weight of the tiles and the adhesive and ensure your wall can hold the weight. In general, a solid concrete wall or cement backer board wall should be able to hold the weight of any tile, but a skimmed drywall wall may not be able to bear a very heavy load.
Ideas for Matching Floor and Wall Tiles
You can go any number of directions when matching wall and floor tiles. You aren't limited to using identical tiles on both surfaces, although doing so creates a striking effect. Here are some tried-and-true ideas for creating gorgeous matching tile looks for your bathroom or kitchen.
Install Large-Format Tiles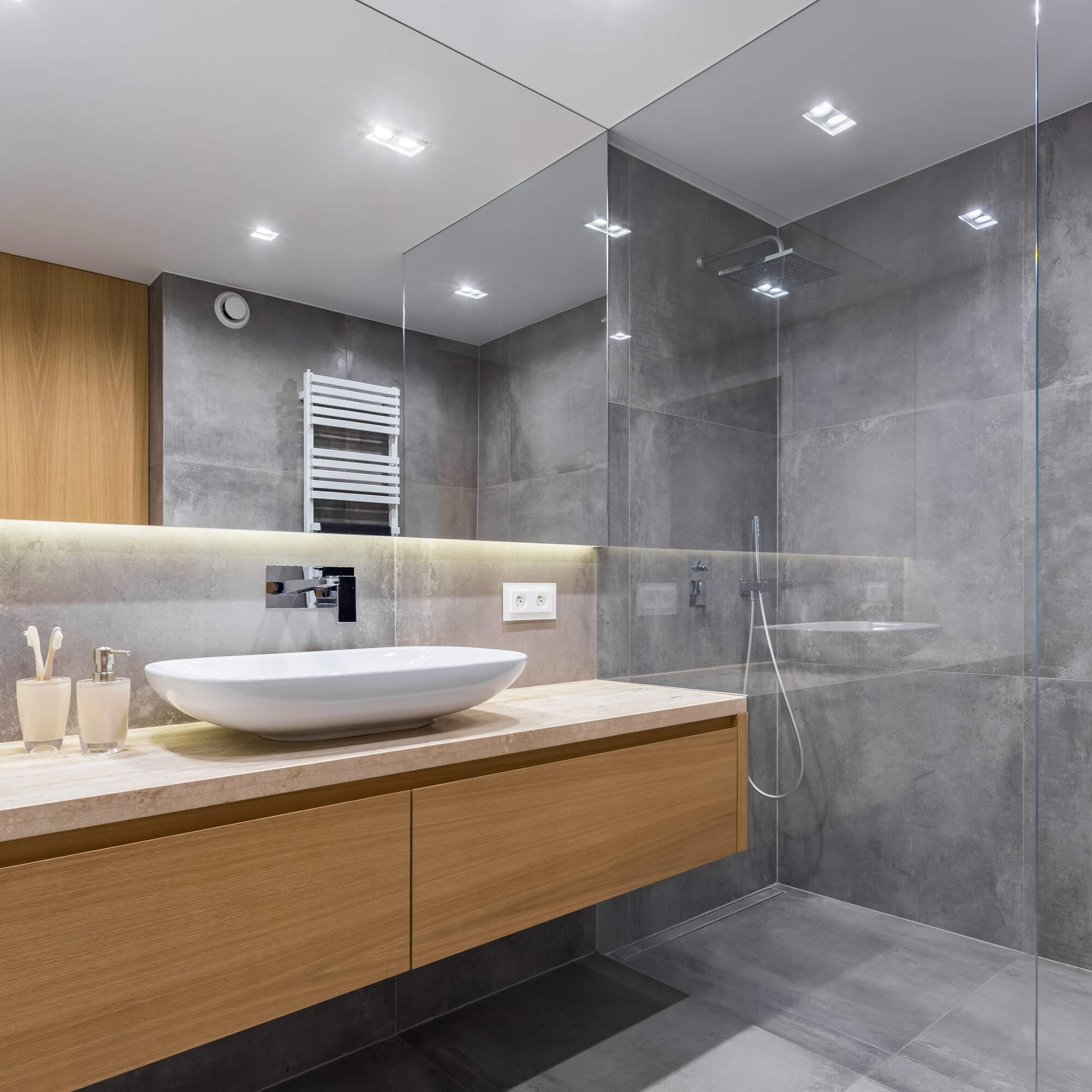 Large bathroom tiles make your space feel bigger than it is, thanks to fewer grout lines to break up your visual field. Large tiles are dramatic and luxurious, giving your room a sleek, minimalist look. These Salerno porcelain tiles in Coconut are large and light-colored and can make your bathroom feel big and bright. By contrast, these same tiles in Bisque give your room a bold and dramatic look.
Match the Style but Not the Size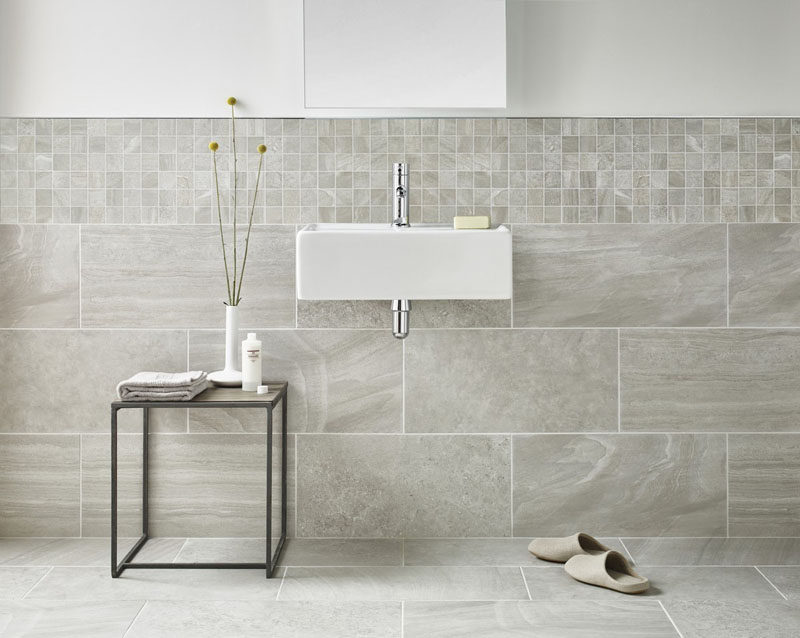 An interesting take on matching floor and wall tiles is to match the color and style, but use different sizes. Installing the large tiles on the floor and continuing up the walls with the smaller tiles creates a unified, monochromatic look, but it's broken up for greater visual interest.
Go Bold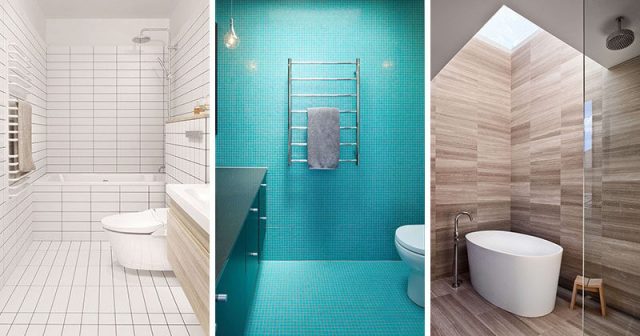 You're not limited to solid-color tiles when designing your bathroom or kitchen. In fact, you can create dazzling, drama-loving looks with glass on both the walls and floors. You can create one continuous look with same-sized tiles, or you can use rectangular glass tiles on the floor and square tiles on the walls.
Consider Textures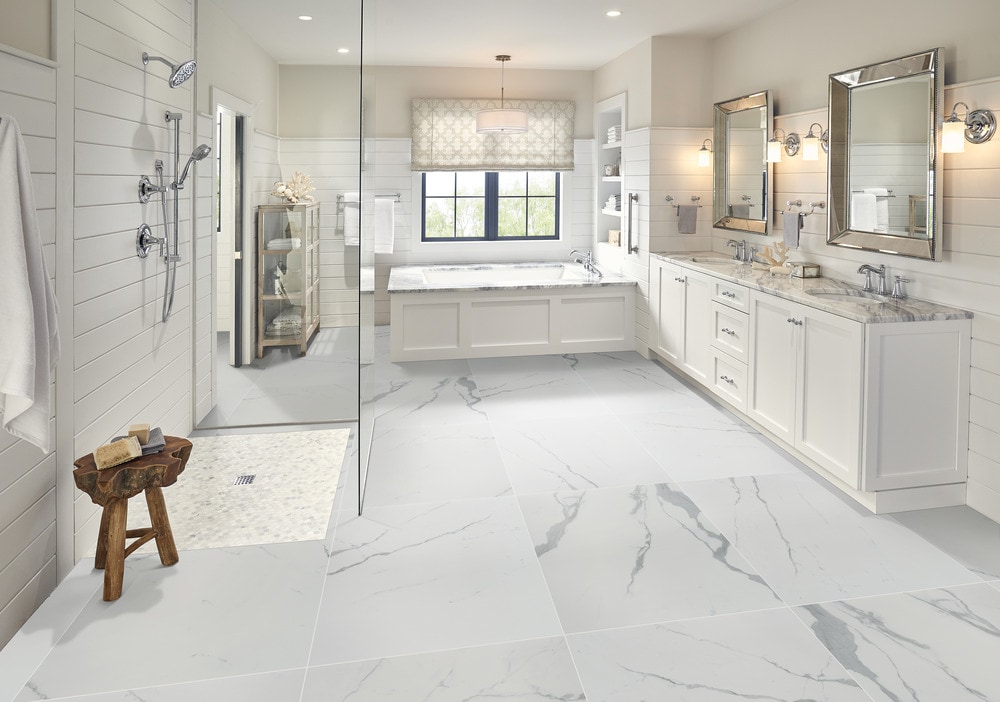 For a unique aesthetic, choose tiles with interesting color variations and textures. With natural stones like marble, travertine, slate, and granite, you can achieve varying colors and textures in the organic material. In contrast to solid colored tiles, you'll attain perfect continuity while differentiating the walls from the floor. These differing textures will create a fabulous feast for the eyes.
Play with Shape
You're not stuck with square and rectangular tiles for the bathroom or kitchen. Large hexagon tiles or honeycomb tiles that cover the floor and continue up the walls creates vivid texture and interest. Some mosaic tiles feature several different-sized tiles to create a dynamic, fluid look.
Don't be afraid to experiment with different types of tiles for the floor and walls to find the match that works for you. If you're looking for clean lines and minimalism, choose tiles that are uniform in shape and solid in color. If you're adventurous, you can create a powerful look using matching patterned or textured tiles. The sky's the limit when it comes to matching floor and wall tiles. It's a sensational look that will continue to be on-trend well into the next decade.
---
---