Creative Kitchen Flooring Trends and Styles
If you're thinking of updating your kitchen flooring, there are plenty of amazing new trends and styles to choose from. Several factors can influence flooring trends including the specific planning and zoning of your space as well as your kitchen lighting, furniture, and finishing materials. The fixtures and colors in your kitchen also play a major role in the style of flooring you should install.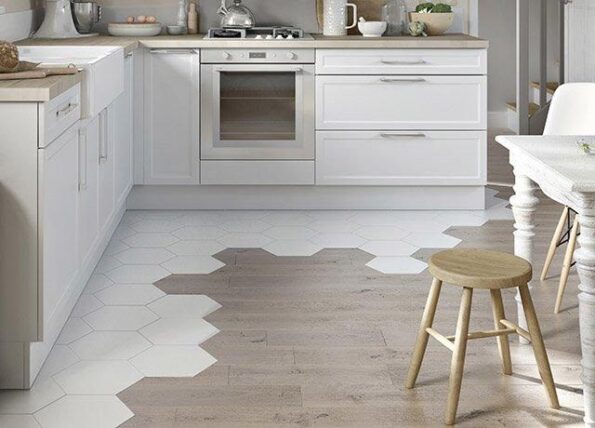 All of these factors have a significant impact on the choices you make when it comes to picking out the right floor covering for your kitchen. Read on for some tips and information about the newest creative kitchen flooring trends and styles so you can find the flooring that's right for you.

Creatively Combining Flooring Materials for the Kitchen Floor

One of the most creative trends in kitchen flooring is to mix and match different materials. Creatively combining different colors, textures, and styles will give your kitchen a bold, dynamic look. Just make sure that you keep things like durability and the floor's ability to resist stains and spills in mind.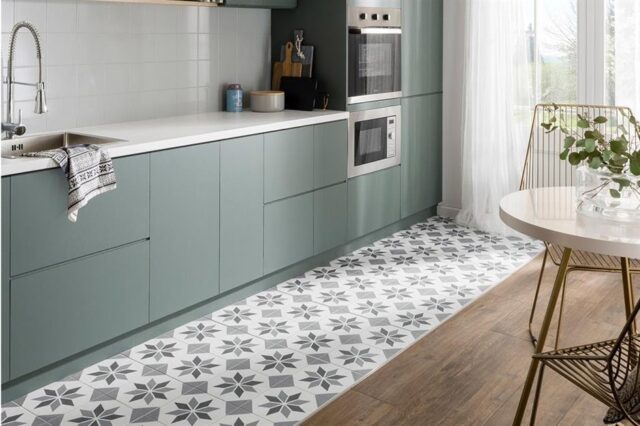 Combining Flooring Material Options

Blending different flooring materials will bring a bold component to your interior. Start with hardwood flooring, then install ceramic tiles near one edge of the room to create a unique visual flow. Blending wood flooring with tile is a unique way to give your kitchen a modern look. Another unique trend is to combine materials like natural stone with wood or luxury vinyl planks. A section of marble tile looks elegant when expertly installed next to some hardwood flooring or a border made for decoration.

Trending Flooring Options for Kitchens

Check out some of these current flooring options that are trending for kitchens.
1. Hardwood Flooring

The farmhouse look is certainly trending, and hardwood is the epitome of rustic, farmhouse style. Look for hardwood in wider planks to give your kitchen a warm, inviting aesthetic. Natural hardwood is unique and creates an organic vibe in this space. Choose a hardwood that showcases the wood's natural coloring and knots to give the kitchen a warm, rustic-inspired touch.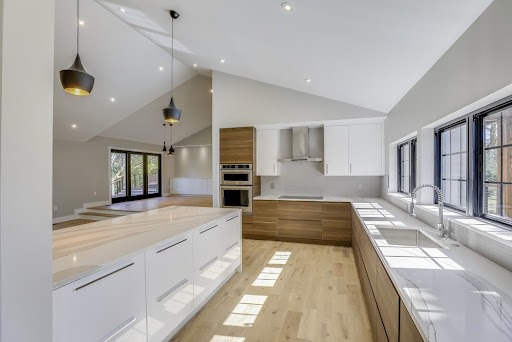 2. Laminate Flooring

Bathrooms and kitchens need durable, water resistant flooring, which is why laminate continues to be a popular choice. If you enjoy the look of hardwood flooring but don't want the maintenance, wood-look laminate is an excellent alternative. Textured laminate is on-trend this year and will continue to be a popular choice. This flooring material adds depth and dimension to a kitchen or bathroom while remaining water-resistant for added durability.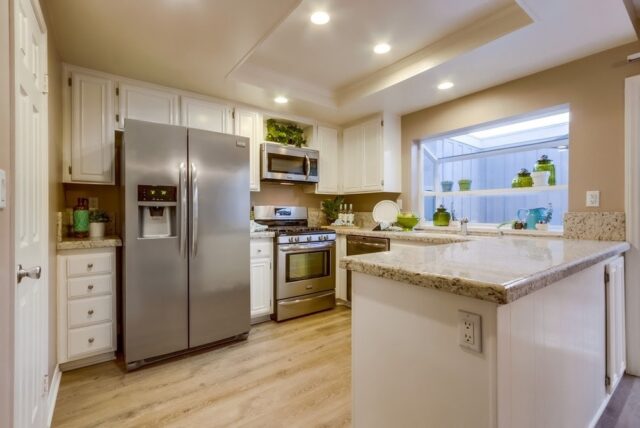 3. Ceramic or Porcelain Tile Flooring

Both ceramic and porcelain tiles are excellent choices for kitchen flooring. This durable tile comes in a huge range of sizes, shapes, and colors. Look for patterned tile to give your kitchen a playful pop of color. Other creative ceramic and porcelain tile flooring options include tiles with a high-gloss finish, tiles that look and feel like concrete, and unique shapes that add a fun visual element to your kitchen floors.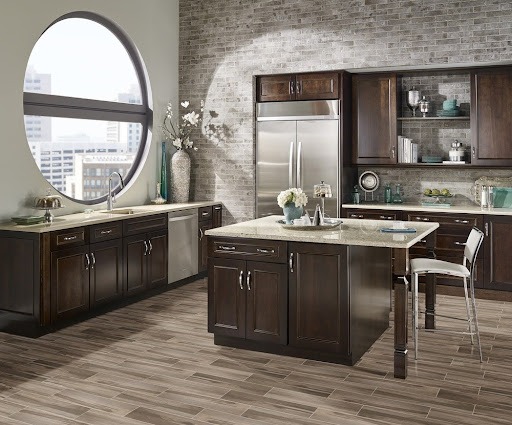 4. Vinyl Flooring
Vinyl is an affordable and dynamic choice for kitchen flooring. Look for wire brushed vinyl planks that resemble the appearance of the exposed wood grain. Distressed vinyl flooring creates a classic farmhouse look and features design elements like antique burns, scrapes, and knotholes to recreate the look of torched wood. Hand-scraped wood is beautiful, and you can get the same look in vinyl flooring, too. This process creates unique variations between the different planks using long, ingrained scrapes to give your kitchen floors a bespoke, textured look and feel.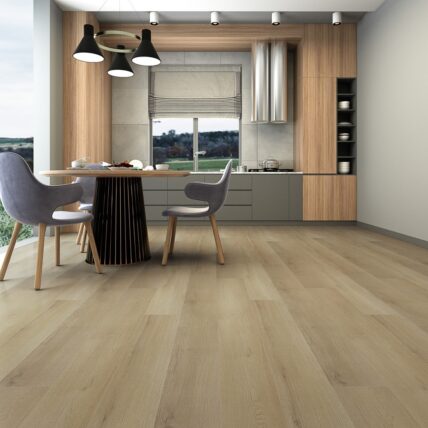 Get Your Kitchen Flooring At BuildDirect

At BuildDirect, you'll find a wide range of flooring options to meet your needs. Bamboo flooring is a trending choice as well as luxury wood-look vinyl. Another great choice for kitchen floors is engineered hardwood. Not only does this flooring material look just like real wood, but it's extremely water-resistant, durable, and available in a wide range of finishes and colors. You'll also find unfinished hardwood flooring at BuildDirect where you can apply the custom finish of your choice. Shop the selection today to find new flooring for your kitchen including tile, laminate, natural stone, and much more.

Practical Considerations

When you're shopping for new kitchen flooring, there are several important things to take into consideration before you take the plunge:
• Durability: How durable are the floors you want, and will they hold up well to scratches, foot traffic, and stains?
• Ease of installation: Some flooring is easier to install than others. If you prefer to do things DIY, choose flooring that can be installed yourself rather than hiring a contractor.
• Water resistance: Materials like ceramic and porcelain tile, engineered hardwood, and vinyl are excellent for kitchens due to their high level of water resistance.
• Maintenance: Look for kitchen flooring that's easy to maintain and keep clean so you can enjoy it for years to come.

Maintenance and Care

It's important to take good care of your kitchen flooring to protect your investment. Regular sweeping and vacuuming will remove crumbs and debris, which can help protect your floors from getting scratches. Add accent rugs to hardwood floors to protect them, and always blot spills immediately to prevent stains. Use cleaning products that are specially formulated for your type of floors so that they stay clean and protected for many years into the future.
---
---