Carpet vs. Laminate Flooring: Which One Should I Choose?
Carpet and laminate are both extremely popular options when it comes to flooring. If you're looking to design and build a home from the ground up or you're updating an existing space, these two prominent flooring options are almost certainly on your radar.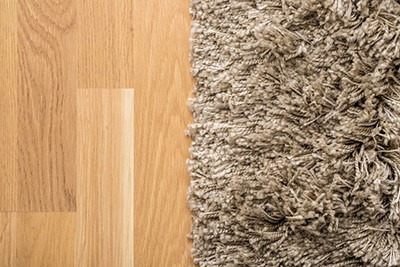 Carpet and laminate are extremely different though. In fact, they have very little in common other than the fact that they're both popular materials for at-home flooring.
Choosing the right flooring material can be tricky. Get to know carpet and laminate and flooring by reading our comparison guide. Then you'll be able to make the right decision between carpet and laminate flooring for each room in your home.
Look and Feel
The way a particular flooring material looks and feels underfoot is important. Carpet and laminate are quite different when it comes to the overall look and feel they'll give any room in your home. here's how they stack up:
Laminate Flooring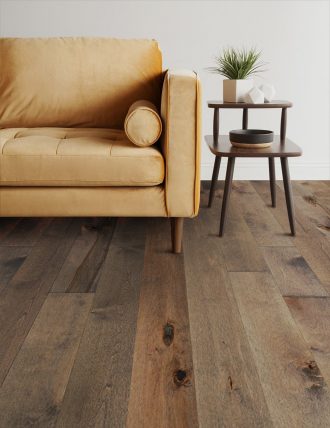 Laminate flooring comes in planks or tiles, giving it the appearance of a traditional hard flooring material. The appearance of laminate varies dramatically, and many different options are available on the market.
Styles that mimic wood, porcelain tile, natural stone and more are available. Unique patterns and textures are also possible when utilizing laminate flooring in your home.
Underfoot, laminate has a firm feeling, though it is considerably softer than materials like natural stone and wood. Many people utilize rugs to add a soft touch to rooms with laminate flooring.
Carpet Flooring
Carpet comes in tons of different styles and textures. Imagine a low-pile style that you might see in a commercial building versus a shag carpet in a residential home. With carpet, you've got a range of options when it comes to both the look and texture you choose.
You can also choose from a range of different colors and designs. Neutral carpet, dark carpet, colorful styles and even textured and patterned styles are available to match your design goals.
The softest flooring material you can get, carpet is a smart choice when you're looking to create a relaxing space. That makes carpet a popular pick in bedrooms where hard flooring is not as pleasant underfoot.
Durability
Whether you're building a brand new space or taking on a single-room renovation project, durability matters when it comes to flooring. After all, you don't want to replace the flooring you seemingly just installed a few years down the road.
In spaces with kids and pets, long-term durability is also an important deciding factor. Here's how laminate and carpet compare when it comes to durability:
Laminate Flooring
Durable, scratch-resistant and easy-to-clean on a daily basis, laminate flooring is designed to last for years even in high-traffic spaces. That makes laminate an excellent choice for busy family homes and spaces where you've got kids and pets playing.
When it comes laminate, the quality of flooring you choose will impact how long it lasts. Cost-effective laminate flooring is still durable, but it may offer you 15 years instead of the 20 to 25 you could get with top laminates.
Carpet Flooring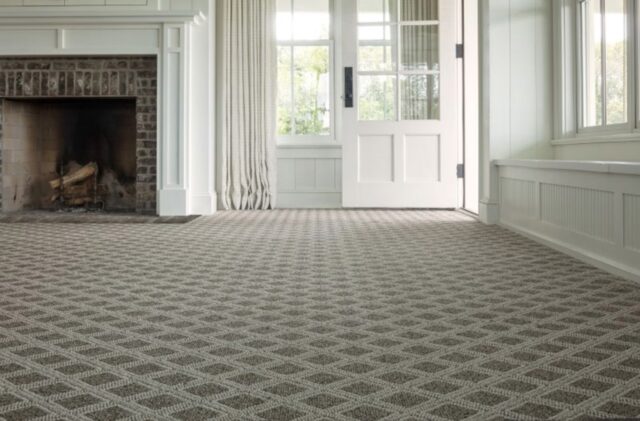 Carpet feels great under your feet and looks wonderful in spaces like bedrooms. It isn't known for its long-term durability though, at least not unless you're talking about very hard, low-pile commercial carpets. Those generally aren't used in homes.
With careful care and maintenance, carpet can last 10 to 15 years or more. In busy spaces though, spots, stains and other damage can lead you to replace your carpet faster. In some cases, spot replacement is an option.
One trick to prolong the longevity of your carpet is to choose a patterned or dark-colored design in busy rooms. These will hide spots effectively and give you a few extra years toward the end of your carpet's lifespan.
Installation
Whatever flooring material you pick for your home you're going to have to install it correctly. If you're doing a DIY installation to save money, the flooring material you choose could impact how effectively you can get the job done.
Installation costs and working with existing flooring structures is also a factor. Here's what you need to know about installing both laminate flooring and carpet:
Laminate Flooring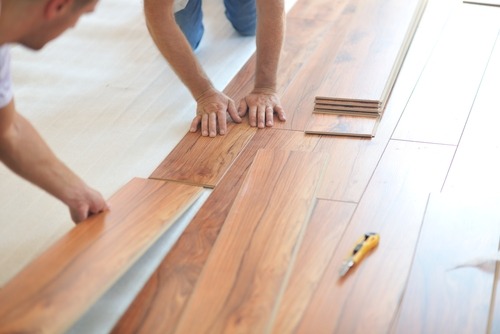 Laminate flooring comes in a few different varieties, giving you options when it comes to installation. If you're taking on a DIY installation, tongue and groove laminate is relatively easy to put in place.
Laminate flooring can be installed on top of most existing flooring as well, excluding soft carpet of course. However, in some cases, your floor may not be level enough to facilitate a quality installation. This can lead to peeling, cracking or warping, forcing you to pull up most of your flooring material.
If you have any existing flooring issues, it's always best to have a professional install your laminate flooring for you. That way you can ensure a solid structure that ensures your durable laminate will last for many years.
Carpet Flooring
Carpet flooring is generally more difficult to install than laminate flooring. However, it can be installed over existing hard flooring materials, including those with minor issues. In fact, carpet can hide these issues and it won't warp, crack or bend like laminate.
Peel and stick carpet styles have risen in popularity in recent years, but these styles generally aren't made for long-term use. They don't work well in large rooms where you want wall-to-wall carpeting either.
If you choose carpet for your space, professional installation is generally recommended. Special tools and the knowledge of pros will help your carpet look great, feel great and last as long as possible.
Best Uses and Rooms
Trying to decide between laminate flooring and carpet? Where you plan to put your new flooring is an important consideration. Here are some of the best uses and rooms for each flooring material:
Laminate Flooring
Laminate flooring works best in high-traffic spaces like entry areas, mud rooms, living rooms and family rooms. It's also right at home in home offices and workspaces since it's easy to clean and care for.
Quality laminate flooring materials are also water-resistant, making them suitable for kitchens and some bathrooms. You'll still need to tackle spills quickly though, as most laminate materials are not completely waterproof.
Best Rooms:
• Kitchen
• Living room
• Active family room
• Entry area/foyer
• Dining room
• Basement
• Home office or utility area
Carpet Flooring
Carpet looks and feels soft, making it an ideal choice for spaces where you relax or hang out with friends and family. It can also absorb sound to a certain degree, which makes it a popular pick dens and home theatre areas.
In general, carpet isn't always the best bet for high-traffic spaces like entry areas. Lots of foot traffic can leave your carpet looking worse for wear. Wet or dirty shoes, bags, umbrellas and more will also stain and damage your carpet over time.
Best Rooms:
• Bedroom
• Den
• Home theater
• Stairs
• Living room
Maintenance and Repairs
Daily maintenance requirements are important to think about when installing any flooring material in your home. How often repairs will be required, as well as how much they might cost, should be considered as well.
Here's how laminate flooring and carpet compare when it comes to maintenance and repairs:
Laminate Flooring
Laminate flooring is extremely easy to care for in your home. Basic cleaning like dry mopping, sweeping or vacuuming is all that's really required on most days. About once every week or two, wet mopping your laminate with a solution designed for your laminate flooring will keep it looking its best.
When it comes to repairs, installing new laminate tiles or planks is generally quite easy and cost-effective. With laminate, you should be able to replace damaged spots without pulling up other planks or tiles.
For this reason, we generally recommend that you buy about 10% more laminate flooring than you'll need for your project. Keeping extra laminate handy will allow you to make repairs and keep your floors in tip-top shape for a long time.
Carpet Flooring
Carpet is easy to maintain on a daily basis. With carpet, all you really need to do is vacuum it regularly to keep dirt, dust and other debris from getting ground into the fibers. Cleaning spills when they happen and having your carpet professionally cleaned about once per year will also keep it looking its best.
Repairs are a little more difficult when it comes to carpet. In some cases, spot repairs may be possible with your carpet. However, extensive damage may require replacement of a large portion of your carpet.
Having extra carpet on hand for repairs is recommended. The quantity depends on how much carpet you have in your home. Reach out to one of our BuildDirect Pros to learn more.
Costs
Every home renovation project has a budget. If you're looking to save money and improve your home, cost is a significant factor when deciding on a flooring material for your home. Here's how these two materials break down in terms of cost:
Laminate Flooring
On average, laminate flooring costs anywhere from $3 to about $13 per square foot. This average price includes professional installation. That makes laminate a cost-effective material that provides lots of value for busy spaces like kitchens.
Some high-end laminates may cost more, though these typically represent a good value as well since they tend to last longer. They may also wear in a more predictable fashion, keeping your laminate looking good even as it ages.
Doing your own installation can help you save more if you're confident in your ability to get the job done correctly the first time.
Carpet Flooring
Carpet flooring typically costs between $2 and $15 per square foot, including installation. It's not uncommon for high-quality wool carpet or high-pile designs to cost more than $20 per square foot, however.
These designer styles are often considered a luxury product marketed toward high-end homeowners and builders. High-quality carpet can also be more durable than inexpensive varieties in some cases.
Handling your own carpet installation generally isn't recommended, so don't look to save money there unless you've got professional help or experience with wall-to-wall carpet.
Get Your Laminate and Carpet From BuildDirect

Ready to renovate your home or start building the space of your dreams? We can help you find the right laminate flooring or carpet whether you're updating one room or designing a high-end space from the ground up.
Reach out to one of our BuildDirect Pros today to learn more about choosing between laminate and carpet for your home. We can also send you a variety of free samples so you can see and feel your options in your own home.
Don't hesitate to contact us today. We're here to guide you through the process starting today.
---
---