All You Need to Know About Random-Width Flooring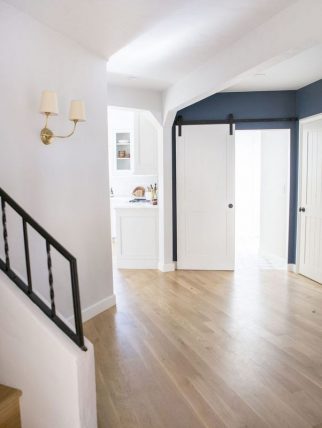 Close your eyes and imagine your average hardwood flooring layout. You probably see evenly spaced planks that are exactly the same size, giving the room in your imagination a refined, seamless layout. Hardwood flooring hasn't always looked this way though.
Not long ago, random width wood flooring was very common. With random width hardwood flooring, you utilize planks that are of varying widths to give your room texture and a unique design.
Today, this style is making a big comeback in spaces where designers and homeowners are trying to make traditional design elements a little more modern. Use this guide to learn more about random-width hardwood flooring.
What is Wide Plank Hardwood Flooring?
Wide plank flooring, which is different from random width flooring, utilizes planks with a minimum of 6-inches in width, though larger design are available as well. Wide plank wood flooring in modern room design often utilizes planks with a uniform width and length.
However, wide plank wood flooring can be made random if the planks are of varying sizes. Creating a custom pattern is also very common during installation.
Hardwood Flooring Plank Width and the Perception of Your Room
Flooring plank width can make a big difference in how your room looks and feels. With wide planks, you can make large rooms feel expansive and look quite grand. Smaller spaces tend to feel a little bit more open when designed with wider planks, though ultra-slim planks can work in these rooms too.
Going for a random width flooring pattern can also help open up your room and provide a more creative design that you don't see in most spaces.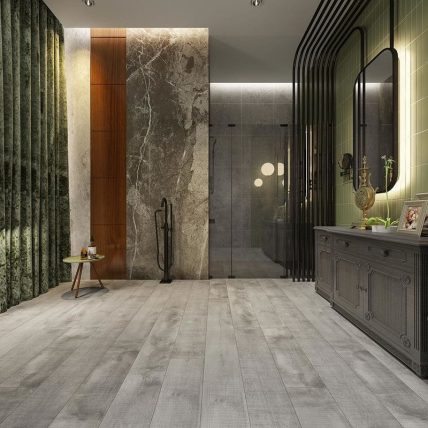 Four Random Width Wood Flooring Pattern Facts
Want to learn more about random width flooring? Here are four top facts you should know if you're considering this look for your home or commercial space:
• Mixed-width flooring achieved popularity during Colonial times. That's why you may associate this look with a more traditional design scheme.
• Most random-width wood floors utilize three different plank sizes. 3-inch, five-inch, and seven-inch designs are most common, though some homeowners and builders opt for different sizes depending on their room and personal design goals.
• Random width flooring isn't always random. Before installation, a detailed layout scheme is generally created to ensure you get the optimal look with the planks on hand.
• Wide and random width flooring tends to make your space feel larger. That's one reason random width flooring in materials is ideal for smaller rooms.
Hardwood Flooring Plank Trends
Hardwood flooring looks change over time, and while you want to be on the cutting edge with your home design, hopping onto every trend isn't ideal for long-term livability. Here are some of the hardwood flooring plank trends that we think will stand the test of time:
• Traditional looks are being used and repurposed in more modern spaces. Wide plank, random width flooring really showcases this trend since it was most popular during the Colonial era.
• Homeowners want more rustic finishes. Natural finishes are all the rage today, with highly-polished wood floors being a little less popular in many applications.
• Engineered wood is growing in popularity. Durable and cost-effective, tongue and groove engineered wood has never looked so good. That makes it particularly popular for homeowners on a budget and people looking to make renovations before selling their home.
• Designers and homeowners are using wood in new spaces like kitchens and bathrooms. The engineered wood boom has made this much more manageable.
Learn more about hardwood floor trends for 2021.
How to Select the Best Width for Your Hardwood Flooring
A lot of people want to know what the best width for hardwood flooring is. While we've got some tips for you, that old phrase "beauty is in the eye of the beholder" definitely rings true. If you love a look for your home, whether it's wide plank hickory or super-slim white oak, it's an ideal choice for you.
Here are a few tips to help you select the best width for your hardwood flooring in your home:
• Use larger planks for big rooms with high ceilings. Wide width flooring is ideal for these spaces since bigger planks will help keep your floors from getting lost in such an expansive space. 4-inch, six-inch and eight-inch layouts are great in bigger rooms.
• Opt for thinner planks for smaller rooms, but don't go for super skinny designs unless you love the look. 3-inch, 5-inch and 7-inch mixes are often ideal for smaller spaces.
• Try using only two plank widths for busy rooms. This can help create a sense of movement and depth without being over-the-top.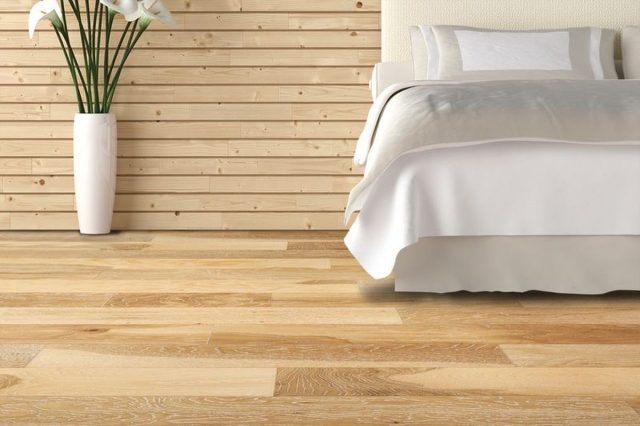 Layout, Pattern and Installation
Not sure about how to deal with laying your random width flooring? Here are a few things to know about layout, pattern and installation:
• Understand the different layouts. Regular, recurring styles with visible repeats that create a pattern are very common. "Flop" layouts utilize a completely random approach that's a little more naturalistic.
• Plan your pattern. Working with an installer is ideal if you've never worked with wood flooring before. Before your installation, draw up a general look you'd like for your room. Then you should take the time to do a real layout in your room before installing the planks for real.
• Hire a professional for installation unless you have experience with hardwood flooring. They'll be able to help you with the layout and plan a beautiful room that meets your needs and design goals.
Ready to update your hardwood floors or build your dream space from scratch? We've got you covered with our selection of random width and wide plank flooring materials. Shop online today to find natural wood, engineered wood and a range of specialty looks and finishes for your home or commercial space. Need help choosing the right materials? Speak with one of our trained representatives so we can get a better understanding of your space. We can also send you a variety of free samples so you can see your potential random width flooring picks in your home.
---
---