Creative Tile to Wood Transition Ideas
If your home has a mixture of tile and wood flooring, a transition strip makes everything safe and seamless between different rooms. To ensure a beautiful look, you can get creative with your tile to wood transition and try something in a modern design. From unusual materials to unique shapes, there are plenty of ways to creatively transition between tile and wood floors. Read on for some inspiration, tips, and ideas that will make your transition dreams comes true.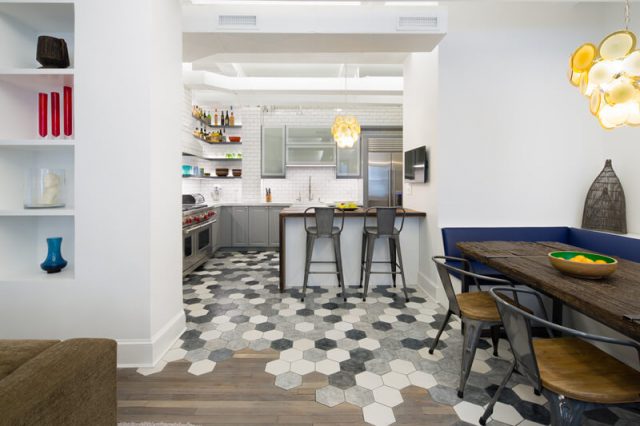 Tile to Wood Transition: Mix Your Flooring Materials
Instead of using the same type of flooring between two rooms, consider mixing things up a bit by using different items like stone, slate, or marble. Your design can include pairing almost anything including wood next to marble or even a combination of porcelain and ceramic tile. When you mix the different materials alongside each other, it creates an unusual texture and adds visual depth. When installed correctly, this unique method can add a modern look to your home. The outcome is extremely striking when it's installed the right way. You don't have to use different materials to transition between every single room. Instead, choose a focal point or the main part of your home where you and your guests will appreciate it most.
Where to Install Your Transition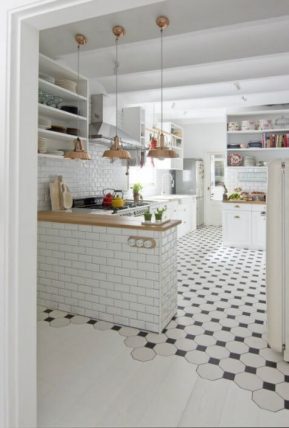 As you ponder your tile to wood transition, think about areas of your home where it will make the biggest impact.
Install granite or slate in an entryway leading into your home, then transition to hardwood floors for the living room.
A transition that goes from the kitchen to the dining or living room can be a real showstopper when it's added to a home with an open floor plan.
Consider creating a unique transition that leads from the bathroom into the main hallway.
Elevate the transition between any two rooms in your home by installing a sleek metal transition strip in a bold finish like bright copper or glimmering gold.
Tones and Material Options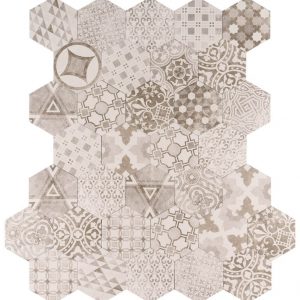 When you're looking for the perfect material for your tile to wood transition, try to make sure that it creates a stunning color contrast. Transitioning from dark wood to a light-colored ceramic tile always looks beautiful. You can also do the same from a light-colored hardwood floor to a dark, bold marble tile for real visual impact. Just make sure that the color tones compliment each other and don't clash, or else your transition may backfire. If you want to get really creative, consider installing mosaic tiles between rooms to add a pop of color and artistic style. When installing new tile flooring, make sure you choose a tile that features a similar pattern or style to the wood or laminate floors you already have so it doesn't compete too much with your existing floors.
Alternatives to Using Straight Transition Strips
A classic transition strip is usually just a straight line designed to protect the "seam" between two different types of flooring. These strips are also used to protect the threshold between the inside and outside of your home. However, you don't have to settle for a boring look when making a tile to wood transition. When you install something in an irregular shape, it's a great way to highlight the subtle move from one space in your home to another. Just be aware that installing an unusually shaped pattern requires skill and precision when you're cutting the wood or tile. It's important that the transition is smooth and evenly laid when it flows from one material to the next.
Unique Patterns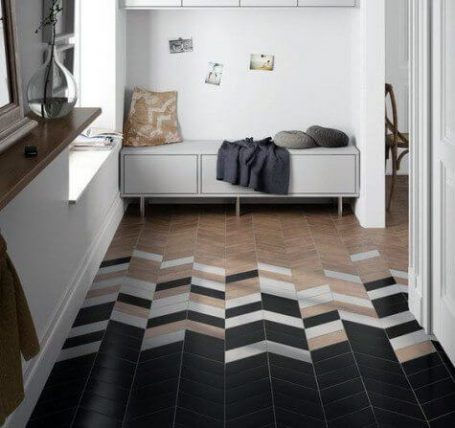 Herringbone
To take your home up a notch, consider installing a herringbone tile floor right next to your hardwood floors. This classic design is sophisticated and clean, and it adds a refined touch to your home without going overboard. You can find herringbone tile in a variety of materials ranging from natural stone to ceramic. Choose a gorgeous stone herringbone tile highlighted in tones of gray that you can install alongside lightly finished maple or oak hardwood floors. This design is a beautiful way to transition between rooms with an elegant touch.
Hexagons
Another fun, modern tile to wood transition is using tiles featuring hexagonal shapes. You can have some of the hexagonal tile "overflow" into the wood to create a really cool visual effect. When installing this type of transition, treat each hexagonal tile as an individual inlay. Layout your tile in the right order and line it up to the edge of your hardwood flooring. Cut out each space for every individual tile, making clean and sharp cuts at the corners. Then, install each hexagonal tile one at a time, making sure that it lays flat and even with the existing hardwood floors. A black hexagonal tile against light wood is a jaw-dropping way to add visual interest between two rooms.
Diagonal Transitions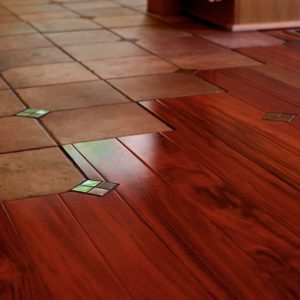 If intricate shapes are too complex, you can try a simple and sleek diagonal design. This transition is fun and easy, and it still creates a unique yet seamless look in your home. Once you've chosen the tile you want to install, you'll need to prep the floors, mark the outlines, then trim any tiles that may need to fit into any corners of the room. Ideally, you should lay out your tiles first to make sure that everything will be evenly placed in a diagonal direction. This simple transition is a fun way to update your wood floors by placing new texture and color between different rooms.  
Tips for a Successful Transition
If you want to use two different flooring materials to transition between rooms, be sure to follow these helpful tips:
Always layout your material first to determine what pattern you want to use. After you've laid out the design, you can measure and cut your tile or hardwood as needed.
Make sure your two flooring choices are the same thickness whenever possible. If one is thinner than the other, you may need to add an underlay to raise it up a bit.
Install your wood and tile in the same direction for a seamless look or have them going in opposite directions for a bold aesthetic.
The color of your wood floors and the transition tile doesn't have to match, but they should at least complement each other without one overtaking the other, or else it may become visually uneven.
---
---