How to Measure Your Space for Laminate Floors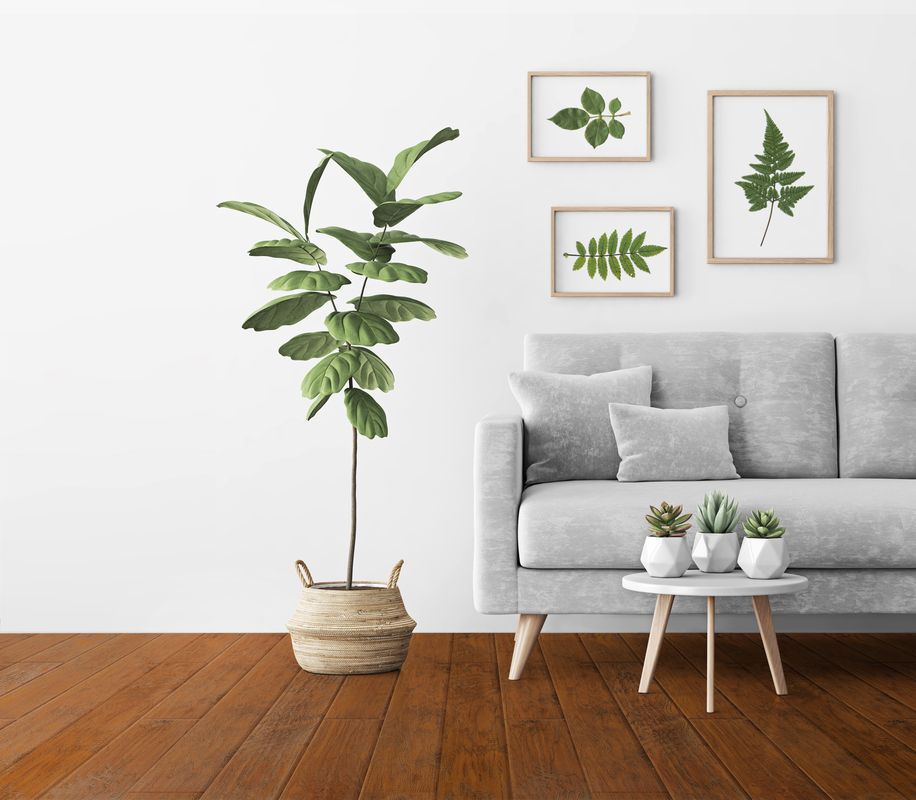 Laminate is a durable, cost-effective flooring option that you can use throughout your home. While choosing your favorite style might be easy, figuring out how to measure for laminate flooring can be downright tricky for the average person.
Use this guide to learn more about laminate flooring installation throughout your home or business. Versatile and stylish, laminate planks and tiles are a great choice for nearly every room in your space.
Square or Rectangular Rooms
Measuring your space for laminate flooring can feel a little bit overwhelming if you've never done it before. If you've got multiple rooms to measure, what should be a quick, relatively simple process can be especially daunting. Don't let measurement anxiety get the best of you.
Start by standing in your doorway and stretching your long tape measure across the floor to the opposite wall. Write down the measurement from the center of your doorway to the opposite wall. Now walk into the room and measure wall to wall in the opposite direction. These are your width and length measurements.
Multiply your length and width measurements to get the total square footage of your space. Repeat this process if you're installing inside a closet.
Measuring an Imperfectly Shaped Room
Square and rectangular rooms are easy to measure for laminate, right? Irregular spaces aren't that much more difficult. Here's how you do it:
Start by getting your standard length and width measurement. Remember that even in irregular rooms this will still comprise most of the square footage. From there, add irregular spaces by taking those measurements individually. Combine them all to get your room's total square footage.
Measuring Multiple Rooms
Measuring multiple rooms is as simple as calculating your basic square footage if these spaces are divided by walls. If you have a more open floor plan, measuring for laminate requires a slightly different process.
The best way to measure multiple connected rooms is to break the space up into square or rectangular areas. That will make measuring your space much easier. Then you can combine the different areas for a total square footage calculation.
Odd areas like closets can also be measured separately and added to your total using the standard length x width calculation.
Establish Your Square Footage
You've taken your measurements, but you're not quite sure of your total square footage. This is a common problem. In most rooms, your total square footage is simply the length of the room times the width of your room. Here's an example with a 10′ x 12′ room:
10′ x 12′ = 120 square feet
A room with irregular components or a room with an open floor plan may require a slightly calculation process. Here's how it works with a 10′ x 12′ room with a 3′ x 8′ closet:
10′ x 12′ = 120 square feet
3′ x 8′ = 24 square feet
120 sq. ft. + 24 sq. ft. = 144 sq. ft.
Easy, right? Measuring to get the right amount of laminate flooring materials doesn't have to be tricky!
Add the Waste Factor
You've determined your square footage and now you're ready to order your laminate, right? Not so fast. You need to add in the waste factor before ordering.
Why add a waste factor? Because no room can utilize laminate flooring planks or tiles exactly as they come out of the box. They'll need to be cut to fit your room. Mistakes and errors can also happen during an installation. That means ordering a little extra.
In general, you should add 5% to 10% extra when placing your order. This ensures that you'll always have enough material to work with. 10% is a great number to choose since you'll likely end up with extra laminate that matches your floors in case you need to replace a plank or tile down the road.
Calculate the Final Square Footage
Your final square footage total will help you place the right order for laminate flooring. To get it, you'll need to know your total square footage and the waste factor percentage you want to use. Here's an example with a 10′ x 12′ room:
10′ x 12′ = 120 square feet
10% waste factor = 12 square feet
Final square footage: 132 square feet
Note that you may need to order more square footage depending on the box size of the product you want. Just make sure you reach the final square footage number. Having a little extra material is always better than potentially running out in the middle of an installation.
Converting Square Footage to Boxes Needed
With your final measurements in order, you're just about ready to order your laminate. Converting your square footage to boxes needed is the last step before placing your order.
To do this, check the box size of the product you're interested in ordering. They're all a little different, so you'll need to do this on any individual product you want to buy.
From there, divide the final square footage by the square footage on the product box. Round up to the nearest box and you've got number of boxes figured! Here's an example:
180 sq. ft. room / 25 sq. ft. box contents = 7.2 boxes. Your total order should be 8 boxes.
Measured and Ready to Go? What's Next?
You've got all of your measurements and it's time to buy. Here are a few things to keep in mind as you make your laminate flooring purchase:
• Buy underlayment. Underlayment like cork and foam is often considered the best option as a sound and water barrier.
• Finish moldings. Finish moldings help secure your laminate in place at the edges. They also add a designer-inspired touch to your room while protecting your walls.
• Prepare the subfloor. Your subfloor should be even and level for a proper installation. Make any repairs before you begin your laminate installation.
• Laying over concrete. You can put laminate over concrete. For new concrete, wait at least 60 days to install laminate. For older concrete, checking your moisture levels and the slope of your surface area is essential. A flat, non-sloped concrete floor is preferable.
• Laying over tiles. Laminate can be installed over ceramic or porcelain tile as long as the surface is flat and in good shape. Make necessary repairs to level your existing floors before installation if needed.
Frequently Asked Questions
Want to learn more about laminate flooring? Here are some of the frequently asked questions we get about laminate on a regular basis.
Q: Is it cheaper to use carpet or laminate flooring?
A: Carpet is generally cheaper than laminate flooring. However, it is not suitable for some spaces like kitchens and bathrooms. Carpet usually doesn't last as long as durable laminate either. Many people mix and match these materials throughout their home.
Q: Does laminate flooring increase a home's value?
A: Laminate flooring can increase a home's value. For moderately priced homes, laminate is a suitable material that can amplify your décor decisions with ease. It's also easy to maintain and care for. That can be a big selling point for potential buyers.
Q: What are the disadvantages of laminate flooring?
A: The biggest disadvantage of laminate flooring is that it can't be sanded or repaired. Instead, you'll need to replace full pieces. That's why it's a good idea to have extra matching planks or tiles on hand.
Q: How long does laminate flooring last?
A: Durable laminate flooring can last anywhere from 10 to 25 years. Your average residential-style has a lifespan of 10 to 15 years. Commercial flooring tends to last longer, but often comes at a higher price.
Ready to update your home, office or business with laminate flooring? Our wood-look and stone-look styles are particularly popular, but we've got a range of designs to fit your décor and design theme.
Reach out to our trained representatives today to learn more about choosing the right laminate flooring materials for your space. We can even send you free samples so you can see your laminate in person before you place a larger order.
---
---