Pros and Cons of Bamboo Flooring vs. Laminate
Are you trying to decide between bamboo and laminate flooring? Each option has both pros and cons, so what's better, laminate or bamboo?
In a head-to-head battle between bamboo vs. laminate, it often comes down to your specific needs and requirements. However, knowing the advantages and disadvantages to both can help you decide which is the best fit for you.
Let's take a look at the pros and cons of bamboo and laminate floors:
Bamboo Flooring
Pros
Durability
High-quality bamboo floors can be as durable as hardwood. In fact, on the Janka Hardness Scale, strand woven bamboo floors can be between 3,800-5,000, making it one of the strongest flooring materials on the market. (Compared to oak wood, which has a rating of 1260, and it's clear how durable bamboo flooring is),
Clean Look
Bamboo has a nice, clean look that looks terrific in almost any setting.
Made From a Renewable Resource
Bamboo is a highly renewable resource. Bamboo plants can reach maturity in 3-5 years (compared to 50 years for trees). In fact, one species of bamboo can grow up to 35 inches in a single day.
Natural Wood Feel
Bamboo looks and feels a lot like wood, making it a terrific alternative to hardwood.
Organic Grain Variation
There are three primary bamboo grains available. You can choose light blonde colored, carbonized bamboo (which is darker in color), or stained bamboo, colored with whichever stains you want.
Termite-Resistant
The chemicals required to treat bamboo are impossible to digest for termites. So, you never have to worry about termites ruining the floor.
Cons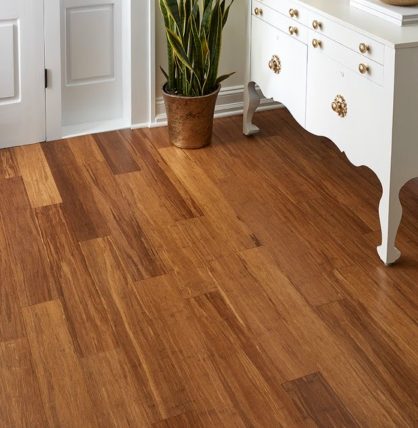 Susceptible to Water Damage
Water can cause staining and spots on bamboo flooring. Water build-up and excess moisture can also cause warping, bacteria growth, and cracking and swelling.
Limited Styles
Several flooring types offer more variety than bamboo.
Refinishing Requirements
You need to do some research before refinishing bamboo floors. Solid bamboo floors can be refinished much like hardwood floors. However, you'll want to keep the grain in mind. For instance, carbonized bamboo is much more prone to scratches, so you have to take extra caution when refinishing it. For engineered bamboo, it depends on how thick the veneer is. If it's thicker than two millimeters, then you can refinish it one time – but only once! If it's not that thick, then you can't refinish it at all.
High Cost
Bamboo can be cheaper than some hardwood, but it is by no means a low-cost flooring option. If you choose higher quality options like strand woven bamboo floors, the costs can add up.
The Best Spaces for Bamboo Flooring
Bamboo flooring is an excellent option for low-moisture, indoor rooms like living rooms, offices, hallways, and bedrooms. Since it can scratch like wood, you don't want to put it anywhere with too much traffic or outdoors. Avoid using it in bathrooms, laundry rooms, basements, and outside spaces.

Laminate Flooring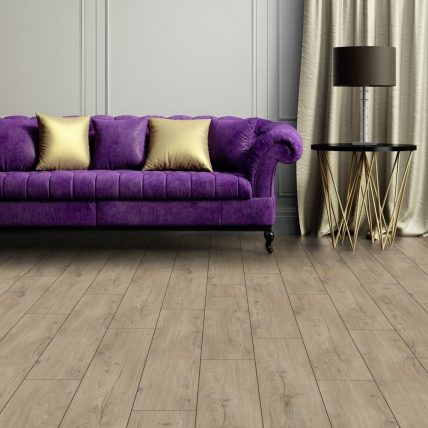 Pros
Easy Installation
Laminate is incredibly easy to install. High-quality laminate comes in planks or tiles and can be installed over most existing flooring, so there's no need to tear out any existing floors before installation. The click-lock style planks make the install even easier.
Low Maintenance
Once it's installed, laminate is a breeze to maintain. Simple sweeping or vacuuming and some damp mopping is all it takes to keep laminate flooring looking great. Keep in mind that laminate is susceptible to water damage, so laminate floor owners will have to avoid excessive water and harsh chemicals when mopping.
Wide Variety of Styles and Colors
Laminate flooring has a seemingly endless variety of styles and colors on the market, so you're sure to find a style that matches your needs.
Affordable Price Point
Laminate is one of the most cost-effective flooring options available, making it a top choice for budget-conscious property owners and builders.
Realistic Wood-Look Potential
Some styles of laminate can mimic the look of wood – without the hardwood price tag!
Insect Resistant
Unlike wood, laminate flooring doesn't attract termites. Termites will eat laminate if it's their only option, but it's not their first choice. Also, laminate won't hide termite activity. So, if they invade, they will be caught before too much damage is done.
Cons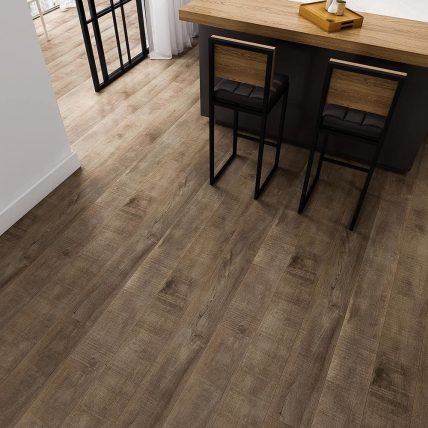 Can't Be Refinished
Laminate floors can't be sanded down and refinished like wood, so wear and tear will require replacement.
Synthetic Feel
Laminate flooring can have a synthetic look and feel – especially the cheaper brands.
The Best Spaces for Laminate Flooring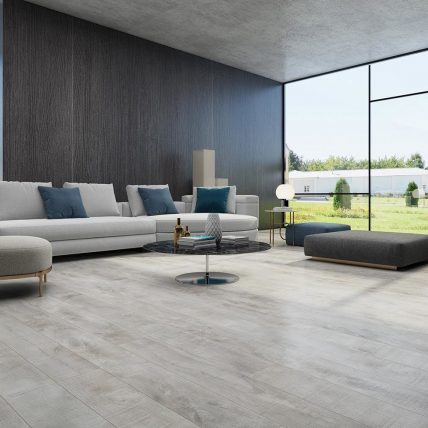 Laminate can go virtually anywhere, as long as you choose the correct AC rating for the durability requirements. You'll want to avoid putting laminate anywhere there will be large amounts of water exposure. Also, it's best to use furniture protector pads beneath heavy furniture on laminate floors. Laminate is a great choice for dining rooms, living rooms, offices, and dens.
The Best Place to Buy Bamboo or Laminate Flooring
So, which is better: laminate flooring or bamboo flooring? Ultimately, the right flooring depends on your project's requirements. Whether you choose bamboo or laminate, you'll want to go with a high-quality flooring supplier, like BuildDirect.
At BuildDirect, we specialize in providing a large variety of top-quality bamboo and laminate flooring options. Plus, if you join our PRO Rewards program, you get access to exclusive deals, a 5% credit, a 30-day money-back guarantee, unlimited samples, and more.
Become a PRO Rewards member for free and check out all our flooring options today.

---
---