Hickory Hardwood Flooring: America At Its Hardest!
Hickory hardwood flooring is tough, beautiful, and long-lasting. Here are some of hickory hardwood's best attributes for your consideration.
***
Known as one of the hardest woods native to North America, hickory hardwood flooring has versatile applications. Discover how hickory flooring can benefit your home. Use our guide to learn how this hardy wood can make just about any room look great.
Impressive Durability & Long Lifespan
Whether you're planning a complete interior remodel, or you're just giving a single room a fresh, new look, you want to spend your remodeling money wisely. After all, cheap solutions and quick fixes won't last long. They simply can't give your home that upgraded look you want.
When you're looking for a flooring type that will stand the test of time and look great for years to come, hickory wood flooring is a smart investment. Hickory's remarkable hardness means it's impressively durable, lasting for decades as the kind of flooring to adorn a legacy property.
Where to Install Hickory Hardwood
As a material with such a lengthy lifespan, hickory is in it for the long run. That means it's a stalwart option that balances the practical with the visually appealing. In the living room, new hickory wood floors offering decorative patterning, naturally bright color ranges, and with the option to match them with area rugs to create home decor balance.
For the master bedroom, hickory hardwood flooring takes your bedroom to the next level with a unique visual warmth. In the kitchen, characterful hickory flooring creates a space that evokes an organic atmosphere for cuisine, conversation, and comfort. No matter where you install hickory flooring, this durable and long-lasting material can change your space's appearance for the better.
Remarkable resistance
More than just durable, hickory is also known for its ability to resist wear and tear in a variety of settings. When you've got foot traffic that is the result of a busy and active life, this can count for a lot. With your help, and aided by runners and area rugs, hickory hardwood floors can thrive right along with you.
Take advantage of hickory's resilient qualities by installing this type of flooring in some of the most high-traffic areas of your home, like the kitchen, family room, or even the entryway. Even with kids or pets, hickory flooring will serve you well, particularly when you include it in your weekly cleaning regimen.
Hickory Hardwood Color Choices
Some types of hardwood only appear naturally in a single shade. In some cases, this lends a distinctive look to a particular wood type, but this can also be limiting. In other cases, home décor enthusiasts get past limited natural shades by using a wider variety of stains.
Unlike hardwoods that come in limited shades, hickory doesn't suffer from a lack of variety. Instead, hickory flooring is available in a wide range of natural wood colors, including almost white to dark brown. Due to its unique makeup, hickory is also more receptive than many types of wood to finishes, stains, and bleaches. With numerous stain and finish options to add to the mix, hickory has nearly limitless possibilities — from light to dark.
No matter what kind of tone you want to set with your flooring, you can strike it with hickory. Install blonde hickory flooring with a natural finish for a country chic look. Go with smart medium-brown hickory flooring for a contemporary urban condo.
Try dark brown hickory flooring in the den, and add plenty of stately appeal. Think about bleached hickory flooring for a kitchen that boasts serious beach appeal. Remember that if you decide on another major remodel in the future, hickory can handle restaining and refinishing, giving you the option to keep designing the home of your dreams as it evolves along with you.
Distinctive Grain & Character
For many homeowners, choosing a type of hardwood flooring is a personal decision, and finding a species of wood that features the right grain and character is critical. Fortunately, hickory has no shortage of either. This hardwood is known for its free-flowing fine grain, a look that some homeowners like so much they opt for wider planks that really show off the distinctive grain.
When it comes to character, hickory isn't lacking, either. This hardwood is relatively even, but most planks feature small and large burls, colorful specks, knots, and even mineral streaks that add visual interest.
You'll be hard-pressed to find a hickory floor that looks completely uniform unless it's stained, but this only adds to the appeal of this hardwood. Whether you install hickory flooring in a contemporary home office, a modern kitchen, or a family-friendly den, it's bound to be a visual highlight.
Other Ways to Design With Hickory
If you love the look, durability, and long lifespan of hickory, consider incorporating it into other areas of your home as well. From built-ins to moveables, you can add touches of hickory throughout your home.
Cabinets: When you're looking for cabinets that last and can stand up to heavy use or temperature fluctuations, hickory is a great option. Consider hickory for kitchen cupboards or smart storage cabinets in the living room or den.
Bookshelves: A serious step up from the inexpensive shelves you'll see in many homes, hickory bookshelves demonstrate that you mean business. Whether you have a voracious reader in the family, or you love to display art and artifacts, consider built-in hickory bookshelves.
Furniture: When you really love a piece of furniture, constant use can quickly lead to unsightly wear and tear. Since hickory is highly durable and tends to resist wear, it's a solid choice for a dining set or a regal armchair.
No matter where you use it, hickory hardwood flooring adds class, value, and visual appeal to your home. As one of the hardest woods in North America, it's no surprise that hickory is here to stay.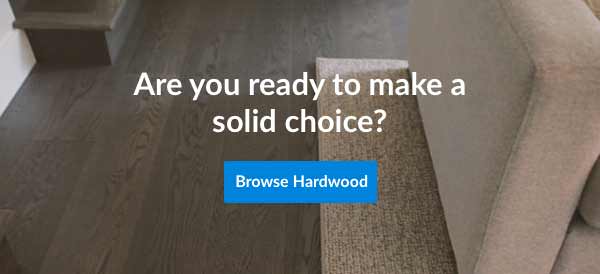 ---
---