Caring For Your New Floors When You Have a Dog
Choosing the right flooring will ultimately depend on personal preference of what you think is more visually appealing, but you should also consider your dog's needs too.
Some dogs will struggle to walk on more slippery laminate flooring or tiles, and might need carpeted rooms, whereas other will be fine with hardwood floors. Either way, if you've just had new flooring laid, the last thing you want to see is a huge scratch mark from your dog's nails, etched into wood, or chunks of the carpet missing.
Whether it is intentional or an accident, these things do happen, so it's better to try and prevent them beforehand rather than fix the floor afterwards. The followings tips on flooring care for dog owners will help you keep your floors looking brand-new for as long as possible.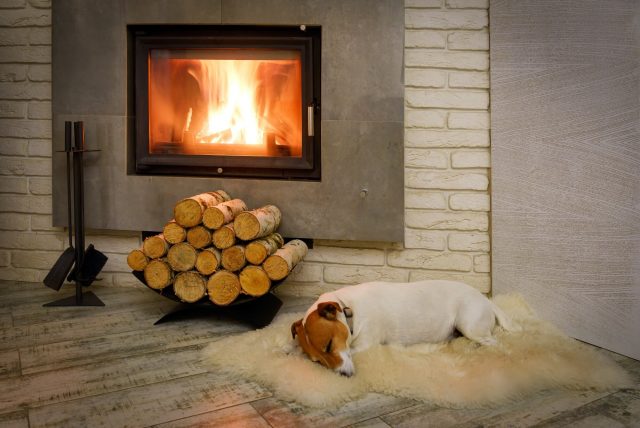 Flooring Care for Dog Owners
Train Your Dog
The number one flooring care for dog owners tip is to train your dog to behave appropriately indoors. If you have a floor that you really want to protect, you can make certain rooms 'dog-free'. This ensures that the floors don't get damaged. If this isn't possible, your dog should be trained to walk calmly through the house, and save zooming around for the outdoors. This will hopefully prevent most damage to your floors. After you've taught your dog some basic commands, such as their name, sit, and stay, you should have a strong enough bond to carry out other essential obedience training.
Popular places that floors tend to get scratched include behind doors, particularly by the front door, where dogs get excited to greet their owner. Train your dog to not scratch the floors by redirecting any unwanted scratching behaviors towards playing with a toy. You can also train your dog to greet people at the door calmly, and discourage any greetings which involve jumping up.
You'll also need to consider that puppies are more likely to scratch a floor than older dogs. You may want to hold off on a flooring renovation if you have a puppy.
Keep Your Dog Well Groomed
If you let your dog's nails grow long, not only will this be uncomfortable for them, but there is also a good chance they will scratch your wooden floors or pull up bits of the carpet. You should trim your dog's nails from puppyhood so that they get used to having their paws touched and their nails trimmed.
You'll need to trim your dog's nails every two months or so for their health, and the protection of the floor. You should never be able to hear your dog's claws clipping on the floor – if you can, you'll need to trim them more regularly.
If you also keep their coats well groomed, you'll avoid their fur shedding all over your home and it'll be much more manageable to brush them, and clear up any fur in one spot.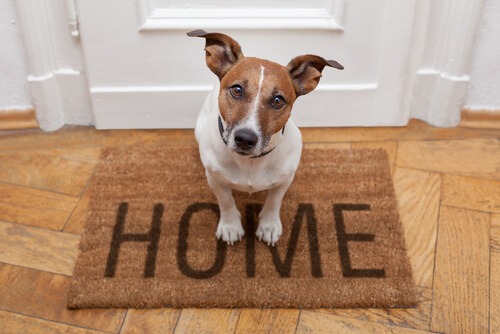 Have a Mat to Wipe Their Paws after a Walk
If you've just been out for a muddy walk, you should have a mat outside where your dog can wipe their paws to prevent walking any mud throughout the house. There are plenty of different door mats available, made specifically to gently clean your dog's paws.
On a similar note, if you have any high traffic areas which are used a lot where you really want to protect the flooring, you could place runners or rugs to prevent additional damage. This tip applies to flooring care for dog owners and busy households alike.
Clean Up Messes Straight Away
Urine, poop, sick, and mud will all destroy your new flooring quite quickly, so if you spot a mess or accident, clean it up straight away. The method you use to clean you floor will depend on what type of flooring you have.
Here are a few examples:
Hardwood flooring should be cleaned with castile or dish soap and water.
Carpets should be cleaned with club soda or a specific carpet cleaner.
Lino and laminate flooring should be cleaned with vinegar and hot water.
Use Pet Accessories
There are plenty of different pet accessories available to prevent your dog from ruining the floor. One of the most popular accessories are dog booties, which are usually made from a soft flannel material and will protect your flooring.
Make sure these boots don't interfere with how your dog walks, and that they feel comfortable in them. It might take them a few tries to get used to them, but if they are still trying to swipe them off after the first week or two, you'll need to think of other methods to keep your floors safe!
Prevention Is Key
If you've just spent money of having your flooring refitted throughout your home, you will want to protect it for as long as possible. Prevention is better than repairing, and if you follow the above steps – grooming your dog, training them, and protecting any areas which you want to keep dog-free – you should be able to keep your floors in beautiful shape for years to come.
Contribution by John Woods

John Woods is a professional dog trainer and a member of the Association of Professional Dog trainers. He is also the founder of All Things Dogs, a website which teaches people how to train and care for their own dogs.
---
---