Dark Hardwood vs. Light Hardwood: Pros and Cons
Hardwood has become one of the world's most popular indoor flooring materials because of its ease of installation and care, strength, durability, anti-allergen properties, and chic good looks. Hardwood planks are also available in a wide range of stylish colors. While homeowners appreciate choice, so many options can be confusing. Consider the advantages and disadvantages of dark hardwood vs. light hardwood floors, in your attempt to find the right hardwood floor coloring for your home.
Dark Hardwood Floors
Ebony, mahogany, cherry, and other dark hardwoods can make a striking impact in any interior. Dark-colored hardwood floors are the perfect foil for light-colored furnishings and rugs. While dark hardwood flooring can be beneficial in many ways, you should also be aware of its drawbacks.
Advantages of Dark Hardwood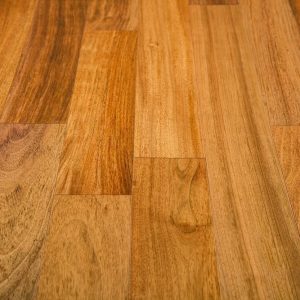 Dark-colored floors have several advantages over their lighter counterparts. Dark hardwood floors absorb sunlight, rather than repelling it, so they aren't as prone to fading as lighter hardwood floors. That means dark hardwood floors will look better for longer, especially in rooms with large windows or skylights that let in a lot of sun.
All hardwood floors are easy to keep clean, but dark hardwood floors have an added advantage for time-challenged homeowners. Their dark color hides dark dirt and grime, thus helping you delay your vacuuming. However, lighter-colored debris may show up, as mentioned below. If your debris is lighter, you may find dark wooden floors will show that sooner than lighter floors.
Aside from their functional benefits, hardwood floors also have a rich look many homeowners love. The dark color seems to emphasize wood's natural grain, bringing out its inherent beauty. Since they make such a strong impression and are right on trend, it's not surprising that homes with dark hardwood floors currently sell for more money than comparable properties with light-colored hardwood floors. When you want to bring a sense of drama or luxury to your home, dark-colored hardwood floors can help you achieve it.

Disadvantages of Dark Hardwood
While dark-colored hardwood floors have several benefits, there are also some downsides to this dramatic flooring surface. Common dark-colored dirt and grime may blend into dark floors, but light-colored debris such as dust and pet hair stands out like a sore thumb. If you have white indoor pets, you might find yourself constantly vacuuming your dark-colored hardwood floors.
Scratches can also be more noticeable on dark-colored hardwood floors, as their finish is often much darker than the wood itself. If you wear shoes inside or have children, this drawback may sway you away from dark-colored hardwood. Applying a satin finish can help reduce the appearance of imperfections.
Dark-colored floors can make rooms seem darker and smaller. If a room doesn't receive a lot of natural light, a dark floor can make it appear gloomy and uninviting. When space is limited, as it often is in condos and apartments, dark floors can give the illusion of even less space. In a large, well-lit room, you don't have to worry about these problems. Painting the walls in a contrasting light color and adding light sources can also provide some balance.
Some darker woods, like maple, don't accept stains as well as lighter woods. If you're refinishing a hardwood floor rather than installing one brand new, this drawback may impact your project.
Light Hardwood Floors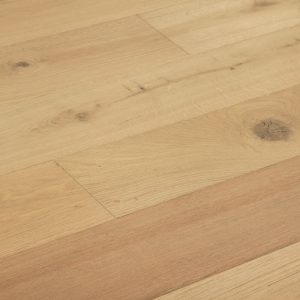 Pine, maple, and unfinished white oak flooring are just some of the popular light-colored hardwoods. They can make a modern room look chic or a traditional room seem more comfortable and relaxed, depending on the space and what you pair it with. While there are several advantages to using light hardwoods on your floors, don't forget to consider whether you can live with the negatives.
Advantages of Light Hardwood
Light-colored floors are so easy to work with. While dark-colored floors make a dramatic design statement that easily looks overwhelming, decorating a room with a light-colored floor is virtually foolproof. They'll work with most wall colors and furniture styles, so it's very hard to get things wrong. If you're not confident in your design ability, a light-colored hardwood floor may be your best choice.
Light reflects off light-colored surfaces, especially when they're glossy, as hardwood floors tend to be. If your rooms are gloomy, laying down light-colored hardwood floors is an easy way to brighten them up. Light-colored hardwood floors also make rooms feel bigger, so they're a great option for apartments and townhouses.
While dark-colored hardwood floors don't do a great job hiding dust and light-colored pet hair, light-colored floors provide great camouflage for these household messes. When your hardwood floors are light, you can ease up on the vacuuming. They almost always look clean. They'll also hide damage better than darker floors which, for busy families, is another point in a light floor's favor.
There's a perception that light-colored hardwood floors are more timeless and traditional. While recent studies show homes with dark-colored floors are selling for more money, it's unclear whether this trend will continue. Some real estate experts suggest that if you're concerned about resale, a light-colored hardwood floor may be a safer option.
Disadvantages of Light Hardwood
Just as very pale clothes can wash out your appearance, hardwood floors that are too light can wash out a room.
While all hardwood floors are made from relatively hard woods, some light-colored woods are softer than their dark-colored peers. Hardwood floors made from light-colored Douglas fir, birch, and pine are prone to denting and scratches. These woods will soon show wear in high-traffic areas, where they can be marked by shoes, furniture, and other items. They require more frequent staining and refinishing to look their best.
Once you've decided whether dark or light-colored hardwood floors will work best in your home, gather a couple of color swatches together and see how they look in your room. Compare them at several times of day, because natural and artificial lighting will have an impact on your perceptions of the colors. Once you've settled on your color, the hard work really begins. However, it will all be worth it when you're sitting back enjoying all the benefits of your new hardwood floors.
---
---