Black Friday, Black Décor: Black Floors
Black (or very dark) floors can dramatically improve the design quality of your home–if you use them well. However, using black flooring can quickly turn into a black hole if you do so carelessly. So how can you successfully use dark flooring in your home? Here are some tips and ideas.
Black Floors Need a Lot of Light
If you live in a dark basement, I must be honest with you: black floors won't work for you. Because black absorbs light, rooms with black floors need lots of light to work well. Think ceiling-height windows, south-facing rooms, entrance halls and open-concept kitchens.
Light in a room can also be improved by white or light-colored furniture, ceiling light fixtures and diaphanous window coverings. In fact, most black floor designs come with ample use of white in the rest of the room.
Black and white remains the favorite pairing, but a touch of grey or beige can add a bit of interest. However, always make sure to have more white than black to avoid closing the room on itself.
Add Some Shine
Another way to help integrate black flooring in a room is to have a shiny, reflective finish, as this will reflect light and help open up the design. Black stone flooring is a great choice when looking for a shiny finish. Wood is a great choice too, but know that imperfections in the wood will show a lot more with a shiny finish–although that's not necessarily a bad thing.
Shiny black floors, when used well, are very attractive design features that outlast fashion trends and always look classically beautiful.
If you decide to go with a matte finish, make sure to increase the white-to-black ratio of your design. This will compensate for the floor's lack of reflectivity and help with the "black hole" effect.
Use Patterns
Black and white patterns are classic fashion statements that never go out of style. The same can be said of flooring. Whether it's a checkered pattern, stripes or even chevron, patterns attract the eye and make a statement. This partial use of black flooring is perfect to test whether you like the idea of dark flooring, and if it suits your décor style.
Checkered patterns are easy to achieve with stone or ceramic tiles. They look especially nice in a kitchen or bathroom. For more creative ideas, paint wood floorboards according to whatever pattern you have in mind. With a good balance of black and white, you can avoid the pitfalls of black flooring and add quite a flair to your home.
Black Floor Maintenance Tips
Anyone who's had black or dark flooring can tell you: it requires a more cleaning and maintenance than pale flooring. Dust, pet hair and scratches can quickly mar the beauty of your new black flooring.
Regular dusting and vacuuming will take care of accumulated dust and pet hair. Once a week should suffice, but it depends on the level of activity and the number of people and pets in your home.
For scratches, a good protective polish can help keep the worst of it at bay, but be ready to take care of more serious damage with a hardwood floor repair kit. If your floorboards are painted, keep some paint leftovers to take care of damage and scratches down the road.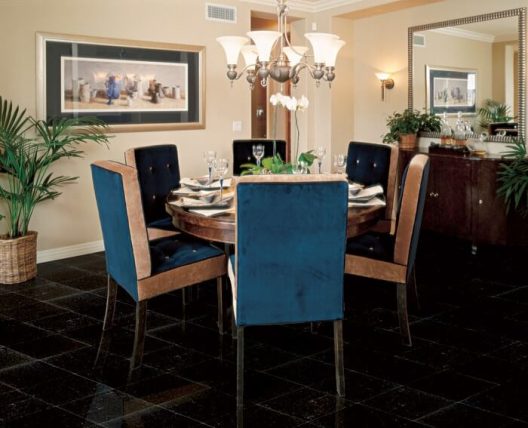 Why We Love Dark Floors
Despite their demanding design principles and pesky maintenance, few things are more majestic than dark floors. The classic alliance of black and white, the sophistication and elegance of black and current fashion trends make black flooring an excellent choice for any room of the home.
When used with a good ratio of white, black floor will make any single accent color pop out. It's a great choice for modern and contemporary styles, minimalist design or for enhancing artwork or a major decorative piece.
For Black Friday, how about considering adding some black flooring to one of your rooms? Share your black flooring ideas and tips with us in the comments!
---
---