Why Do You Need Distressed Hardwood Flooring?
It can be tough to wade through the mountain of choices you have when it comes to distressed hardwood flooring for your new home or renovation. You can achieve almost any look with wood floors, which are timeless, durable, and gorgeous. Distressed hardwood flooring brings a decidedly rustic vibe to your home and comes in a variety of wood species, finishes, and board sizes.
A number of tools and techniques are used to distress a hardwood floor. This includes embossing, scraping, wire brushing, sculpting, tool marking, color washing, etching, and liming. The result is weathered and textured effects, including dents, pits and nail holes, that give the floor an authentically antique look and feel.
Distressed hardwood flooring is available in both solid hardwood and engineered wood. Engineered hardwood floors are stronger and more durable than solid hardwood, although they can't generally be refinished as many times. They're also less expensive.
If you're ready to swap out your old flooring for new, here are a few reasons why distressed hardwood flooring might be just the thing for your home.
A Unique Appearance
Distressed hardwood flooring has a lot more to feast your eyes on than standard smooth wood flooring. Knots, scratches, cracks and other beautiful imperfections are highlighted by sanding and staining. This creates a unique, worn look that brings warmth and old-world charm to your home.
The various textures, colors, lines, and flaws in distressed hardwood floors create visual interest and bring an added layer of character into your rooms to enhance your decor. These floors are particularly suited for older homes, cottages, and cabins, providing a homey, lived-in look. Additionally, they can also make a striking design statement in a more modern setting.
Because distressed hardwood floors have an uneven surface, light plays on them throughout the day and night, creating different looks depending on the level and quality of the light. The shifting shadows and changing hues highlight the visual interest of the floor and punctuate its beauty.
Distressed flooring options include heavily distressed floors, which are right at home in a converted barn or an old farmhouse or cabin. Alternatively there are lightly distressed floors, which are smoother and more uniform in appearance. Both floors create rich, natural interest and warmth.
Engineered to Last
Distressed engineered hardwood flooring is manufactured for incredible durability. The top layer of engineered wood flooring is 100 percent real wood, as is the bottom layer. The hardness of the top layer depends on its species. Harder engineered woods include maple, oak, and hickory, while softer woods include cherry, walnut, and birch.
The middle layer of the flooring is made from plywood sheets tightly compacted together with grains crisscrossing in opposite directions. This makes the boards extremely strong and resistant to shrinking, swelling, and warping, even in high-humidity areas. Manufacturers recommend against installing engineered wood floors in bathrooms or laundry rooms.
Low Maintenance
Hardwood floors are easier to maintain than carpeted or tiled floors. Additionally distressed engineered flooring typically comes in a matte finish that hides dirt and stains, although glossier finishes are available. Maintaining a distressed hardwood floor is a matter of sweeping or vacuuming it regularly and using a specially formulated hardwood floor cleaner when it's due for a deeper clean.
Never use a carpet setting on the vacuum cleaner when maintaining your distressed wood floors, since bristles can cause wide-spread damage. Avoid a wet mop, too, since water is a major culprit for hardwood floor damage. Wipe up spills when they occur, and don't use store-bought cleaning products on the floor. Opt instead for a cleaner that's recommended by the manufacturer of the floor.
Cost-Effective
While handscraped solid wood floors will cost you a pretty penny, engineered distressed floors are far more budget-friendly, since the distressing is done by machine. Engineered wood floors, in general, cost around 20 percent more than unfinished solid wood, but they're much less expensive to install and maintain. Other characteristics that make distressed engineered floors cost-effective include their durability and long lifespan. Depending on a wide range of factors, distressed engineered hardwood floors will cost anywhere from $6 to $23 per square foot installed.
Versatile
Distressed engineered hardwood floors can be installed anywhere in the house you'd put a solid wood floor. They work in some places that solid wood doesn't, like basements and over concrete. Engineered wood floors are ideal for installation over radiant heat, since engineered boards transfer heat better than solid wood and can be installed as a floating system.
Because distressed floors are already rife with "wear and tear," real wear and tear won't make too big a difference in the appearance of your floor. This makes them ideal for households with lots of feet, paws, and claws, and it's a great choice for high-traffic rooms.
The Down Side
So, what's the catch? Every type of flooring has pros and cons. We've listed a lot of pros for distressed hardwood flooring, but what's the down side? Here are a few cons of distressed wood flooring you should consider.
Distressed engineered hardwood flooring has a larger carbon footprint than many other flooring options.
While current trends embrace distressed hardwood flooring in a number of settings, these trends may not last forever. When you sell your home, you may encounter buyers who balk at the distressed floors.
Solid distressed hardwood flooring is more expensive than most other hardwood options, since it takes more work to produce it.
The Bottom Line
Love the look of distressed hardwood floors? Go for it! They're durable, versatile, beautiful, and cost-effective. They bring a lived-in coziness to a room and add a layer of texture and interest to your décor.
From pale red maple to dark, exotic Brazilian walnut and the yellow sheen of pine to the dramatic grain patterns of hickory. Find just the right color and personality for your new distressed hardwood floor with the wide range to choose from.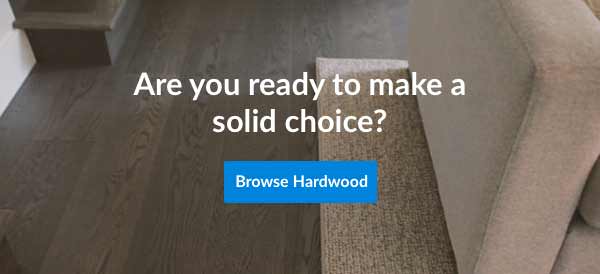 ---
---