What Are the Most Popular Hardwood Floor Textures?
Hardwood floors come in a variety of different textures and styles. From handscraped to smooth, there's a textured hardwood that's right for everyone.
What are the different types of hardwood flooring textures? Which is the best?
Let's take a look at four of the most popular hardwood floor textures, including why they're popular and where each particular texture looks best.
Handscraped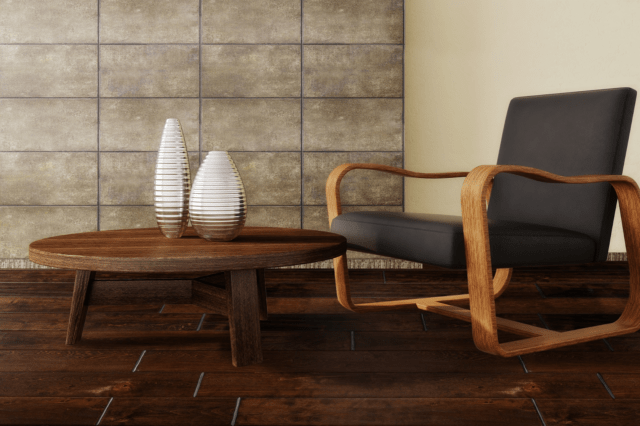 Handscraped wood is created using a hand scraper, chisels, and draw knives to add more texture and definition to an otherwise standard hardwood flooring. The handscraping is done first, and then the wood is finished with lacquer or oil to seal and finish the wood.
Why it's Popular
Handscraped is a popular wood texture choice because it looks unique and adds character. In addition, it gives the wood an antique and distressed appearance, which is a really sought-after motif.
Where it Works Best
Handscraped wood is the ideal choice for rooms where you don't want to have to worry about dings and scratches. It already looks distressed, so the extra scratches and dents just add more character. For that reason, handscraped wood can really work anywhere, but it's an excellent choice for those rooms that might take more wear and tear, like a children's playroom, mudroom, bustling living room, and more. Due to its antique appearance, it also works well in historic buildings and homes.
Wirebrushed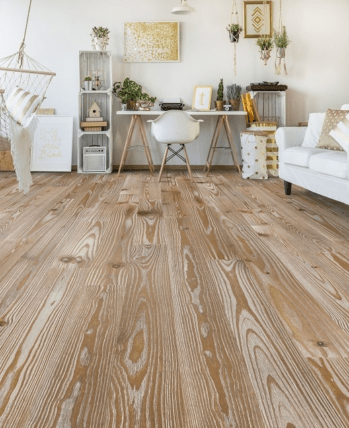 Like hand scraping, wire brushing is a finishing technique where manufacturers use a hard-bristle, steel wire brush to scrape the surface of the wood. This process of wire brushing removes grains, leaving the heart of the wood exposed. Unlike handscraped wood, you generally leave wirebrushed wood with a matte finish (as opposed to glossy) to really highlight the unmistakable wirebrushed texture.
Why it's Popular
Wire brushing makes hardwood look weathered and reclaimed. Like, handscraped wood, wirebrushed wood does a great job of hiding scratches and damage.
Wirebrushed hardwood has a great grip, too, making it a terrific anti-slip option.
Where it Works Best
Due to its weathered appearance, wirebrushed floors work really well in a farmhouse or rustic design. In addition, their anti-slip texture makes them a perfect choice for kitchens, living rooms, and anywhere else that has a lot of foot traffic.
Distressed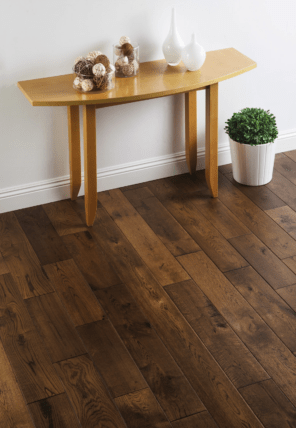 There are several different techniques for distressing wood. From hammering and scraping to using chemicals, every manufacturer has their own process for creating a distressed appearance. Unlike hand scraping and wire brushing, there's generally a bit more unpredictability to the final look of distressed wood. In other words, the grain, color, cracks, and texture might be dramatically different from plank to plank.
Why it's Popular
Like wirebrushed wood, distressed wood gives hardwood floors an antique and rustic feeling. With distressed wood, there's also something really one-of-a-kind about the wood since each plank reacts differently to the distressing techniques. Distressing is also a popular DIY technique which also lends to this texture's popularity.
Where it Works Best
Distressed wood works anywhere wirebrushed wood works. It looks best in rustic or farmhouse interiors, but it can really work in any space with the right eye for design.
Smooth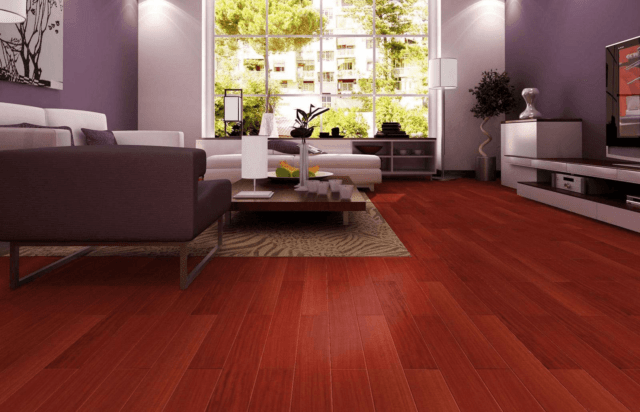 Smooth floors are sort of the opposite of textured floors. With smooth floors, the planks are sanded down to ensure the wood is perfectly flat and smooth. The texture is even and doesn't have any bevels, brushing, or added texture of any kind.
Why it's Popular
Smooth floors are a popular choice for people who prefer an even appearance. They're also the top choice for homeowners who want to avoid dust traps. With a smooth floor, sweeping is a breeze, and you don't ever have to worry about dirt or grime getting trapped in the texture of the wood.
Where it Works Best
Smooth textures aren't limited to any certain design aesthetic, so they look great in any space. Since they don't trap dirt, they're an excellent choice for bedrooms and areas with lots of foot traffic. The smooth texture is also a terrific choice for a baby's nursery since babies spend a lot of time on the floor.
Get a Variety of Hardwood Floor Texture Options With BuildDirect
No matter which hardwood floor texture you like best, you will need to choose a high-quality supplier and manufacturer, because all hardwood is not created equally. At BuildDirect, we're known for our expansive collection of high-quality textured hardwood.
Whether you're looking for natural hardwood or alternatives like luxury vinyl, engineered hardwood, or laminate, we can give you that textured look you're after, at a price point you can afford.
Plus, if you become a PRO Rewards member, you get exclusive deals, unlimited samples, on-site delivery, 5% credit, and more. Best of all, it's free to join and only takes a few seconds. Become a PRO Rewards member now, and get the best deals on your textured hardwood floors.
---
---