14 Wood Flooring Ideas for Living Rooms
It's most likely your living room is the largest space in your home and is used for family time, to entertain guests, and is the spot for daily life catch-all. As such, choosing flooring is a sizable investment and not something to gloss over. For starters, you should consider how you use the space and what type of design style is right for you.
Living Room Wood Flooring Ideas
It does not matter if this is your first time or your tenth time, the journey to find the perfect flooring can take weeks and even months. Let's show you this selection of 14 wood flooring ideas that will spark your design imagination:
1. Tropical Acacia
Acacia offers both durability and striking visuals. Tropical Acacia's blond and golden-brown shade variations within each plank compliment a variety of interior design tastes, ranging from contemporary to rustic. Tropical Acacia features a distressed, handscraped surface texture for an antique aesthetic as well as a low-gloss finish that serves to enhance the wood's natural characteristics.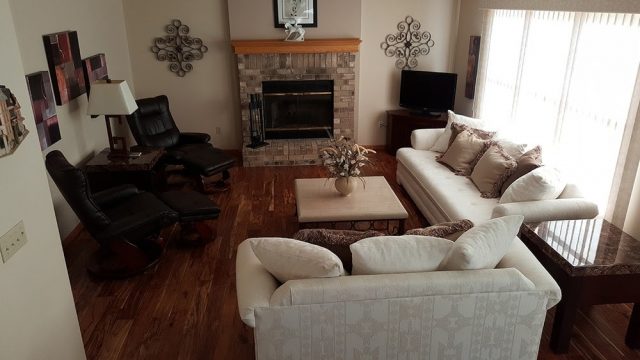 Acacia offers beautifully diverse and natural grain variations. Featuring Mazama Hardwood Handscraped Tropical Collection Acacia SKU: 10061333
2. Wire Brushed Hickory
Hickory is a highly durable hardwood that creates a highly durable floor. The Beasley Wire Brushed Hickory Collection uses a wire brushed finish to expose the wood grain patterns, knots, and color variation. This traditional hardwood floor is the perfect dark wood flooring for your living room. Pair its traditional beauty with a light, modern décor to create an elegant, contemporary space.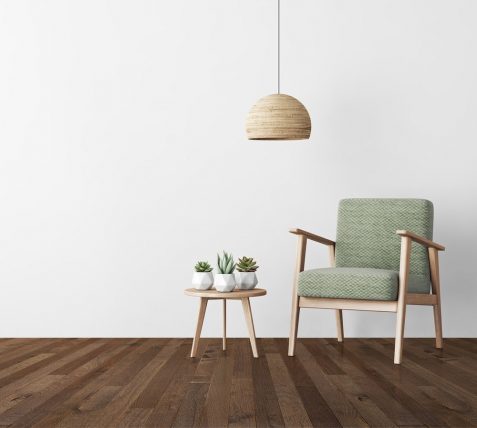 3. Whitewash Oak Engineered Hardwood
Oak flooring is a classic wood look that can accentuate a wide range of looks, furniture, and décor, making it ideal for your family space. Whitewash Oak Engineered Hardwood is designed to be installed on any grade, meaning it can be used in your living room or basement. You get a strong durable floor and you also get the beauty and timelessness of hardwood that will last for years.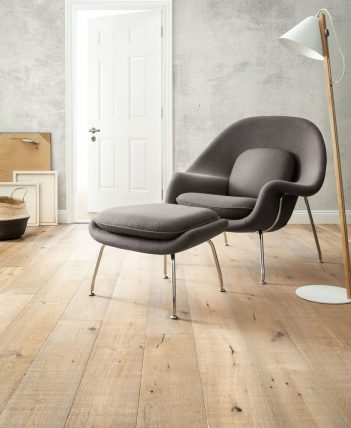 4. Natural Cumaru Hardwood
Cumaru, also known as Brazilian Teak, is an exotic hardwood that is one of the hardest flooring species, a great option for homes with children and pets. The rich golden browns and robust reddish hues found in the Natural Cumaru Hardwood provides an artful design idea for your living room. The distinctive, bold grain accents combined with the sleek finish create a uniquely elegant look in this premiere grade flooring.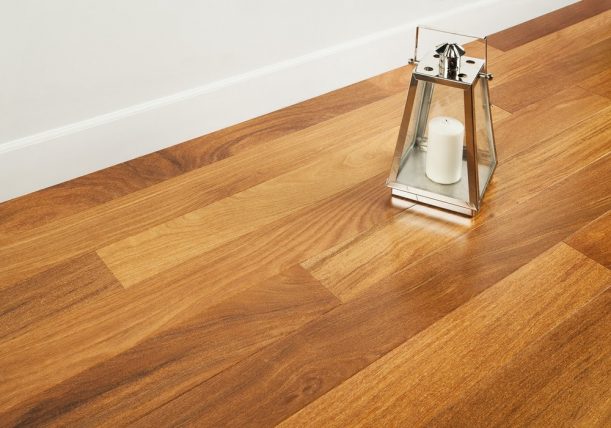 5. High-Variation
Brazilian Walnut has a high-variation wood coloration that makes it a unique flooring idea. Its distinctive coloration runs from light, natural wood to warm mahogany to rich, chocolate brown, creating an eye-catching design story. This European hardwood is the best of both worlds with its extreme durability and exotic beauty.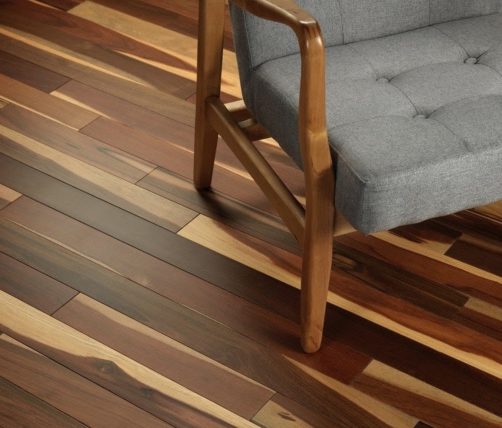 6. Unfinished Oak
An unfinished oak floor is another light wood flooring idea for your living room! The Tungston Unfinished Oak Hardwood Collection is designed to be a tailor-made flooring option. The sky's the limit when it comes to color and finish. Sand the boards down smooth for a sleek, modern look or leave them as they are to create a rustic aesthetic. This collection features boards with lengths up to 10 feet or more for uninterrupted wood patterning, preserving the natural beauty of the species.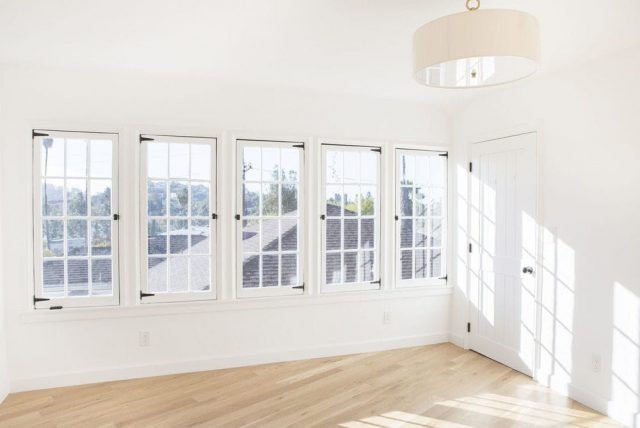 7. Iced Latte Pine
Calling all wood lovers! An authentic pine floor's rustic look compliments any style. Just let the floor do the talking and top it with accent pieces that only serve to enhance the floor's natural beauty. Iced Latte Pine, as the name suggests, is characterized by swirls of light and medium wood tones. The wirebrush finish emphasizes the knots, robust graining, and contrasting colors.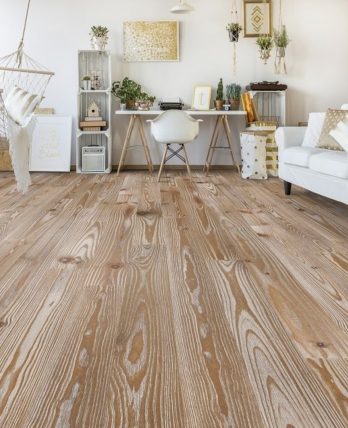 8. Herringbone
Use a herringbone pattern in your family room to create a dynamic look and feel. Such a meticulously laid flooring will elevate any room's style, and the Herringbone White Oak is a great place to start! This gorgeous flooring is unfinished, allowing you to choose the color and finish time and time again. This particular flooring is a made-to-order floor and will last generation after generation while maintaining an air of timelessness and elegance.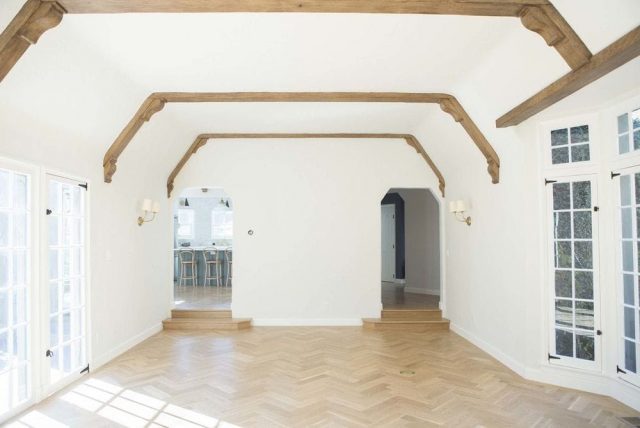 9. Waterproof Bamboo
Have you ever considered a bamboo floor for your home? Perhaps it's time to.. Yanchi Varuna's Waterproof Bamboo flooring features a smooth, clean look that allows you to design your living room in a distinctive style. It offers the same warmth as traditional hardwood flooring and is easy to install over wood, tile, vinyl, and concrete with its click-lock system. It is 100% waterproof and can be installed in any space in your home.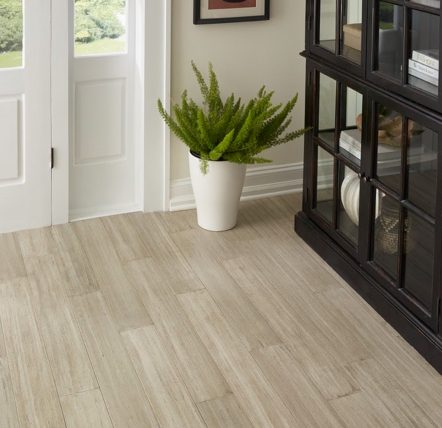 10. Light Grey
Ash hardwood flooring is similar in appearance to oak as well as its durability. However, the Canadian Ash Collection in Pearl is a light grey wooden floor living room idea that continues to build momentum. Light grey pairs well with neutral or vividly colored décor and furniture. Treat the floor as an artist's palette and design away! Crafted with a smooth finish, milled for a tight-fitting installation, and prefinished with seven coats of urethane, this light grey hardwood floor is of superior quality.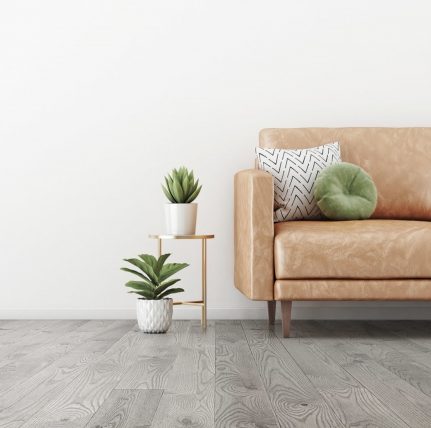 11. High-Quality Wood-Look Vinyl
You don't have to sacrifice quality or style for the sake of your budget. Thanks to advances in flooring technology, high-quality, wood-look vinyl is possible. Vesdura's Elevation Collection in Arbol offers all of that and more. Available with realistic wood graining and surface texture, this luxury vinyl flooring is easy to install with its click-lock system, and it's also waterproof, so if you are worried about spills, scratches, and stains, consider installing this wood-look flooring in the space where your family spends fun time together.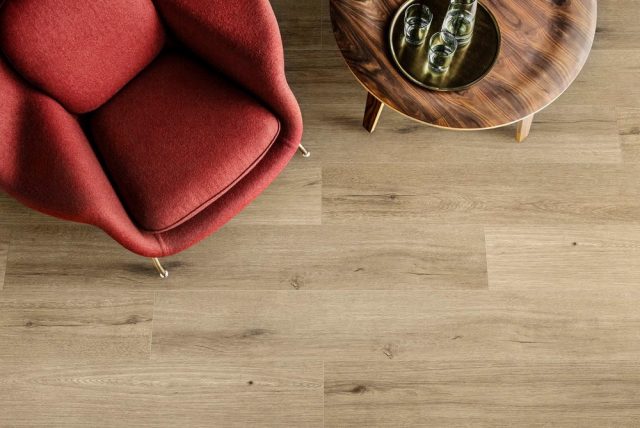 12. Dark Brown
As design trends ebb and flow, choosing to go with a dark brown floor may seem a bit risky. Far from it! Dark browns have traditionally been used to create spaces that are richly elegant. The deep colorations of Pekoe Brown – Smooth Acacia Collection compliment a range of interior design styles. Pair it with light, modern furniture and pops of color in your accent pieces. Perhaps you prefer more stark contrast. Go with light walls and dark, yet simple furniture.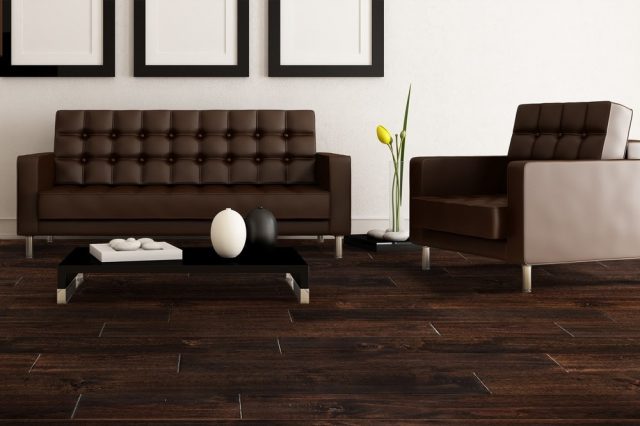 13. Aged Grey Oak
The reclaimed flooring look has been popular for some time now, but the real deal comes with a hefty price tag and can be difficult to source. Affordability and availability in an on-trend, reclaimed look is what makes Aged Grey Oak a perfect wood flooring idea for your living room. The warm, grey stain is complemented with a wire-brushed finish that completes this vintage look.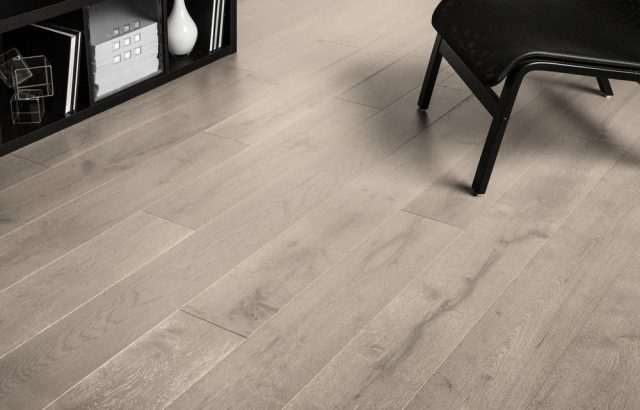 14. Wide Plank
Go wide to give your living room a more spacious affect. Wide plank wood flooring means fewer seams between the planks and more natural wood characteristics to enjoy. The Bonafide Supreme Wide Collection takes its planks to 9 ½ inches in this rustic wood look. Offset the real knots, cracks, and color-variance with antique furniture pieces or top it with vibrant, artistic accents to create the right look for your home.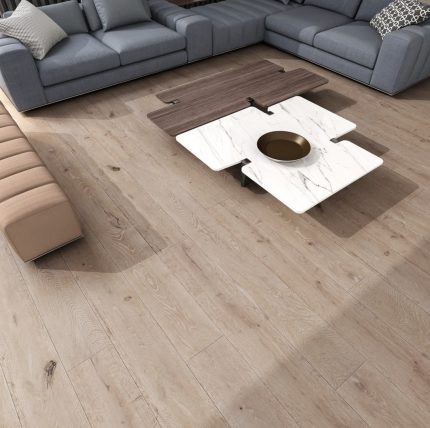 ---
---