4 Ways to Keep Your Deck Cool During the Hot Summer Months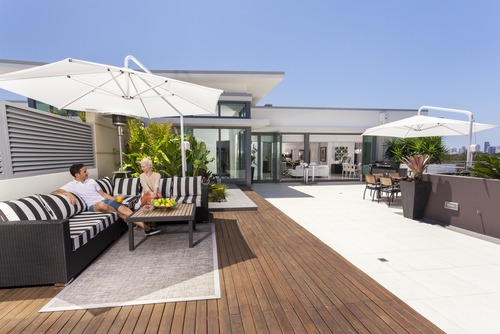 After a cold winter and spring, who doesn't welcome the arrival of warm weather? For many homeowners, summer is the prime season for hosting backyard parties on their decks and dining al fresco.
Unfortunately, the sun's scorching rays can also make some backyard decks and patios unbearably hot. To keep your deck cool and your guests comfortable all summer long, here are a few ways to cool down your outdoor flooring and make your backyard deck the ultimate paradise for all.
How to Keep Your Deck Cool During the Summer
1. Choose the Right Outdoor Flooring
If you're thinking about replacing your backyard deck or patio, you have the advantage of choosing composite wood flooring that won't absorb as much heat during the summer. Some types of flooring have what is known as high heat conductivity, which simply means that they will transfer heat more quickly and feel cooler to the touch. Because of it's makeup, a composite floor does not have a hugh heat conductivity.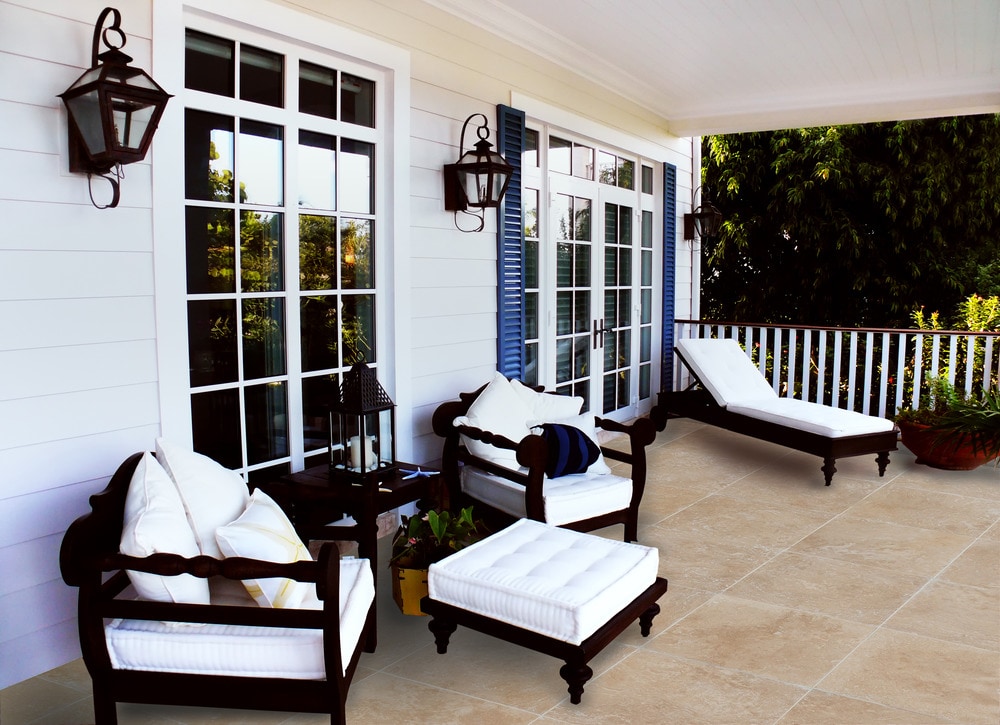 Natural stones such as travertine tile and slate have high heat conductivity, making them popular choices for outdoor flooring because they won't burn your feet. They're also incredibly durable and stylish, making them a practical outdoor flooring option for your patio.
Porcelain tile flooring is another cool flooring option to consider for your backyard. Similar to ceramic tile, only more suited to the outdoors, porcelain tile can imitate the look of stone, wood, marble, and other materials for maximum versatility and style.
2. Lighten Up
While they may not have a high heat conductivity, you shouldn't rule out traditional wood decking or composite decking for your backyard deck. Choosing a lighter hue in these materials can make a huge difference to how they feel in the summertime.
If you've ever worn black clothing on a hot day, you probably know firsthand that it absorbs more heat compared to a white t-shirt. Opting for composite hardwood in a lighter hue can provide a similar result and feel much more comfortable underfoot.
3. Plant Natural Shade
What if you have a darker wood deck that is in fine, working shape? If you like the color and don't want to restain your deck in a lighter hue, consider planting trees instead.
A mature tree not only provides welcome shade for your deck, it can be a smart financial decision as well. According to Lawn and Garden Retailer, planting large trees and plants could increase home values by as much as $3,648.
While your shade might not come for a few years, you might as well start planting now. You can also install a trellis and plant flowering vines that twine around the structure to enhance the functionality and beauty of your outdoor space.
4. Install Shade Structures
While you're waiting for your shade to grow, installing a simple patio umbrella can provide immediate relief from the sun. Fast, easy, and cost-effective, an umbrella is the perfect solution for small patio spaces.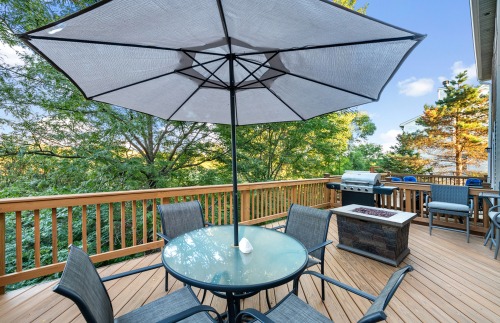 If you need shade for a large backyard deck, an umbrella likely won't cut it. In this case, building a pergola or arbor or installing a patio awning might be the better option. Building a pergola or garden arbor is a particularly attractive way to create an enchanting backyard space while providing sanctuary from the sun.
Additional Tips to Stay Cool
While these tips may not cool down your outdoor flooring, they can help keep you and your guests cooler on hot summer days:
Install Misting Fans –

A gentle mist on the back of your neck will feel delightful on those blisteringly hot summer days. Misting fans are also a big hit with kids and pets.

Limit Your Cooking Time –

As much as you adore using your outdoor kitchen to whip up delicious meals, try avoiding it during the hottest hours of the day. The heat from your cooking can add several degrees to the space and be stifling to your guests.

Install an Outdoor Bar –

If your patio style is centered around entertaining, installing an outdoor bar is a stylish way to keep everyone cool with a cold beverage.

Select Lighter Colored Patio Furniture –

As elegant as your dark navy patio furniture appears, it may be too hot for guests in the summer. Swap out dark cushions with lighter colors that will reflect the heat.
Beat the Heat with BuildDirect
Summertime is the ideal season to get some fresh air and spend more time outdoors. Before you can do that, you need to ensure that your backyard deck is a relaxing sanctuary and not a sweat-inducing nightmare. With these tips, you can start making your deck a cool and comfortable retreat all summer long.
---
---