Does Vinyl Flooring Need To Acclimate Before Installation?
When you go to a city in a different time zone or with a completely different climate than what you're used to, you may need a few days to adjust. Floors can be the same way. This adjustment process is called acclimation.
If you're planning to install new vinyl flooring in your home, you should be aware of this process and prepare accordingly. Here's everything you should know about flooring acclimation and why it's so important.
What is Flooring Acclimation and Why is it Important?
Flooring acclimation is a vital part of the pre-installation process. It essentially allows your flooring materials to acclimate to their new climate and environment before they're installed. Why is this so important?
Vinyl flooring is made with a high-density core that is highly porous. This allows air to pass through the material, which brings high levels of humidity with it. Depending on the moisture in your home, your vinyl may expand or contract to a different size.
If you don't allow the vinyl to properly acclimate before the installation, you'll start to see problems hours or even days after the installation is complete. If the vinyl shrinks, the floor will pull apart, creating gaps between the planks.
If the vinyl expands, the planks will push together, get stuck, or buckle, becoming uneven and making the floors uncomfortable to walk on. Plus, you could also void your warranty if you install before the acclimation process is complete.
On the other hand, if you wait for the materials to acclimate to the environment, you won't have these issues. This pre-installation necessity will ultimately help increase the lifespan of your flooring.
Types of Vinyl Flooring
There are various types of vinyl flooring available on the market. Knowing the differences between them could be the key to understanding the acclimation process and choosing the right material for your home.
Vinyl Plank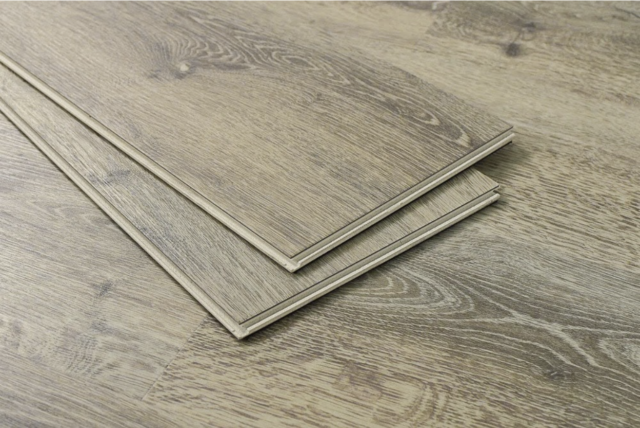 Vinyl planks are one of the most common and popular types of vinyl flooring. They are stylish, cost-effective, scratch-resistant, waterproof, and relatively easy to install. They're designed with durability in mind and are made to resemble hardwood without all the maintenance and upkeep.
Vinyl Sheets
Vinyl sheets come in rolls, typically measuring between six and twelve feet wide. During the installation process, the sheets must be cut and trimmed to fit the room. They're available in many colors and generally have a fiberglass core.
SPC Vinyl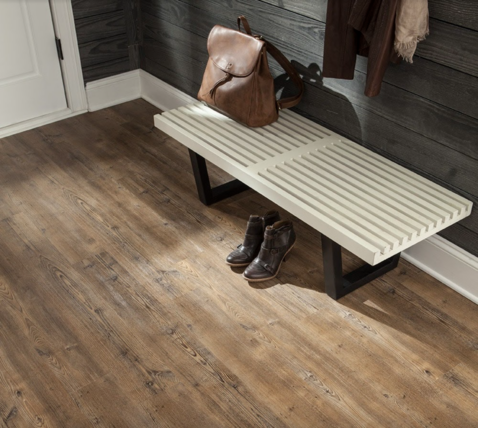 Stone Plastic Composite (SPC) vinyl, also known as Rigid Core Vinyl Flooring, is a revolution in vinyl flooring that is highly water-resistant, making it perfect for any room in the home, including bathrooms, basements, and kitchens. It's also incredibly durable, scratch-resistant, low maintenance, and easy to install.
WPC Vinyl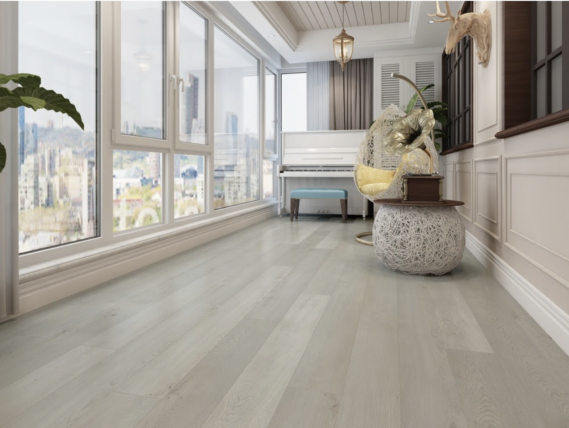 Wood Plastic Composite (WPC) vinyl is similar to SPC vinyl, except its core is made from a wood-plastic composite instead of a stone-plastic composite. As a result, this material is waterproof and scratch-resistant. It's the closest you can get to natural hardwood with the durability and water-resistance of vinyl.
Which Types of Vinyl Flooring Need to Acclimate?
All vinyl needs to acclimate before it is installed, since itl is highly porous and expands or shrinks based on its environment. There's no exception. So, whether you have vinyl planks, vinyl sheets, SPC vinyl, or WPC vinyl, you must give the material time to acclimate to its new environment.
The expansion and contraction may seem minimal to the naked eye, but it will make a world of difference on your installed floors. In fact, this doesn't only apply to vinyl. No matter which flooring type you choose, you will need to give the materials time to acclimate. The time for acclimation differs depending on the material.
How Long Does Vinyl Flooring Need to Acclimate?
When it comes to vinyl flooring, you should allow the materials to sit in the open air in the room where they will be installed for 48 hours before starting the installation. This provides plenty of time for the air and humidity to circulate and the vinyl to expand or contract fully.
What Does the Acclimation Process Look Like?
Once you have the materials on hand, place them in the room where they will be installed. If you're planning to install vinyl in multiple rooms, put the appropriate materials in each room. There may be slight differences in humidity and air quality from room to room, so you want to ensure they're in the right environment.
The acclimation process is much easier if you take the materials out of the box they came in. They can be stacked or laid out individually; that has minimal impact on acclimation. Be sure to run your HVAC system during the entire pre-installation process, keeping the temperature in your home between 59- and 80-degrees Fahrenheit.
How to Get Top Quality Vinyl Flooring Products at Discounted Prices
If you're looking for high-quality vinyl planks, SPC vinyl, and WPC vinyl, then you've come to the right place. BuildDirect has top-notch flooring products handpicked by industry experts at outrageously affordable prices.
Plus, if you become a PRO Rewards member, you get exclusive access to 5% credit, unlimited samples, on-site delivery, and more. Become a PRO today!
---
---