The 8 Best Basement Flooring Options
Ready to turn that basement into a more comfortable and livable space? Always start with the flooring. Before making your basement flooring selection, there are a few things you should consider if you are choosing a floor for a potentially problematic space, starting with usage.
How do you plan to use the space? Is it more of a work area for home projects where a low-maintenance option would be best? Or are you planning on making it a fully-functional living space for family time or an office where something more luxurious is needed?
Why Basement Flooring Needs to be Moisture Resistant
Basements are fickle spaces. Moisture tends to find its way into most below-grade spaces whether it is traveling up and down through the concrete slab or coming from the perimeter of the space due to overly saturated dirt surrounding the exterior walls. It is important that the flooring you choose be highly moisture resistant. Most flooring that is suitable for basements will specify that it is designed for "below-grade" applications, but there are others that are also suited for this type of space.
No matter which type of flooring you decide to install in a basement, it's important to lay down underlayment that acts as a moisture barrier. Even if the flooring product you choose is waterproof or water resistant, the underlayment provides more peace of mind and protection.
8 of the Best Flooring Options for Basements
We have compared eight flooring options, by their water-resistance, durability, comfort, appearance, and ease of installation.
1. Epoxy
Epoxy is a liquid coating that is a sealer and flooring design all in one. It is ideal for work spaces like garages or woodworking shops, or perhaps you want to create a bright, yet durable, play space for kids. Epoxy is completely unaffected by moisture; however, it is not the longest lasting flooring option, at only two to three years. It is applied directly to the concrete slab, and will take on the qualities of the slab, so it will be cold and uncomfortable to stand on for long periods of time. You can apply epoxy yourself, but if you want to maximize its longevity, consider hiring a professional. A pro will know how to prep the slab properly, which products to use, and how and when to apply the epoxy.
2. Luxury Vinyl Plank Flooring
Luxury vinyl plank flooring, like that from the Vigorous Collection, can elevate any space with its elegant range of natural wood visuals. The stone plastic composite (SPC) vinyl planks are made using a waterproof core to combat moisture attacking from below. Rated for residential and light commercial use, this robust collection comes with a 20-mil wearlayer that is scratch-resistant and protects against daily wear. Outfitted with a pre-attached foam underpad, the Vesdura planks offer comfort underfoot.
The luxury vinyl planks can be installed directly on top of your subfloor, as long as the subfloor is in good condition or prepared properly if work is needed. It's important to note that although these floorboards themselves are water resistant, they cannot completely prevent moisture damage to your subfloor. Vinyl floors won't incur damage from prolonged water exposure, but your subfloor may still be susceptible to mold and rot.
3. Engineered Hardwood
The Jasper Robin Ridge's real hardwood top layer provides you with a timeless wood look along with the high moisture resistance required for a basement application. It is made with a SPC waterproof core and comes with a pre-attached foam pad to increase underfoot comfort and reduce noise. The click-lock system makes for easy installation and repair.
4. Ceramic or Porcelain Tiles
In terms of exposure to moisture, tile can endure flooding and will dry completely. Update an indoor or outdoor space with the Riverbank Stone Series porcelain stone-look tile. Prefer a wood look? The Torcello Series ceramic tile provides realistic knots and graining in a scratch-resistant product. Ceramic and porcelain tile do not require the use of underlayment or a special subfloor; however, the slab must be level and clean. As a hard surface product, tile does not absorb sound and is not warm. From stone to wood, solid colors to patterns, the tile design possibilities of ceramic and porcelain are endless.

5. Peel & Stick Vinyl Flooring
Peel & stick vinyl flooring can be installed directly atop a concrete slab. They are water-resistant, but the glue is not, so it is recommended that the subfloor be treated with a sealant. Typically, the product specifications will indicate what type of sealant to use. If the concrete slab is not level or has imperfections, those need to be addressed. Peel & stick vinyl flooring can be applied in one afternoon and is easy to install compared to other products. There are a wide range of colors and designs, so you can create an artistic office space, unique family room, or a fun playroom. Since peel and stick vinyl tiles are applied directly to a concrete slab, as with epoxy, they offer very little warmth or sound abatement.
6. Laminate Flooring
Some types of laminate flooring are constructed to be installed below-grade and directly on top of a concrete slab, but most will require a moisture-resistant underlayment. The Defiant Collection is highly water-resistant and durable enough for kids and pets. Maintenance is a cinch! Sweep and damp mop as needed. Laminate's click system makes installation simple and easy. All you need is a little flooring installation know-how, a few tools, and some DIY motivation.
Make sure the slab is level and clean and be sure to install an underlayment & moisture barrier between the flooring and the slab. Laminate wood-look flooring excels at offering realistic hardwood visuals at an affordable price.
7. Carpet Tiles
Carpet tiles are very easy to install and repair if damaged; simply pull up the self-adhesive tiles and replace. Just like peel and stick vinyl tiles, carpet tiles can be used atop a basement slab if it is sealed properly; excessive moisture traveling upward through the slab can damage the glue and cause the carpet tiles to turn loose.
Maintenance consists of vacuuming and blotting up spills when they occur. In a basement space, carpet tile provides a higher level of comfort underfoot as well as insulation benefits. Carpet tiles are versatile when it comes to designing a space since they come in a wide variety of styles, colors, patterns, and textures.
8. Slate Tile
Slate is a naturally-occurring stone, and requires a sealant to be applied before grouting. Slate could also require an underlayment membrane in certain applications. It is highly resistant to damage, but it must be installed over a solid and level subfloor; otherwise, it is subject to cracking. Slate is primarily found in a grey color that can fluctuate from light to dark, but it can also contain other colors like red and green. During the installation process, slate can be easily damaged. Consider hiring a pro to install your slate flooring. Update your basement with slate tile to create a clean, sleek look that is easily maintained and will last decades.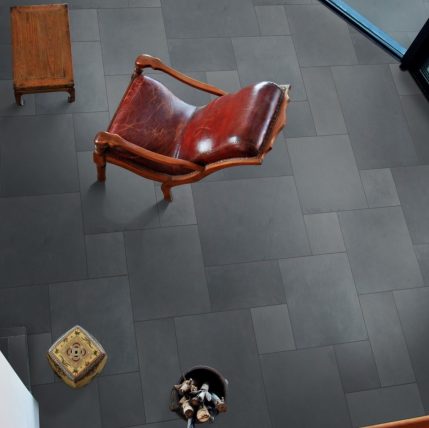 Make Your Basement More Livable with BuildDirect
Deciding on the right floor for your home can be a challenge. BuildDirect's team of experts can walk you through your flooring purchase journey from start to finish, zeroing in on the perfect flooring to make your basement space more livable and enjoyable!
We can help you design that cozy office space, durable work space, or fun playroom. Want to get an idea of what your new flooring will look like? Free samples are available to help you with your selection.
Everyone will benefit from our PRO rewards program whether you are a first-time flooring buyer or an experienced installer. Save money and produce high-quality end results by signing up for our PRO Rewards program today! This entitles you to many benefits, including unlimited free flooring samples, to help you get ahead of the competition.
Take the first step and call us today.

---
---