Tips for Keeping Pet-Friendly Floors Looking New Longer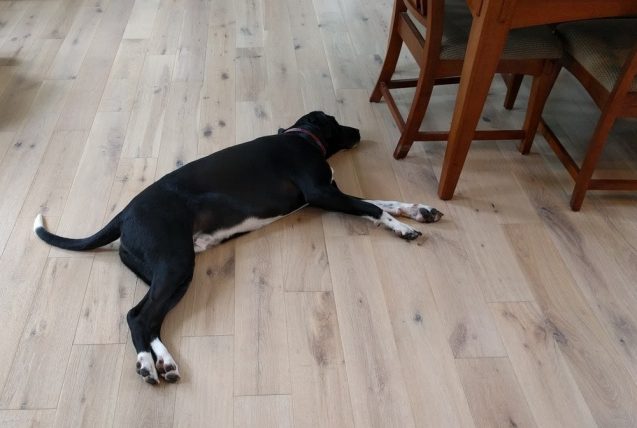 Pets can be hard on your home. From your furniture to your yard, your four-legged friend can do some damage in a hurry. That's particularly true if you have multiple pets or young pets like puppies in your home.

While a chewed pillow can be replaced, damaged floors can be extremely costly. Choosing the right flooring for your pet-friendly home is the perfect first step. Once you've done that, a little maintenance goes a long way.

Use this quick guide to learn more about how to keep your pet-friendly floors looking new longer.

Granite

Granite is a great choice for high-end home designs. Durable and designed to last, it will also stand up to everyday wear and tear from pets with relative ease.

When it comes to granite, keeping your floors dust and hair-free and cleaning them with a specialty stone cleaner about once a week is all you really need to do. Having your granite and any visible grout lines sealed will help prevent pet-related staining.
Travertine

Travertine is a stylish and sturdy natural stone choice. While pet nails and weight from active pets won't scratch it, travertine is somewhat susceptible to urine damage. That's because acidic urine can etch into your travertine leaving unsightly marks even if you clean it up right away.

Avoiding travertine in places where your pets spend the most time is often recommended. For other spaces, opt for a sealed travertine and ensure that you clean up liquid messes right away.

Ceramic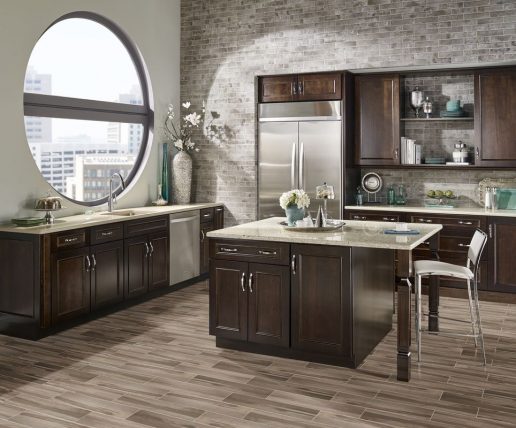 Ceramic tile comes in tons of different looks, even mimicking natural stone or hardwood. Best of all, it's a great choice for pets because it's super-hard and won't scratch.

Easy to clean, daily maintenance including sweeping and mopping your ceramic is all that you'll really need to do to keep it looking fresh. If you do have spots or spills, just make sure you clean them up right away to avoid any lasting damage.

Slate

Ideal for modern homes, slate can provide you with a unique look around your home. It's also an excellent choice for pet owners because slate isn't as sensitive to urine damage as materials like travertine.

When it comes to maintaining your slate, cleaning it regularly and using a quality natural stone cleaner is recommended. You'll also want to seal your slate and any grout every few years to keep it looking new and resilient.

Limestone

A gorgeous natural stone material that many people love, limestone can be a tricky pick for your high-traffic spaces. That's because it's a somewhat soft material that's prone to scratching from your pet's nails. Urine may also damage limestone.

If you must use limestone in a place where you spend time with pets, staying on top of your cleaning routine is a must. Use quality products made for limestone. You'll also want to be ultra-vigilant and ensure that your limestone is sealed every two years.

Hardwood

A popular choice in many homes, exotic hardwood comes in lots of different species that will blend with traditional, transitional, and more modern design schemes. BuildDirect recommends the Mazama Collection and Smooth South American Collection because they are more durable and can sustain pressure from heavier dogs. Keeping pets nails trimmed or filed will be necessary to avoid extraneous scratches on the flooring. Be sure to also wipe your pet's paws after a walk to keep your hardwood flooring looking better for longer.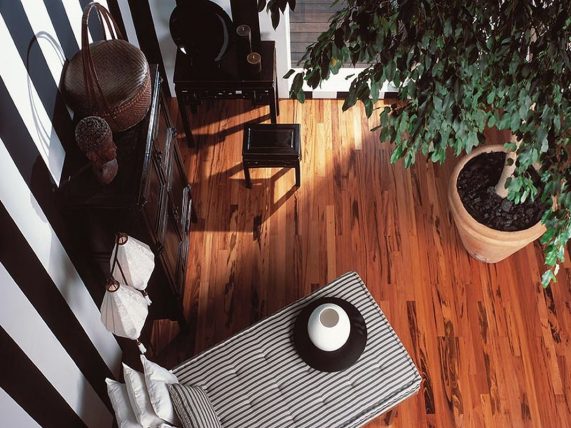 Carpet

Carpet feels great on your feet, but we all know that pets can wreak havoc on soft, light-colored carpets. One alternative is to choose a color that's natural, yet hides stains and spots a little better. A high-pile option that's treated with stain-repellent is a great choice.

Regular cleaning, whether you do it yourself or hire a professional to do the work for you, will also help remove problematic spots. Aim to do this about twice per year if you can. Of course, you'll also want to clean up spots and spills immediately as they happen. Using classic club soda can help remove spots before they set.

Adding area rugs to your setup in high-traffic spaces can also keep your wall-to-wall carpet looking its best for years to come.

Laminate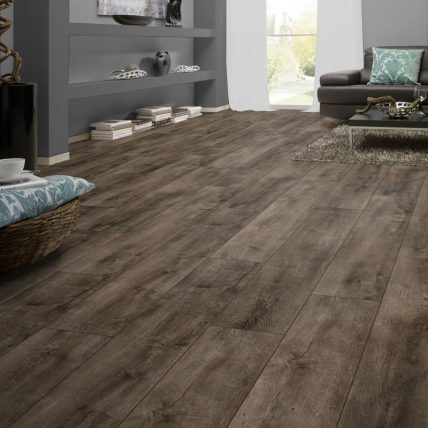 Laminate is a resilient material often used in spaces like kitchens and bathrooms. When it comes to laminate, urine damage and spills are your biggest enemy. In general, cleaning these up right away should be your first priority. Otherwise, your laminate may buckle or peel.

A regular cleaning routine that keeps your laminate in tip-top shape is also recommended. Look for specialty products made to protect laminate from wear and tear.

If you have a lot of pets or large dogs, going for an extra-tough laminate can also prevent damage and keep your laminate looking great for years.

Vinyl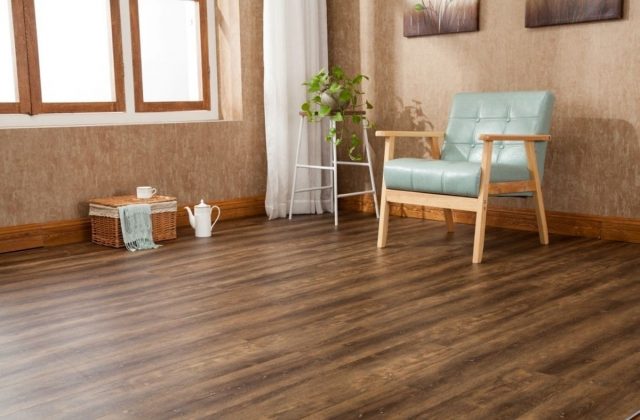 Vinyl flooring can be durable and cost-effective, making it a smart choice for busy homes with pets. When it comes to vinyl flooring, water and urine damage are the biggest concerns.

Vinyl flooring material that has a protective coating is a great buy for pet owners. This coating will help resist scratches and stains even if you miss spots and spills for a few hours or a day.

Regular cleaning with a soft-bristled broom, microfiber mop and weekly wet cleaning with an approved product will also keep your vinyl flooring looking new.
Ready to update the flooring in your home? We can help you find the right pet-friendly flooring for a busy family room, a messy kitchen and any other space in your home. We'll even send free samples so you can see our pet-friendly flooring in your home. Contact one of our trained representatives today so we can help you get started with your flooring upgrade today.

---
---