3 Durable Flooring Options for Rental Properties
Are you on the hunt for a durable flooring material for your rental properties? There are so many flooring materials on the market, it can be challenging to decide on the perfect one for your property.
What qualifies a flooring material as a good fit for rental properties? What is the top durable flooring for rentals? Let's look at everything you need to know about selecting a suitable flooring material for your rental property.
Essential Qualities of Rental Property Flooring
What should you be looking for in rental property flooring? These four features are must-haves for any rental property's flooring:
Scratch, Scuff, and Water Resistance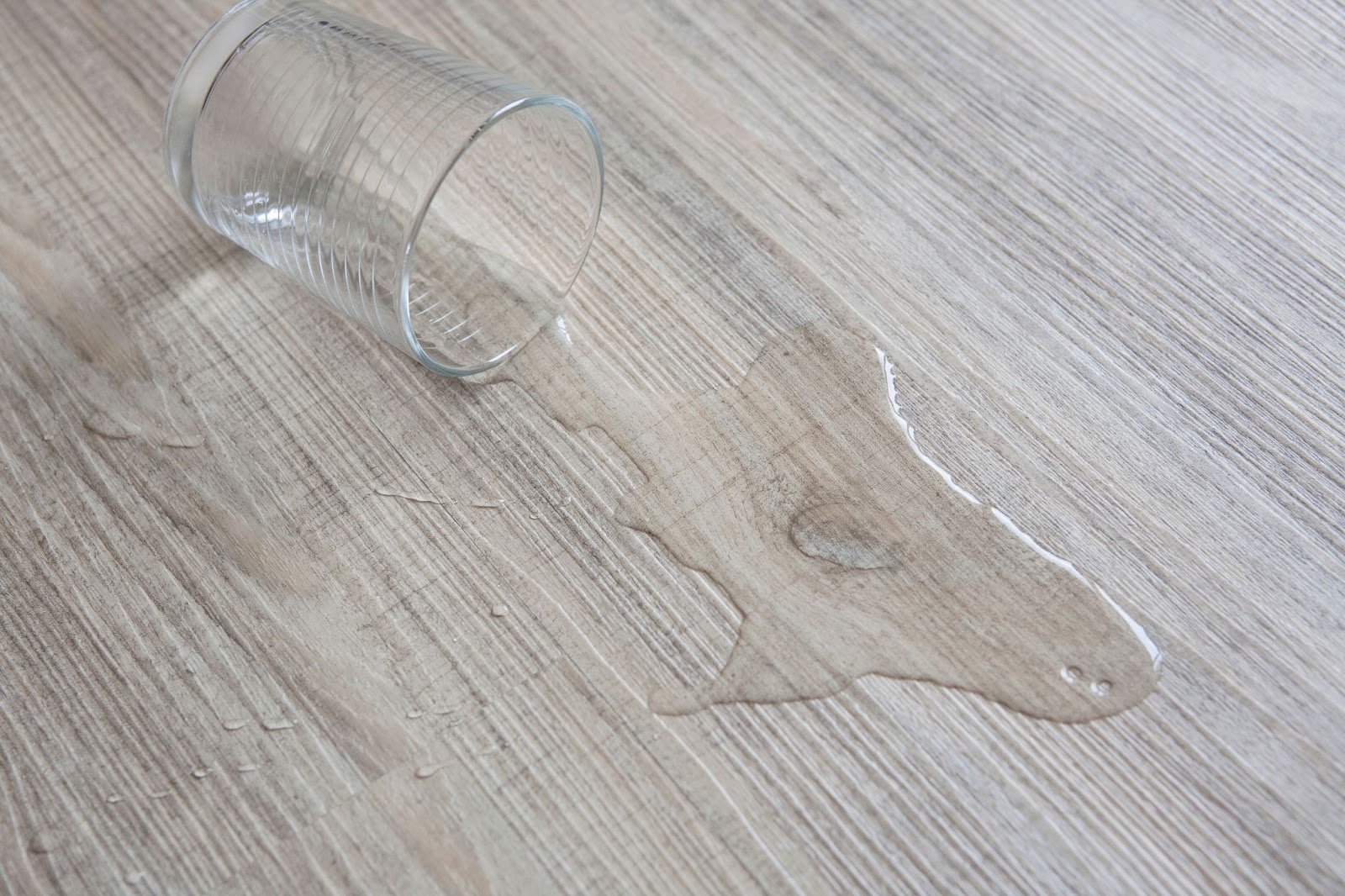 The flooring for any rental property often has to stand up to many different tenants over the course of its lifetime. One property might have several tenants before it's possible to re-do the floors. Additionally, you have no control over how any tenant takes care of the property.
That's why it's crucial to have flooring that can withstand all different types of tenants, and general wear and tear. You want to look for flooring that is scratch-, scuff-, and water-resistant so it can withstand multiple tenants and a wide range of scenarios throughout its lifetime. Durability is key with rental property flooring.
Cost-Effective
It's also important that the flooring is cost-effective. You don't want to have to pay a fortune every time you have to repair damages. You want to be able to replace floors or problem spots with minimal overhead, so it's important to find a flooring material that fits your budget.
This is especially important if you have several units or properties, like an apartment complex or co-working space. The more units there are, the more cost-effective you want your flooring to be.
Easy to Install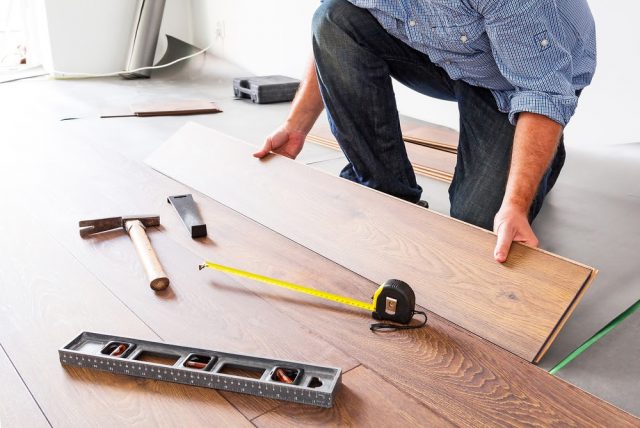 Once a tenant leaves, you want to move a new one in as quickly as possible. That's why it's essential to have flooring that's easy to install. You don't want your property to stay vacant while you spend time making repairs to the floor.
Instead, choose a flooring type that's easy to install from the start. That way, no matter what condition the flooring is in when a tenant moves out, you can make the repairs quickly and have a new tenant moved in right away.
Attractive Style and Design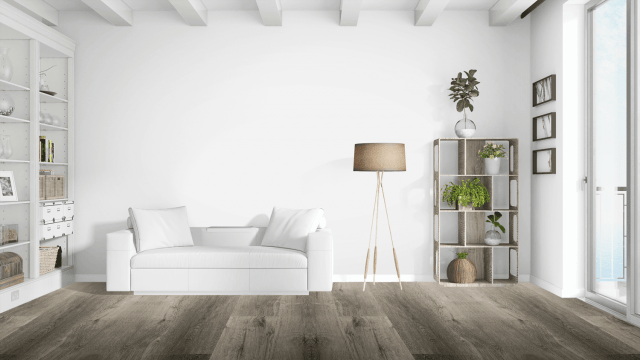 Finally, it's important to have a flooring material that's attractive and stylish. You have to attract and keep top tenants, and an ugly floor won't do it. Be sure to select a style that fits your existing design, and consider choosing a style that's neutral and ubiquitous so it doesn't turn away any potential tenants.

The 3 Most Durable Flooring Options for Rental Properties
So, now that you know the qualities to look for in flooring for rental properties, what types of materials fit the bill? These three are our top picks for durable flooring for rentals:
1. Laminate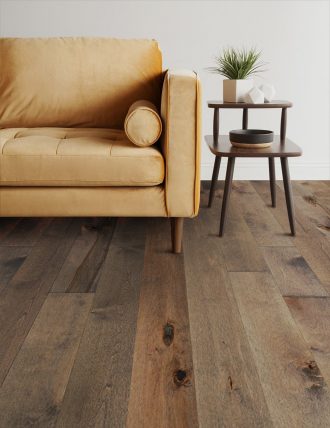 Laminate is a cost-effective and easy-to-install flooring that's ideal for rental properties. It's water-resistant, durable, and can withstand scratches, pets, and plenty of foot traffic with ease. Laminate comes in a variety of prints and styles — it can even look like hardwood! Laminate floors can last up to ten years and are the top pick for property owners on a tight budget.
2. Vinyl Plank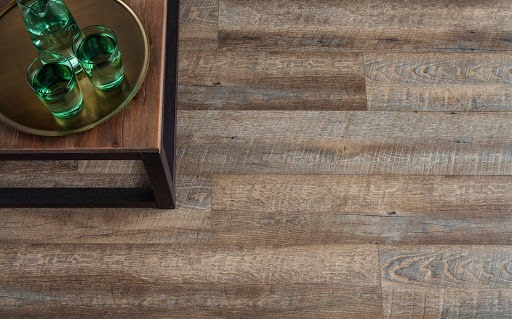 Vinyl plank is another excellent option for rental properties. It's incredibly durable and water-resistant. In fact, in many cases, it's actually waterproof. That's why many rental property owners choose vinyl plank as their go-to flooring material. Like laminate, vinyl can be made to look like any type of flooring, including hardwood and stone. It's also relatively easy to install (especially the click-lock varieties), and it's friendly on the budget, too.
3. Engineered Hardwood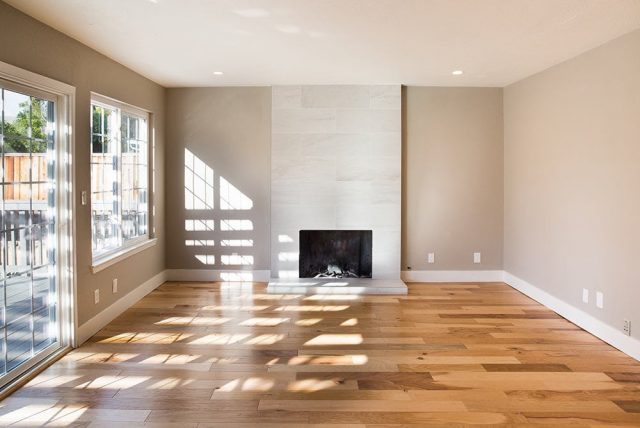 Engineered hardwood is the priciest of the three options. However, it's a great choice if you're set on hardwood, but you don't want to worry about moisture or temperature destroying the flooring. Engineered hardwood is a composite material made from natural wood, but engineered hardwood is made with humidity in mind. Engineered hardwood is a durable option that's slightly less expensive than its hardwood counterpart – perfect for more high-end properties.
The Best Way to Purchase Rental Property Flooring
Ultimately, the right flooring for your property will come down to your property type, budget, goals, and taste. However, if you're looking for a durable option that's cost-effective, easy-to-install, and attractive, you can't go wrong with laminate, vinyl plank, or engineered hardwood.
It's essential to keep in mind that all flooring materials are not created equally. That's why it's necessary to go with a trusted flooring vendor, like BuildDirect, for all of your rental property flooring needs.
At BuildDirect, we provide high-quality flooring options at a price point that fits your budget. Plus, if you become a PRO Rewards member, you get extra perks like on-site delivery, unlimited free samples. a 30-Day money-back guarantee, and 5% credit on your purchases.
Become a PRO Rewards member and find your perfect flooring today.


---
---