Cheap Flooring Options That Look Expensive: The Best Deals per Square Foot
Your floors play a major role in how your home looks, from the entry area to your living room, dining room and bathrooms. Who says you have to spend a small fortune on flooring materials to upgrade your house though?
Cheap flooring options abound and they don't all require you to sacrifice style for cost. Use this guide to learn more about quick flooring solutions for short-term fixes and long-term solutions that offer exceptional performance compared to their price per square foot.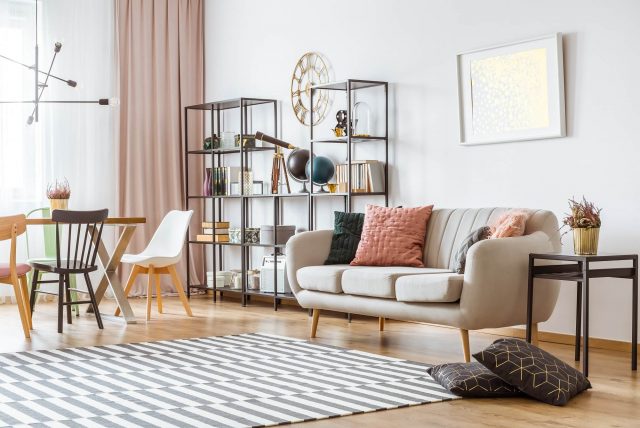 Peel and Stick Vinyl Tile
Peel and stick vinyl tile flooring is a great way to update the look of any space where the existing flooring is already in good shape. Designed to go directly over your existing flooring, peel and stick vinyl tile is one of the easiest cheap flooring solutions available on the market today.
Benefits of Peel and Stick Vinyl Tile
A great stop-gap solution when you need a new look for your floors now, peel and stick vinyl is fast, easy and inexpensive. Here are some of the main benefits of choosing peel and stick vinyl tile flooring for a room in your home: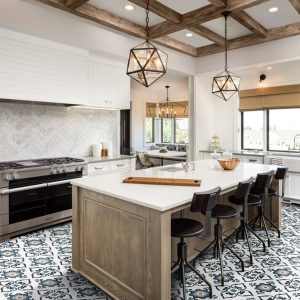 You won't have to tear up your existing flooring. If your current floors are in good shape your peel and stick vinyl tile can be applied right on top after a thorough cleaning.
Peel and stick vinyl flooring is very easy to install. This is a do-it-yourself project that you can tackle on your own even if you don't have much experience.
There are lots of different looks available. From styles that resemble natural wood to stone and more retro looks, peel and stick vinyl comes in lots of designs to match your existing color and décor scheme.
It's extremely cost-effective. When it comes to cheap flooring peel and stick vinyl takes the cake. While it isn't a long-term solution, it is an exceptional option if you're saving to invest in more expensive flooring materials down the road.
Glue Down Vinyl Planks
Peel and stick vinyl flooring is a wonderful temporary solution that will improve the look of aging flooring. For a more permanent solution that's still cost-effective, glue down vinyl planks are a great choice.
Benefits Glue Down Vinyl Planks
Not sure why you'd choose glue down vinyl planks over peel and stick vinyl tile? Here are some of the benefits of choosing this more durable cheap flooring option for your home: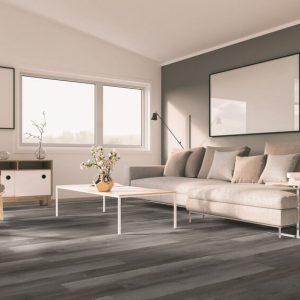 Glue down vinyl planks are more durable and will last longer. Unlike peel and stick vinyl, glue down planks are a good mid-term solution that will last for years, not months.
Glue down vinyl planks don't require much maintenance. This is helpful in busy spaces like laundry rooms, mud rooms and even entry areas.
Installation is still fairly easy if you have basic DIY experience or you're up for the challenge. You don't need years of flooring experience for glue down vinyl plank installation, but a little knowledge and a few DIY skills will make the process easier.
The price to performance ratio is right for many spaces. Bridging the gap between peel and stick styles and more costly flooring options, glue down vinyl planks can last long enough for you to really get your money's worth.
Click Lock Vinyl Planks with SPC Cores
Click lock vinyl planks with a stone plastic composite (SPC) core are extra-durable and an excellent long-term flooring solution that won't cost an arm and a leg. You can use SPC vinyl throughout your home as well, including in high-traffic spaces like your family room or entry area.
Benefits of Click Lock Vinyl Planks with SPC Cores
Click lock vinyl flooring with an SPC core is designed to stand the test of time even in busy family spaces. Here are a few other reasons click lock vinyl is a sound option for your home: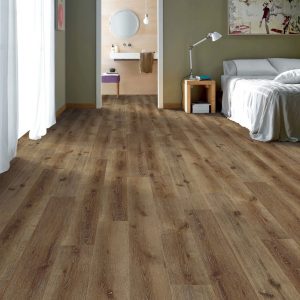 Wear layers protect click lock vinyl planks from surface damage. They actually have multiple wear layers to provide long-term protection for your new floors.
SPC cores are waterproof. This makes them a great pick for spaces like your kitchen, bathroom or laundry room.
An under-flooring pad is built-in, helping achieve more sound insulation and cushioning. This can be especially helpful in busy family homes and second floor installations.
Installation is still relatively easy. Depending on your existing floors you may be able to install your new click lock vinyl with an SPC core directly on top without making other modifications.
Want to learn more about SPC vinyl flooring? Check out our informative Learning Center guide so you can learn the basics.
Laminate Flooring
Laminate has long been a go-to solution if you're looking for a flooring material that's durable and stylish. With so many looks available, there's bound to be one that fits your home no matter what your design scheme looks like as well.
Benefits of Laminate Flooring
A very popular pick when it comes to cost-effective flooring, laminate has a range of benefits that behoove your average home. Here are some of the reasons to buy laminate flooring for your home: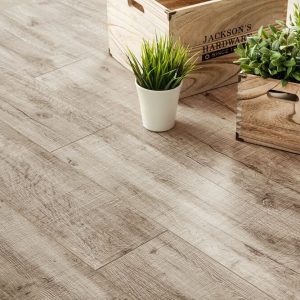 Laminate comes in different grades, allowing you to choose the correct durability for your home. Referred to as abrasion coefficient ratings, or AC ratings, laminate comes in AC1 to AC4 or AC5, with ascending numbers being more durable. Note that AC4 and AC5 laminate materials are typically reserved for commercial spaces.
Multi-layer laminate materials provide a solid moisture barrier. That makes them a great pick for bathrooms, kitchens, laundry rooms and other potentially wet spaces.
A wide range of styles are available. Natural wood designs, rich stone and vintage-inspired looks are particularly popular.
Laminate flooring is easy to keep clean. You don't need any special waxes or varnishes for regular cleaning to keep your laminate in tip-top shape.
Not sure what you need to know when shopping for laminate flooring? Read our blog post to learn more about buying laminate flooring for your home.
Ceramic Tile
Ceramic tile isn't cheap flooring exactly. No, ceramic is a durable material that you'll find in high-end home builds around the world. Compared to materials like hardwood and natural stone though, ceramic tile is a very cost-effective, no compromise option for practically any room in your home.
Benefits of Ceramic Tile
Ceramic is a solid choice for long-term installations in many parts of your home. Here are some of the main benefits of ceramic tile: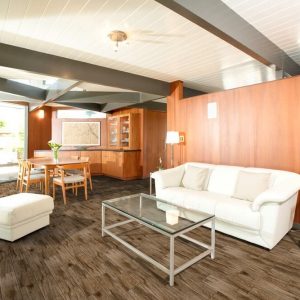 Ceramic tile is durable. Hard and solid, ceramic can stand up to daily use in high-traffic spaces.
Ceramic offers some water resistance, though it isn't strictly waterproof. Ceramic can be suitable for powder rooms and other light-duty wet spaces.
Maintenance is simple and easy. Ceramic tile generally only requires basic sweeping and light mopping for day to day care. It's also easy to repair if you get a crack or other damaged spot.
You can find lots of looks when choosing ceramic tile. Wood-look ceramic tile is an especially popular pick for high-end homes right now.
Porcelain Tile
Like ceramic, porcelain tile isn't generally considered a cheap flooring solution. However, when you look at the average price per square foot, you get a lot for your money compared to similar materials like natural stone.
Benefits of Porcelain Tile
Porcelain tile is a smart solution for any home environment including high-end builds and remodeling projects. Porcelain is cost-effective enough that it doesn't have to absorb every bit of your remodeling budget though. Here are some of the benefits of using porcelain tile in your home: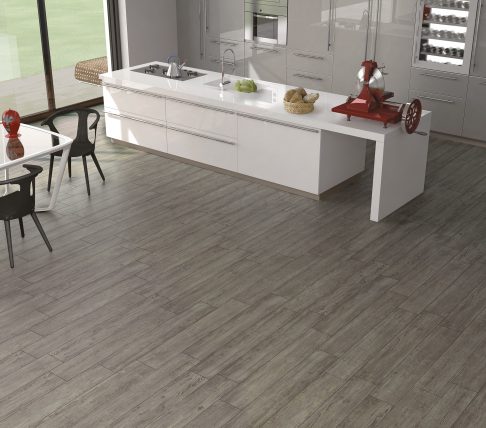 Porcelain is very hard and durable. While ceramic can be used in high-traffic spaces, porcelain is extremely hard and downright difficult to damage. That's one reason it's an excellent choice for bathrooms, busy family spaces and kitchens.
Water won't damage your porcelain. While long-term standing water can damage any surface on earth, spills and small leaks won't phase your porcelain. That's because it's waterproof and made to resist moisture. You can even use some types of porcelain tile outdoors.
Styles range from wood look-alike designs to more unique options. You can even find modern styles that have a contemporary appeal not available in other flooring materials. Porcelain tile is more likely to offer a uniform color than ceramic tile as well due to differences in the manufacturing process.
Trying to choose between ceramic and porcelain tile for your flooring upgrade? Read our Learning Center post on the differences between these two common flooring materials.
Cheap Flooring Doesn't Need to Look Cheap
Ready to update your flooring without breaking the bank in the process. We can help you do it if you reach out to one of our trained representatives today. From finding the right material to ordering the appropriate amount of flooring for your room or whole home, our experienced representatives can guide you through the process.
Cheap flooring may be in the eye of the buyer, but no matter what your desired price point, we can help you find the flooring option that works for your home's style and budget. We'll even ship your chosen flooring materials directly to your door so you can get started right away whether you're tackling the installation yourself or planning to hire pros to do the work for you.
---
---