What Are the Best Outdoor Tile Options for a Deck or Patio?
Tiles are an excellent surface for outdoor areas such as decks and patios, as they're durable, easy to maintain, and more stable and permanent than pavers. There are many different types of outdoor tiles, but you'll find them all stylish and strong enough to last in outdoor environments. Learning more about some of the common outdoor tile options will help you select the best surfacing material for your deck or patio.
The Best Outdoor Tile Options
Natural Stone Tiles
Natural stone is the umbrella term for tiles made from granite, slate, limestone, and travertine. Tiles made from these materials are popular because they work seamlessly in an outdoor environment. However, you'll pay a bit more for their head-turning appearance. Polished stone tiles are chic and easy to care for, but they can get slippery when wet. Tumbled or honed natural stone tiles, which have built-in slip resistance, are safer.
Granite
Granite tiles are the hardest natural stone tiles, so you'll find them very durable and resilient to the elements. It is one of the best outdoor tile options if you are looking for natural stone. Consider granite if you live in a part of the country that experiences significant weather shifts from season to season. Granite tiles are also available in a range of colors, from striking white to moody black.
Marble
Marble is slightly less hard and more porous, so it needs sealing to help it withstand foot traffic and the weather. Its unique, veined finish gives it a sophisticated look many homeowners love. You'll find marble tiles in many different colors, from white to black. Smooth polished marble is chic, but slip-resistant rough marble tiles are a smarter choice for outdoor flooring.
Slate
Slate may be softer than granite and marble, but it's still tough enough to suit any deck or patio area. Unlike the other natural stone tiles, no two slate tiles are ever identical. Their colors and textures vary, so using slate tiles can create real visual interest. Natural slate tiles have earthy hues such as gray, green, brown, tan, and orange.
Limestone
Limestone is a softer, more porous stone, so you'll need to seal these tiles to protect them from stains and weather damage. It also shows wear easily, so they're not recommended for high traffic areas. They're also prone to cracking during cold winters. The stone's distinctive pits create an unusual texture that limestone lovers can't resist. Limestone is a pale stone, with colors ranging from white to brown. Polished limestone tiles can get slippery when they're wet, but there are non-slip tumbled versions for decks near pools and patios that aren't under cover.
Travertine
Travertine is a specific type of limestone made up of mostly calcite. It has a texture and composition that's similar to regular limestone, but it's a bit softer and more brittle. Since travertine tiles are also very pitted and porous, like limestone, they also require sealing before they're used outdoors. Even with proper treatment, they're also prone to cracking in very cold areas. Since they're relatively soft, travertine tiles will show wear faster than other stone tiles. However, if you live in a temperate climate and don't subject your deck or patio to heavy use, you'll love its warm, golden good looks.
Porcelain Tiles
Porcelain tiles aren't just for the bathroom. Look for porcelain tiles that are meant for outdoor use, as these are the ideal choice for your deck or patio area. These clay-based tiles are non-porous, fade-resistant, and very durable.
As they're baked in fiery hot kilns, porcelain tiles won't crack in weather extremes like stone tiles can. That makes them a smart choice for homes in cities with very hot summers and icy winters. As porcelain tiles are most commonly seen in bathrooms, you shouldn't need convincing of their water-repelling properties. Outdoor porcelain tiles will never absorb water, even during heavy rain. That also ensures they won't crack in frosty environments.
Since they're non-porous, it takes very little effort to keep porcelain tiles clean. Just sweep them clean and wipe them down with a cloth and soapy water if anything spills.
Porcelain tiles are also pleasing to the eye. You'll find them in a variety of colors and patterns, including tiles that mimic other materials such as natural stone, wood, and concrete.
Polished porcelain tiles can be slippery though, especially when they're wet. Choosing a porcelain tile with at least a matte finish will provide more grip and reduce the risk of accidents. Porcelain tiles with the highest slip-resistance grade are the safest outdoors. Keep in mind, though, that the more textured the porcelain tile, the harder it will be to keep clean.
Wood & Composite Decking Tiles
Wood tiles are another smart choice for deck and patio areas. They're crafted from hardwoods to make them tough enough to survive foot traffic and the elements. Ipe and bangkirai are two of the most popular wood tiles available today. Ipe wood tiles have an appealing natural grain. They're also naturally decay, insect, and fire-resistant, so they can give homeowners real peace of mind. Bangkirai wood tiles are also resistant to insects, including destructive termites. Since they work for indoor and outdoor projects, they're the ideal choice for homeowners wanting to create a seamless flow from their indoor rooms to outdoor entertaining areas such as decks and patios.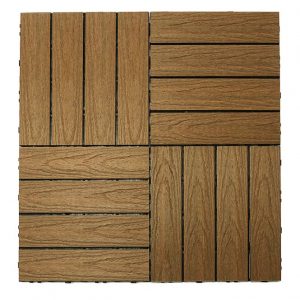 Among outdoor tile options, wood tiles are very affordable because of their ready availability. They also come in more colors than you might expect. From creamy pale woods to dramatic darker woods, wood tiles can create a range of looks for less. Some wood tiles even have elevated PVC platforms for better drainage.
To extend the life of your wood tiles, lay them down on a hard concrete or asphalt surface. You'll also need to make time for ongoing maintenance. Like all wood products, wood tiles should be power washed and treated with wood finish every three years to look their best and prolong their life.
Composite decking is a a good choice for those who desire minimal maintenance. It is less susceptible to water damage and lasts a long time. It's called composite because it's made of both plastic and wood fibers.
Outdoor tiles can dramatically impact the look and feel of any outdoor space. Different types of outdoor tiles also have different strengths and weaknesses. Thinking about your (or your client's) taste, lifestyle, and location should help you select the right outdoor tiles for your deck or patio. Browse our outdoor tile options and order your free samples now.
What BuildDirect customers are saying:
With BuildDirect For Over 10 Years
"I have been working with BuildDirect for over 10 years now and the service has not changed, it was great then and it is great now. Thank you for being a standout company."
Top notch!
"Price, quality, communications - top notch! Will purchase again."
---
---