The Pros and Cons of Peel and Stick Vinyl Flooring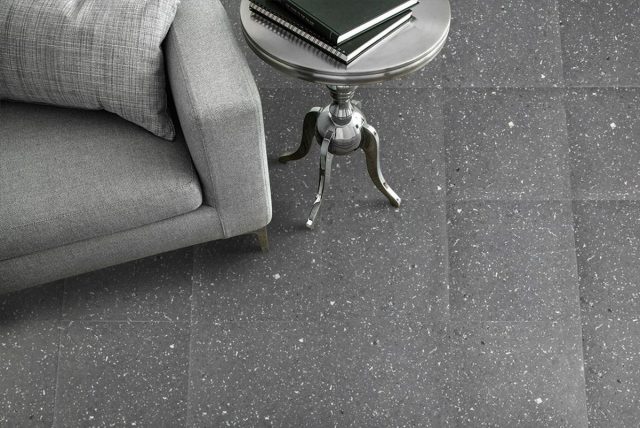 Vinyl flooring has long been a go-to option for spaces that require durable, easy to clean, and care for materials like kitchens, small bathrooms, entry areas, and mudrooms. Peel and stick vinyl, often referred to as self-adhesive vinyl, is a modern version of classic vinyl flooring that's cost-effective and easy to install. Those are two big reasons, it's particularly popular with do-it-yourself home and business owners.
However, self-adhesive vinyl isn't without its issues. Use this guide to learn more about the pros and cons of using peel and stick vinyl before you commit to buying and using it for your home or place of business.
Pros of Peel and Stick Vinyl
Using peel and stick vinyl has plenty of benefits in the right space and on the right project. Below you'll find a few of the reasons peel and stick vinyl can be a smart choice for your building or renovation work.
It's Affordable
Compared to luxury vinyl, peel and stick vinyl flooring is particularly affordable. For home renovations where cost is the number one factor, peel and stick vinyl flooring can give you the look you're after without breaking the bank. In commercial spaces, it may be a particularly good flooring option for spaces that don't see everyday foot traffic, office bathrooms and other environments where keeping costs down is a major factor.
Self-adhesive vinyl flooring is also cheaper than most other products available on the market today as well.
It's Easy to Install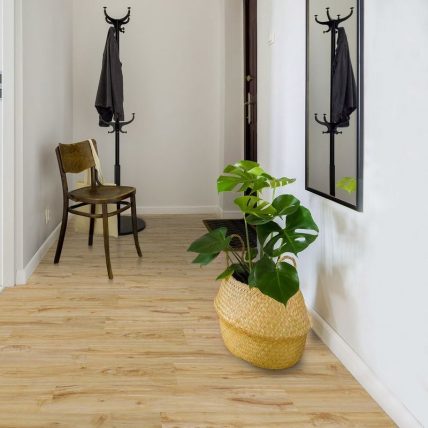 of the different types of vinyl flooring, peel and stick vinyl is probably the easiest to install. Installing traditional vinyl flooring, for example, can be a big, often messy job that requires some serious skills and know-how. In fact, taking on a vinyl flooring installation on your own isn't generally recommended unless you've got trained help. Peel and stick vinyl is much easier to install.
In fact, in many rooms, you can install peel and stick vinyl flooring in less than an hour. Even in large spaces, you could have a room completely finished in an afternoon with minimal effort. Most of the time all you need to do is move your furniture out of the way!
Peel and stick vinyl flooring doesn't require a bevy of special tools to install either. That makes installation easier and much more cost-effective.
You Can Use It On Top of Existing Flooring
One of the hardest parts about flooring renovation is removing the existing floor, checking the subfloor and making improvements. That process almost always involves professional installers with years of experience. That's not the case with self-adhesive vinyl flooring.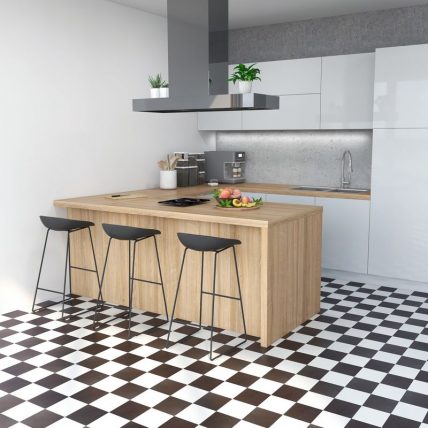 Why? Because peel and stick tiles and planks can go right over the top of your existing flooring. As long as its level and there are no height issues, this flooring will look just as its intended when installed in this manner.
Peel and stick vinyl can also be used on walls and other surfaces besides your floors. That makes it a particularly versatile product that allows you to get an all-over look without spending a fortune on materials or installation.
It Comes in Lots of Looks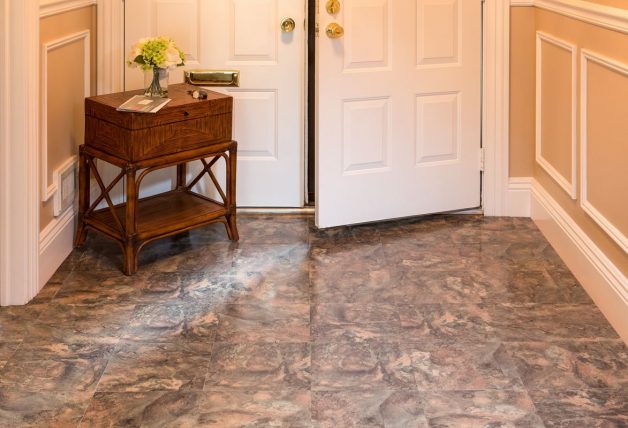 Style matters in every commercial and residential space. With peel and stick vinyl flooring, you can choose from a range of looks designed to match your décor. Everything from natural hardwood to granite, marble and specialty finishes are available.
This gives you the power to match existing décor and style elements or go in a new direction completely. For new building projects, the range of styles available makes it an extremely flexible option.
Durable Options Abound
Peel and stick vinyl is relatively strong material that can stand up to foot traffic and regular use. It will also fare well in spaces where you may have spills like kitchens and powder rooms.
Clean-up and maintenance is easy when you choose self-adhesive vinyl flooring. For daily cleaning, water is generally all that's required. Mild soaps can help with weekly or bi-weekly cleaning and an assortment of specialty products are available for deep cleaning your vinyl flooring.
Cons of Peel and Stick Vinyl
Affordable, durable, easy to install and available in a range of looks are a few of the selling points of peel and stick vinyl flooring. There are a few potential issues with self-adhesive vinyl flooring though. Here are the big ones to consider before you install self-adhesive vinyl.
It Won't Last Like Some Other Types of Flooring
Some materials like stone, hardwood, engineered wood and certain types of vinyl with advanced wear layers are designed to last for many years. Typically you pay for this long-term durability up-front when you purchase the materials. Peel and stick vinyl may not last as long.
Adhesive breakdown is a particularly common issue. This could mean replacing individual tiles or planks. Buying 10% extra when ordering can help ensure that you have enough of the same material for a quick replacement.
Some types of peel and stick vinyl material also have a relatively thin wear layer, making it susceptible to nicks, chips and deep cuts, particularly in high-traffic spaces. Gaps may also start to appear between tiles or planks over time.
It May Impact Your Home's Resale Value
As cost-effective and potentially stylish as it may be, peel and stick vinyl is not considered a luxury or high-end material. Some potential homeowners will want to replace it with other materials like natural stone. For this reason, it may impact the resale value of your home to some degree.
However, it's important to note that peel and stick is easy to remove, allowing a buyer to replace the flooring if they desire.
Self-adhesive vinyl flooring can be the ideal material for certain rooms in commercial and residential spaces. The real trick is weighing the pros and cons when it comes to price, long-term durability and resale value.
Still on the fence about peel and stick vinyl? Reach out to our trained representatives to learn more about self-adhesive vinyl flooring and how it can work for your project. We can also help you find a range of styles, looks and alternative flooring materials today.
There are also other vinyl flooring options you can consider if peel and stick doesn't tick enough boxes for you.


---
---