Wood Vs. Composite Decking Material
If you are planning a deck project this summer the big decision you'll have to make is what material to use. Here's a look at wood vs. composite decking. It will help you discover which is best for your climate and preferred care level.
Composite Decking
Back in the day, wood decking was the yardstick against which all other decking materials were judged. Given this preference, early composite and vinyl decks were made with grains and textures intended to mimic the look of natural wood.
Composite decking has evolved drastically over the years, and customers no longer compare apples to oranges. Once compared unfavorably to wood, composite decking is now a serious front-runner in the decking space. Not just a wood alternative, many homeowners prefer composite decking for its low cost, good looks, durability, and easy-care nature.
Here are a few good reasons to choose composite decking:
Many styles convincingly mimic the look of natural wood
Virtually maintenance-free (no yearly staining or weatherproofing)
100 percent recyclable and environmentally friendly
Resistant to rot, mildew, insects, and moisture
Won't warp, chip, or split
Easy to install with the "fastener free deck clip" system
Wood Decking
While wood alternatives have come a long way over the years, some homeowners feel that Mother Nature still knows best. A natural wood deck is a thing of wonder, an awe-inspiring feature that exudes a timeless beauty and warmth.
From exotic Brazilian ash to rich, showy massaranduba, there's something truly special about the rustic warmth of natural wood. With the right maintenance and care, your natural wood deck will look beautiful for years to come.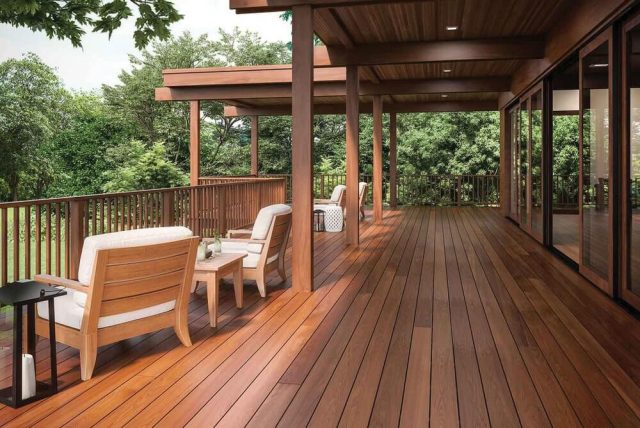 For the best of both worlds, some wood deck materials are thermally treated to stand strong and stylish for decades. Some wood deck materials have been modified, even at the molecular level, to resist moisture damage.
Regardless of which species you choose, remember that natural wood is vulnerable to moisture, the sun's rays, and warping, drying, and cracking. Before you invest in a wood deck, make sure you're on board with the necessary annual upkeep. For some homeowners, the beautiful look and feel of natural wood is well worth the extra care.
Here are a few good reasons to choose wood decking:
In all its rich, natural glory, a wood deck is a thing of beauty
Naturally UV-resistant choices are available, like red cedar
Can offer structural strength and resale value to your property
Can be good for wet climates (redwood and cedar have natural water-repellent properties)
Most varieties are naturally resistant to insects and decay
Can be more economical in dry climates where you might get away with a softwood, like pine
Exotic woods can be more than 3X as hard as traditional woods, for added durability.
To keep your wood deck looking beautiful for years to come, peruse this Wood Deck Maintenance Checklist.
Gettin' Decked Out
Ready to roll up your sleeves? Here are a few first steps to consider:
Decide what matters to you most. If you must achieve that natural, rustic look? Opt for wood. If you can't stomach yearly maintenance? Consider composite.
Once you've chosen your preferred decking material, request samples to get a closer look.
Get ready to build the deck of your dreams!
Wood vs Composite Decking: What's Your Take?
Are you leaning towards composite or wood decking? What appeals to you most about either option? Be sure to add your two cents, questions, and comments below!

---
---