Top Floors for a Commercial Washroom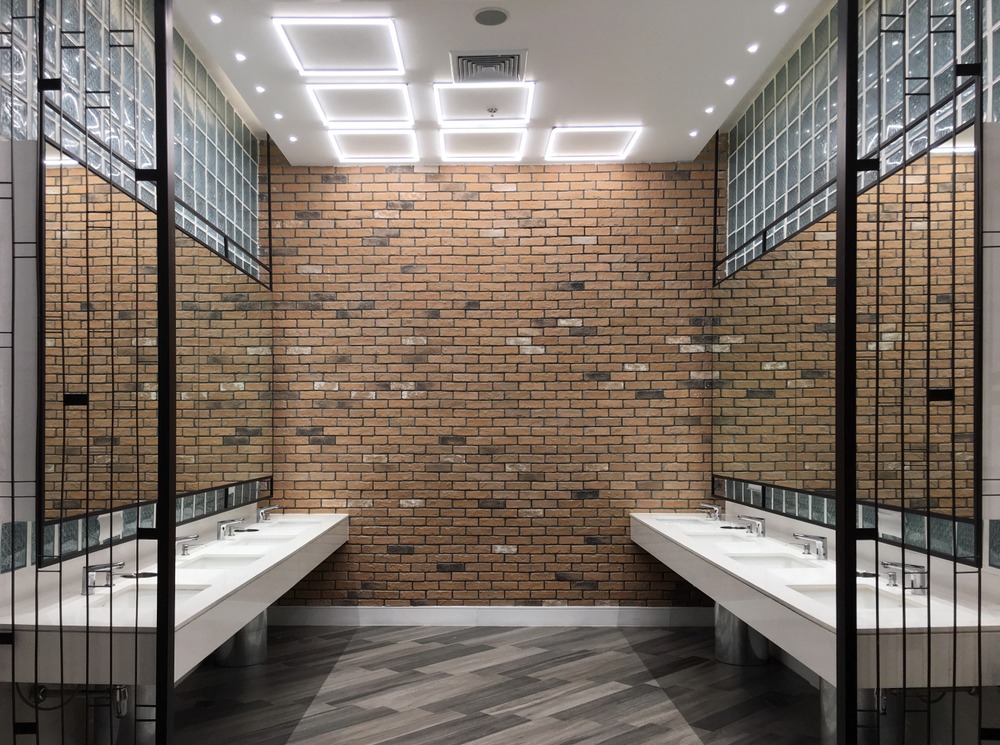 When choosing materials for a commercial washroom floors, it's important to strike a balance between durability and aesthetics while staying on-budget, and that can be tough. Even though the washroom is tucked away out of sight, it should have the same vibe as the rest of the establishment, whether that means installing a chandelier in the washroom of your fancy boutique or constructing the bathroom walls from reclaimed wood in a rustic steakhouse. The flooring can make or break the washroom, so it's important to choose carefully. Here are some things to consider when making flooring choices, along with a few of our recommendations.
What to Keep in Mind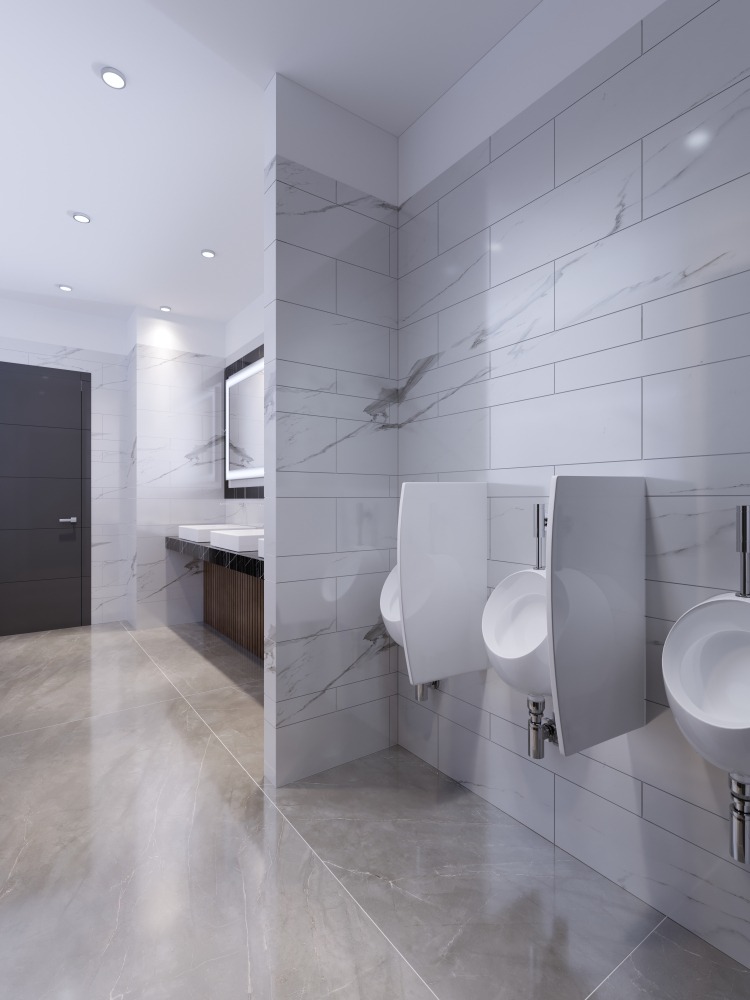 There's a lot to consider when you're choosing commercial washroom floors. Here are the six most important considerations.
Ease of cleaning. Nothing will disgust customers like a dirty bathroom–or one that just looks dirty. Choosing flooring that can be easily cleaned with commercial solutions is a must for the washroom floor, but it's also important to choose flooring that looks clean to begin with. Some flooring patterns and styles can make a dirty washroom floor look even dirtier than it is.
Water resistance. It's inevitable that the washroom floor will see its share of water, whether from splashes from the sink, an overflowing toilet, or a wet mop. Choosing a water-resistant floor is crucial for the commercial washroom if you want to avoid serious damage that can make your washroom look old and worn. Although most flooring types can be sealed against moisture, the need for regular sealing increases maintenance costs. Ideally, the washroom floor should be naturally impervious to moisture.
Durability. Commercial spaces see a lot of foot traffic, and especially if your commercial space is a bar or restaurant, the bathroom will be a popular spot. You'll want a highly durable floor that won't scratch, crack, break, dent, or fade.
Affordability. Sticking with your budget is important for your bottom line, so choosing an affordable flooring option is probably a key consideration, whether it's a new construction or a remodel. But that doesn't mean you want to choose cheap materials that will need replacing in a few years. Opt for high quality materials that will save you money in the long run.
Health and safety. Keeping your patrons safe and healthy while they're in your space is essential for staying in business. Choose a bathroom flooring option that won't get very slippery when it's wet. A softer flooring material will help cushion any falls, but equally important is choosing a solid material that won't harbor germs.
Design. Your washroom says a lot about your business. A restaurant or coffee house with a bathroom that looks like it belongs in a gas station will turn off customers and make them wonder how sanitary your establishment really is. Pay attention to design, and choose flooring that reflects the personality and decor of your business. The transition from washroom to main floor should be seamless.
Our Recommendations
You know that carpet is a terrible choice for a commercial washroom floors, and hardwood requires a lot of maintenance and can harbor germs. But that doesn't mean that your bathroom can't be a cozy, welcoming place or that you can't have a hardwood look. Here are our top picks for flooring for your washroom.
SPC Vinyl Planks
Stone plastic composite flooring, or SPC, is a type of vinyl flooring that has a strong, rigid core made of limestone and stabilizers. SPC rigid core vinyl is constructed in three layers. The bottom layer is the SPC core, which is 100 percent waterproof. Over the core is a waterproof vinyl top coat, a thin layer of vinyl that's imprinted with a high-resolution photograph of wood, stone, or another material. On top of the vinyl coat is a transparent wear layer that protects the vinyl against scratches, stains, and other wear.
SPC vinyl planks closely resemble real wood or stone, and they're available in numerous colors and styles. Vinyl planks are installed as a floating floor, meaning they snap together and don't require glue or nails. A vinyl floor is softer underfoot than other flooring types, and it's quieter as well. Maintenance is a matter of sweeping and mopping when needed. Since vinyl planks are inexpensive, they're a great option for a tight budget.
Natural Stone Tile
Natural stone tile is durable and sophisticated, and it's an ideal material for the bathroom floor. Natural stone tiles include travertine, limestone, granite, slate, and marble. All of these materials are elegant and beautiful while offering a practical flooring solution for a commercial space.
Natural stone tile is water-resistant, although not necessarily waterproof, and its natural textures create interest and reduce the slickness of a wet floor. Tile is easy to install, and maintenance is minimal, apart from regular sweeping and mopping and occasional sealing. The major drawback to natural stone tile is its cost, which can be prohibitive, depending on the stone and the size of your bathroom.
Marble is the most expensive natural stone tile, and it's also the most slippery. Honed granite is less slippery than marble, but it can stain if spills aren't cleaned up quickly. Limestone is softer underfoot than other natural stone tiles, but it's durable and affordable. However, because it's porous, it needs annual sealing to prevent liquid absorption and the growth of mold and mildew. Travertine and slate also require regular sealing, but their earthy colors evoke warmth and comfort, and they're strong enough to weather even very heavy foot traffic.
Ceramic and Porcelain Tile
Ceramic and porcelain tiles are far less expensive than natural stone tile, and they're water-resistant, easy to clean, and require very little maintenance. They're available in a huge variety of colors, shapes, sizes, and textures, making them the most versatile of all commercial flooring types.
Ceramic and porcelain tiles look similar, but there are a couple of key differences, even though porcelain is a type of ceramic. Ceramic tile has a lower density and water resistance than porcelain, but it also typically costs 60 to 70 percent less. Porcelain tile is more durable due to its higher density and the presence of the hard mineral feldspar.
If your heart is set on a wood look, but you want to go higher-end than vinyl, ceramic or porcelain tile may be your best bet. Both types of tiles are available in wood-grain textures that mimic the real thing.
Get to Know Your Options
Choosing the best flooring option for your commercial washroom is a matter of aesthetics, durability, design, and budget. Explore all of your options before you choose, and you'll rest easy knowing you picked the right one.

---
---