5 Recommendations for Waterproof Bathroom Flooring
From a luxurious master suite to a guest bathroom, the flooring you choose for the bathrooms in your home is crucial in terms of aesthetics and functionality. In order to ensure that you're getting the best use from your bathroom flooring, it's important to install products that can handle constant exposure to moisture and water. Each material you explore should be considered in terms of your budget, your style preferences, ease of maintenance, and of course, the way it looks. From stunning porcelain tile to stone and ceramic, read on for a list of five recommendations for waterproof bathroom flooring you can enjoy in your home.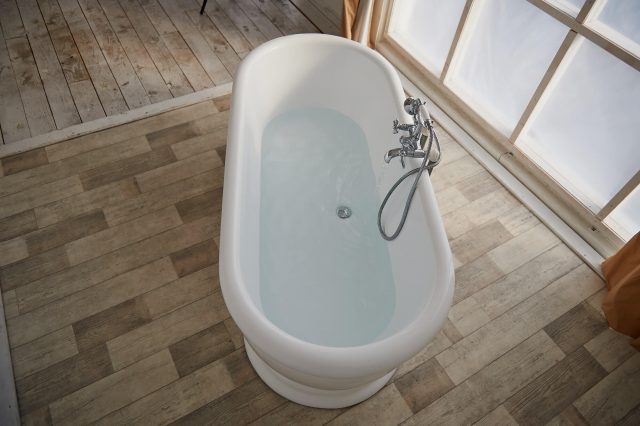 Top 5 Options for Waterproof Bathroom Flooring
Ceramic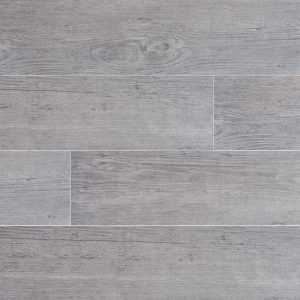 When it comes to versatility, ceramic is perhaps one of the most popular waterproof bathroom flooring choices available. This classic material comes in a wide range of colors, and it's a great choice if you're planning to remodel your bathroom on a budget. It's important to note that ceramic is more prone to absorbing water than porcelain, but it's still a good option for the average bathroom. Ceramic is extremely easy to clean and maintain, making it a viable flooring choice for busy households. You can even find ceramic tile today that looks just like real wood. You're also not limited to the traditional square or rectangular shape. The tiles of today come in a range of shapes and designs like modern hexagonal silhouettes and the popular "fish scale" shape, to name a few.
Porcelain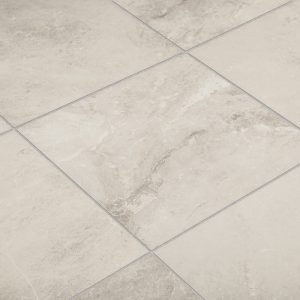 If you want something a bit more water-resistant, consider porcelain over ceramic. Since porcelain is fired at a higher temperature, it's able to resist water absorption much more effectively than its ceramic counterpart. The cost of porcelain tile is a bit higher than ceramic, but it still comes in at a reasonable price. One great thing about tile is that you can continue the pattern or design from your floors onto the wall. Tile of all types is quite versatile, which means you can easily add it to almost any surface. Enjoy beautiful porcelain tile in a large size on your floors, then add some smaller tiles or different shapes around your sink and tub to craft a beautiful, coordinating backsplash. Porcelain flooring is versatile and easy to maintain, and it's a great option if you have a tight budget or a smaller bathroom.
Stone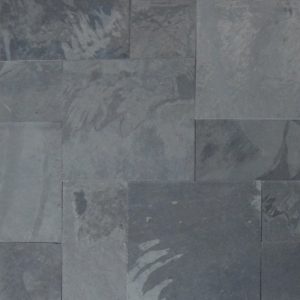 When it comes to creating a luxurious bathing space, you can't go wrong with stone flooring. Slate, marble, and granite are just some examples that you can use for waterproof bathroom flooring. Ensure that the stone tile you choose is high in quality, so it won't discolor or get damaged easily. No matter which type of stone you select, it's recommended that you seal it to keep it protected. Real stone is quite porous by nature, which means it can get stained permanently if you don't take steps to protect it. An important tip when installing any type of tile: make sure you keep the grout lines small. Grout is much more vulnerable to water damage than the tiles themselves. Marble and granite stone flooring add a luxurious, high-end element to your bathroom. Slate tile is unique and durable, and it's a perfect choice if you prefer a more rustic or warm look. In terms of budget, natural stone will typically cost you more than ceramic or porcelain.
Vinyl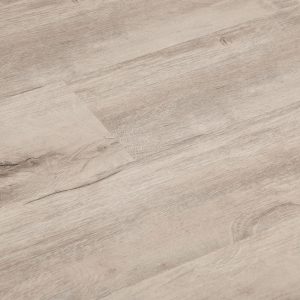 You may not think of vinyl as a good option for waterproof bathroom flooring however, vinyl is quite viable in this room. Luxury vinyl is a warm and inviting choice for bathrooms, and most manufacturers today include a soft, pre-attached foam underlay for comfort underfoot. The SPC core of luxury vinyl is completely waterproof. That means as long as your vinyl floors are installed correctly, you'll never need to worry about water damage affecting the floorboards underneath. If you're concerned about slipping on the smooth surface of your vinyl floors, choose an option with a textured surface to give you more traction. Read the specifications from the manufacturer carefully to ensure that the vinyl is rated as waterproof. With the right color, luxury vinyl can make your bathroom look rich and inviting, and it's also a great choice if you want your flooring to flow from room to room.
Waterproof Hardwood
Hardwood flooring isn't typically something you think of when it comes to the bathroom floors in your home. However, waterproof hardwood is actually a viable option you can try. This material consists of a layer of real hardwood placed over an SPC core. You'll get the beauty and benefits of hardwood without having to worry about it buckling after exposure to moisture and humidity over long periods of time. The impenetrable top layer means that water can't seep into the material, which is typically what causes hardwood to warp when it gets wet. Look for high-quality waterproof hardwood that can bring instant beauty and functionality to your bathroom without the extra sanding, sealing, and refinishing that's usually required of solid hardwood floors.
Keep These Factors in Mind
Now that you know a bit more about some of the best waterproof bathroom flooring out there, you can make a wise decision for your home and your needs. Remember these takeaways while shopping for new flooring for your bathroom.
Budget
Take a close look at how much money you need to spend before you start remodeling your bathroom. Factor in things like the cost of installation and any additional material required like grout and underlay. Look at the price of flooring per square foot, then add a bit extra to cover the cost of any excess material you may need.
Preference
When it comes to installing new floors in your home, it really boils down to your personal preference. How does the material feel under your feet? Is it something you'll enjoy for years to come, or just a temporary trend? Think about the features you want from your flooring to help you make a sound decision.
Maintenance
If you have a busy lifestyle, choose bathroom flooring that's easy to maintain and keep clean. Porcelain and ceramic tile are both a breeze to clean, while natural stone tends to need sealant and more attention as time goes on. Ultimately, you'll want waterproof flooring for bathrooms that won't stain or get easily chipped and damaged. Installing new floors is a big investment, so it's important to select a material that will hold up well for years to come.
Appearance
Perhaps the most important factor to consider for bathroom flooring is the way it looks. If you're searching for something a bit more high-end, natural stone, waterproof hardwood, and luxury vinyl are all excellent choices. Remember to look for different shapes and sizes of tiles to give your bathroom a creative touch. Choose versatile colors that will easily blend with your wall color, rugs, and other décor to create a beautiful space you'll love.
Whether it's the price, durability, or aesthetics, consider these five waterproof flooring options for the bathrooms in your home. Each one has its own unique qualities, and they should do an excellent job of protecting your floors from water-related damaged. From luxurious marble to practical vinyl, there's no shortage of amazing options available today that make it easier than ever to bring beauty and durability to your bathroom.
---
---