Should You Install Vinyl Flooring in Your Bathroom?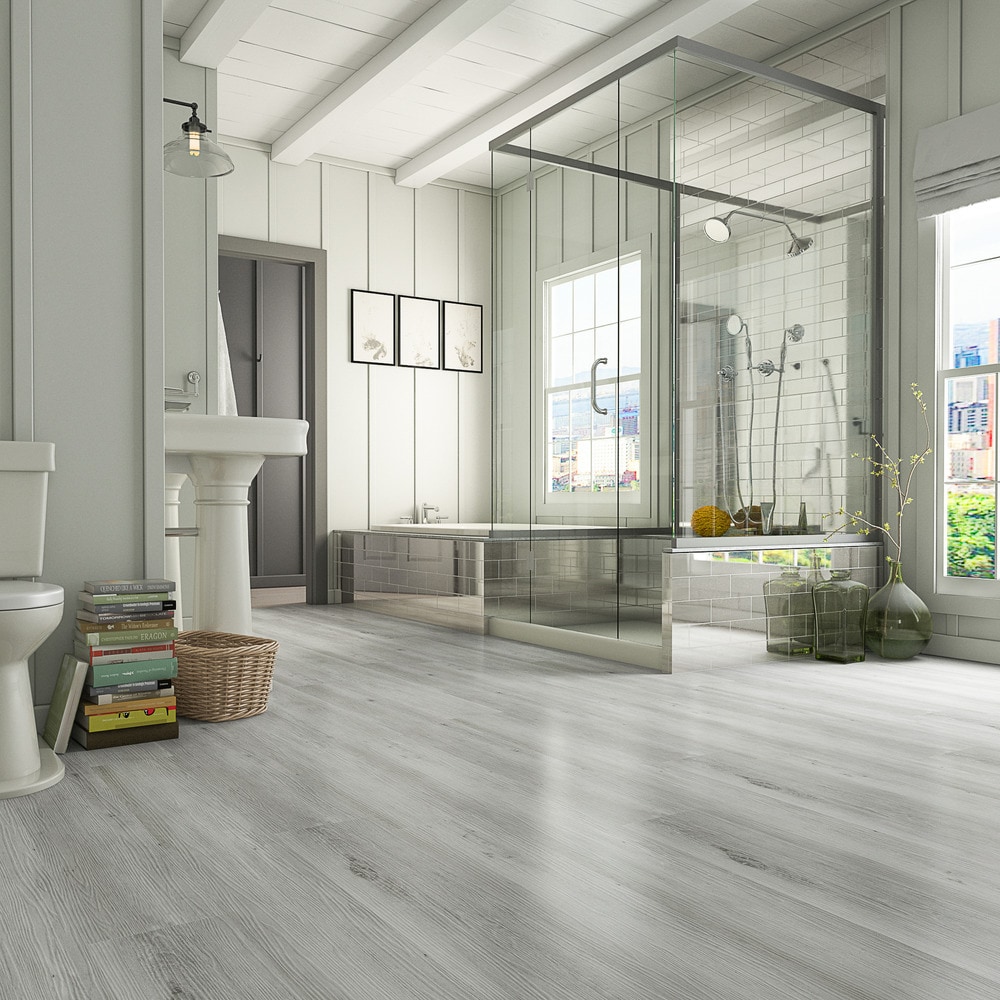 A bathroom requires flooring that is water resistant, easy to clean, durable, and fashionable. A great alternative to traditional tile or sheet vinyl is luxury vinyl plank flooring. This product provides the look of hardwood or stone tile and the durability you need out of a bathroom floor. In rooms where moisture and mold can become a problem, vinyl plank or vinyl tile flooring makes a stylish solution.
In addition to providing a host of benefits, luxury vinyl flooring is also less expensive than installing tile or stone flooring in a bathroom. With so many different textures and color options from which to choose, it is easy to discover a style that coordinates with the design of the home.
The Benefits of Vinyl in the Bathroom
Moisture Resistance
Luxury Vinyl plank flooring is constructed with four layers that combine to provide style and incredible durability. Depending on the type of vinyl, the bottom layer is comprised of a water-resistant barrier. The next layer is a thick vinyl that makes it comfortable underfoot. On top of that, a fashion layer gives the plank floor the look of hardwood, stone, or porcelain tile. Then there is a durable top coat to prevent stains, scratches, and wear and tear.
When assembled, this technology can make the floor durable enough to hold standing water without warping or buckling. The water resistant design makes it an excellent choice for use in humid or wet areas, including kitchens, bathrooms, foyers, and laundry rooms. Kids are free to splash and play without worry because sitting water cleans up easily when bath time is over.
Because it is suitable for some of the most demanding areas of the home, it is easy to use vinyl flooring to transition from the bathroom into the other rooms of the home. Keeping the same flooring throughout an entire level helps a home appear larger because there aren't a lot of transitions from one type of flooring to another.
Easy to Install
There is no need to call in a professional installation company. Vinyl plank flooring isn't only durable; it is also incredibly easy to install. The multi-layer design of the planks allows for a simple process that can be taken on as a do-it-yourself project. Follow the brand instructions to ensure proper installation for each product.
Most vinyl plank flooring features an integrated underlayment, allowing for a floating installation. The individual planks easily cut to size using a standard razor knife, making them much easier to work with than sheet laminate. Cut them to fit around bathtubs, toilets, and the vanity with custom results. A click-together design makes them easy to link and to set in place using a rubber mallet. Depending on the size of the space, this project can be completed in as little as a day.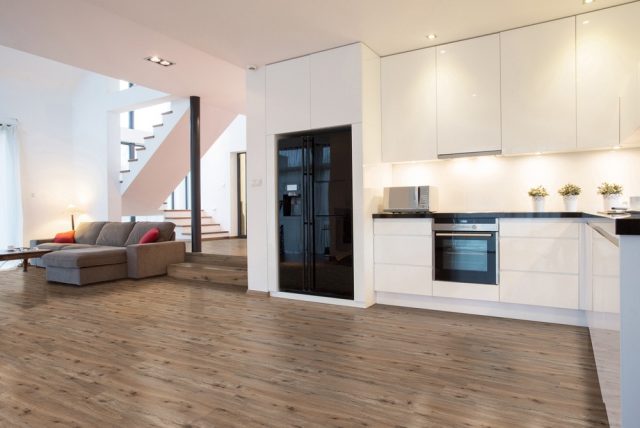 Warmer Than Stone Tile
Stone and tile flooring can be cold beneath the feet, making it uncomfortable to step out of the shower onto the cold floors throughout the fall and winter. Plank laminate offers the same benefits while remaining warmer underfoot. This benefit makes it a great choice for bathrooms, bedrooms, and living areas in colder climates. There's no need to slide your feet right into a pair of socks or slippers with vinyl plank flooring in the bathroom.
For a little added traction, choose a plank with a wood-like texture as opposed to a smooth option. Bath mats with a non-slip backing add an extra layer of plush softness and help to keep the floors dry as you step out of the bath or the shower.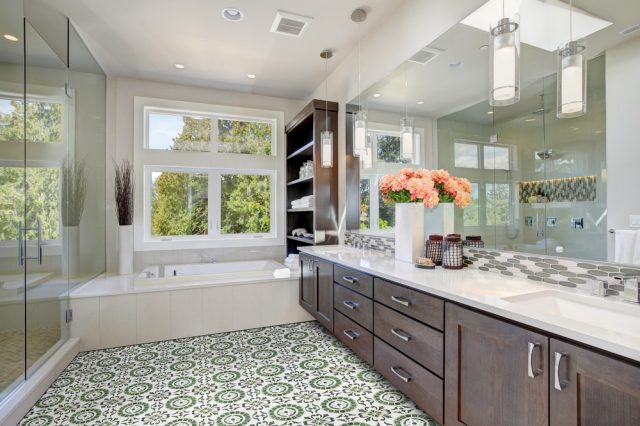 Requires Very Little Maintenance
It couldn't be easier to take care of your new vinyl pink flooring. Unlike tile flooring, luxury vinyl planks don't need re-grouted, sealed, or polished to keep them looking like new. Once installed, weekly dry mopping and regular vacuuming are all that's necessary to keep them sparkling clean. If something does spill, soap and water cleans the mess in a matter of minutes.
For ultimate durability, choose a commercial-grade vinyl plank flooring designed to hold up to daily use without gashes, stains, or noticeable wear. Because the planks are installed individually, it is easy to replace a damaged piece of vinyl flooring if necessary without tearing up the entire floor.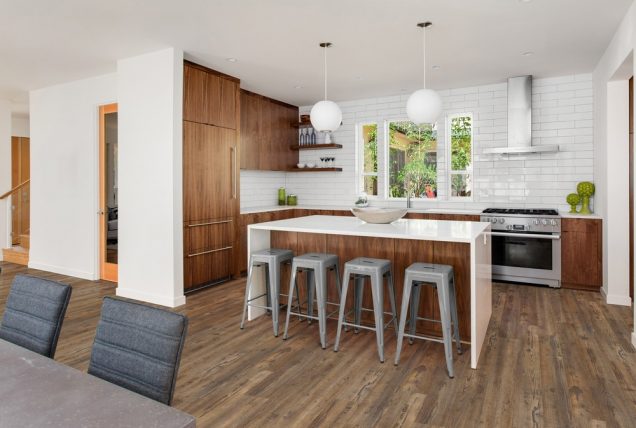 Less Noisy than Hardwood
In most rooms, the fabrics of curtains and furniture help to absorb sound. Bathrooms feature more hard surfaces than most rooms, making them louder spaces overall. Porcelain tile and stone are hard surfaces that don't absorb sound well. Because vinyl floor has a softer and more absorptive quality, the sounds of walking on the flooring are muffled, resulting in less noise as you walk around the space.
In addition to being quieter, these floors are also more comfortable on the joints than ultra-hard surfaces, such as porcelain tile. Soften the sound of the floors even more by using area rugs over the vinyl in high-traffic areas of the home. When there are a lot of people in the home, the quiet nature of this flooring helps to minimize noise an echoing in the home.
Choosing Vinyl for the Bathroom
When it comes to choosing the right bathroom floors, it is imperative to choose something that is fashionable, comfortable, and durable enough to hold up to water spills, humidity, and daily moisture. Porcelain tile, stone, and sheet vinyl have been popular bathroom floor choices for decades, but there's another option. Luxury plank vinyl floors provide the look of hardwood with the durability needed for wet spaces.
The fast and easy installation process, incredible durability, and variation of styles available make vinyl plank and vinyl tile floors a great option for any bathroom or wet space in the home. The affordability of this flooring option makes it one you can carry from the bathroom, throughout other rooms in the home for a consistent look.

---
---