Go Green with Energy Efficient Flooring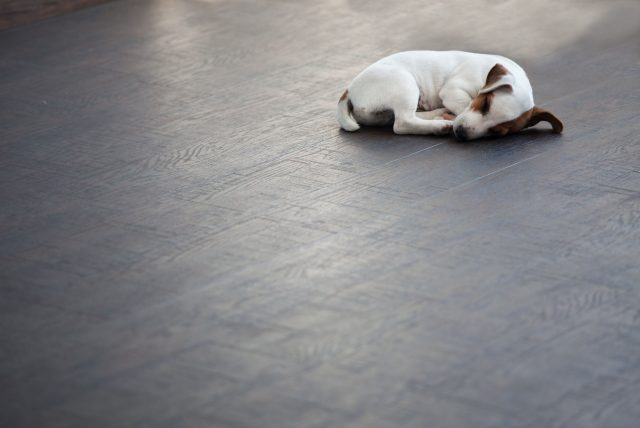 Energy efficiency is something you hear about all the time shopping for new appliances. Maybe you even hear efficient as a descriptive word for a particular vehicle is as you walk around the car lot. When it comes to energy efficiency, most of us simply don't think about our flooring.
That's a mistake! The fact is that the type of flooring you install in your home or place of business does play a major role in how efficient your space is.
In moderate climates where it never gets too cold, flooring efficiency might not seem to matter much. In most locales though, you're likely dealing with a cold and snowy winter that never seems to end. That means you're cranking the heat and hiding under a pile of big blankets.
Of course, efficiency matters in the summer months too. Truly efficient flooring works to keep you warm in the winter while keeping cool air from your air conditioning system inside your home during the spring and summer.
With energy efficient flooring, you can go green and make your space much more comfortable to spend time in. Keep reading to learn more about energy efficient flooring and why it's a no-brainer for any home renovation in a cold climate.
What Is Energy Efficient Flooring?
Energy efficient flooring, often referred to as radiant heat, is a system that has actually been around for hundreds of years. How it's implemented today is a bit different than it was in the old days back in Rome, but the concept still holds true.
Today, radiant heat utilizes electric heating cools or water-filled tubes. These are installed under the floor and they work to heat your floor and the room from the ground up.
You don't necessarily have to install a particular type of material to enjoy energy efficient flooring either. With most systems, you can get the look of modern vinyl plank, efficient laminate or more ornate options like stone-look laminate even if you're on a budget.
Along with those materials, natural stone, porcelain and ceramic tiles also work with most radiant heat systems. So do many hardwood and bamboo products. That means there's no need to sacrifice looks for energy efficiency in your home or commercial space.
Are Any Flooring Materials Naturally Energy Efficient?
Radiant heat is a smart choice in many spaces, but it's not the only way to go green. Some flooring materials tend to trap warm air on cold days and keep heat out on hot days better than others. Those include:
• Natural hardwood. Materials like natural European oak, cherry and acacia are all relatively efficient options.
• Engineered wood products. The energy efficiency of these flooring materials can vary based on their overall construction. Engineered wood with a foam base tends to be the most energy efficient option.
• Natural stone. Thick and strong, natural stone forms an actual barrier, helping you stay comfortable on hot and cold days and nights.
PRO TIP
It's important to note that while carpet might feel warm under your feet, it's actually not a very energy efficient flooring material in the summer months. Why? Because carpet traps heat all year long. That's great in the winter, but if you live in a place where you've got a summer season with high temperatures, it will actually be working against you the rest of the year.
Why Should I Invest in Energy Efficient Flooring?
Are you still on the fence about installing energy efficient flooring materials or radiant heat? Here are six reasons you should invest in energy efficient flooring:
1. You'll save money. More efficient than other heating systems, radiant heat is going to save you some serious money on your utility bills. In fact, the more you use your heat due to a cold climate, the more you'll save in the end.
2. Energy efficient flooring is good for the environment. By being efficient, radiant heat becomes a smart choice for green-conscious customers. After all, an efficient system means less energy is used in the process of heating your home.
3. Your home will be more comfortable. In a two-story home, heat rises to the top, leaving anybody on the ground floor feeling frozen. This is particularly problematic in older homes, but it hasn't been alleviated in new buildings either. With energy efficient flooring, every square-inch of your space will be heated the same way. Imagine being comfortable in every room! That should be reason enough.
4. You'll have better air quality. Dust, dander and allergens are all moved from room to room via a standard forced air system. Those vents also have a tendency to get dirty and become harbingers of bacteria. With a radiant heat system, you can say goodbye to forced air heating and the air that goes along with it.
5. You can save floor space. Clunky vents, radiators and furnaces take up tons of space. That's space that you could otherwise use! With radiant heat, you'll have everything below your floor so you can use your space however you wish.
6. Energy efficient flooring can improve your resale value. A popular addition to many homes, energy efficient flooring is a renovation that many buyers are willing to pay for. That means that you can get back a significant portion of your investment if and when you decide to sell.
Energy efficient flooring is a brilliant choice for most homes, and if you live in an ultra-cold climate, radiant heat can work wonders for your space. Green, clean and able to make any room more comfortable, energy efficient flooring truly is the way of the future.
Looking for more ways to go green at home or in the office? Reach out today, or explore our blog to learn more about green products, including energy efficient windows. We can help you create a truly green paradise, whether you're working in an old space or upgrading relatively recent construction.
---
---