The Best Sewing Room Flooring
Whether you love to make crafts or clothing, having a separate sewing room is a wonderful way to get creative at home. If you're considering installing new sewing room flooring, it's important to choose something that's not only beautiful, but that will stand the test of time. Since this part of your home will be a busy place, you need flooring that's durable enough to handle all of the activity. Read on to learn more about how to find the perfect sewing room flooring for your needs.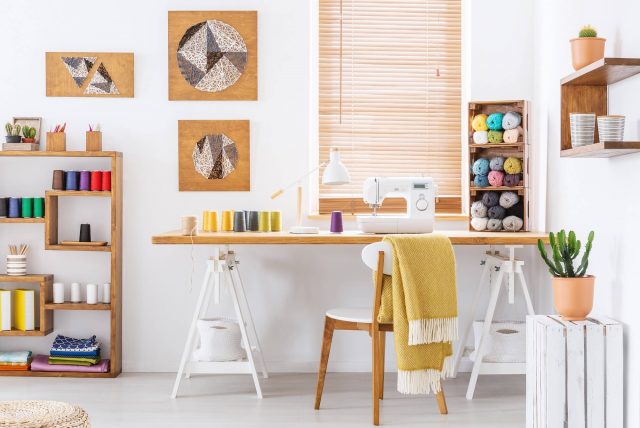 Considerations for Choosing Sewing Room Flooring
Pins & Dropped Items
When you're thinking about new sewing room flooring, always remember that pins falling onto the floor is one of the most important things to consider. You definitely don't want to walk into your sewing room and end up getting stuck with a pin in the bottom of your foot. Choose flooring that won't hide or "swallow" your pins. Carpeting should be avoided since this material will make those tiny pins and needles disappear. Instead, look for flooring that will make it easy to find pins whenever you drop them. Anything with a smooth, flat surface should make it easier for you to spot needles and pins that have gone astray.
Cutting Fabric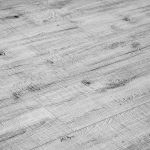 If you love to sew custom clothing, quilts and other items, choose a flooring that's even with a smooth surface. This material makes it easy to layout your fabric for cutting. Avoid tile flooring in your sewing room since you can accidentally scratch or damage it when you cut fabric patterns. Make sure you choose something that's easy on the knees, like a cork. This flooring is beautiful, affordable, and has a soft, pliable surface that's comfortable to work on. Just be aware that cork can be poked with pins, so take special care whenever you're working in a sewing room with cork flooring. A beautiful laminate with a natural wood grain look will give you the aesthetic of hardwood without the excess maintenance.
Durability
As you ponder new flooring for your sewing room, there are a few crucial things to consider. Hardwood is a beautiful choice for most rooms, but this material can easily become damaged or scratched as time goes on. Dropped pins and repetitive chair movement can wear down the finish on hardwood floors and cause visible damage. Regardless of the flooring material you select, it's always wise to add felt protectors to the bottom of tables and chairs. This will prevent your furniture from damaging the floors as you move around or rearrange the space.
Texture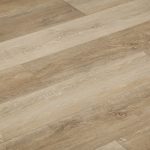 If you're still not sure about what option to use for your sewing room, consider laminate or luxury vinyl. These two materials are a fantastic choice for sewing room flooring since they're beautiful to look at and easy to maintain. Try to find flooring materials that don't have texture, since textured flooring is more difficult to keep clean. You definitely want and need clean floors in a sewing room if you're laying fabrics on them to cut the fabric and create new designs. The dirt from the floor could easily transfer to your fabric, so make sure you select floors that are a cinch to wipe clean whenever you need to.
Flooring Installation & Selection Ideas
Padding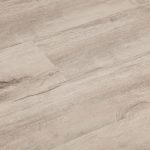 Even if you don't have a separate dedicated sewing area, updating the floors in the place you sew will make a huge difference in terms of looks and functionality. Try to install flooring that includes a pre-attached underpadding. This padding will ensure that the floors are comfortable and will reduce the noise that comes from your sewing or serging machine. Even if you install floors with underpadding, an additional underlay is still important. When it comes to color, choose light-colored flooring so it's easy to spot any dropped pins and needles.
Easy Installation
Installing new flooring can be tricky, which is why laminate and vinyl floors are a great option. This flooring is easy to install and requires very few tools and extra materials, unlike tile that requires the use of messy mastic and grout. Try stylish vinyl planks with a click-lock design. This material is a breeze to install and should only require a few hours of your time to complete. No matter what type of flooring you choose, always use a mat if you're using a rotary cutter to keep it protected. Even durable flooring like smooth wood-look laminate can show cuts and nicks if you don't protect it.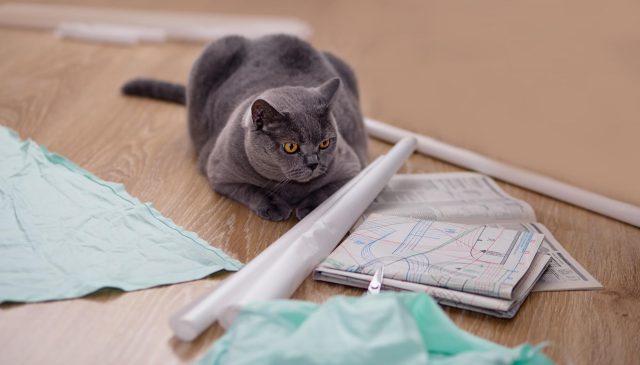 Designing the Perfect Sewing Room
Once you've decided what to install for your sewing room flooring, it's important to make this room work for you. Here are a few design tips that will help you maximize your productivity and give you the inspiration to tackle your latest project:
Maximize floor space by using vertical storage with shelves, cabinets, and hooks.
Open shelving or cubbies makes it easy to grab fabrics quickly and access your sewing tools without having to dig for them.
Add a large table to your sewing room so you have plenty of work surface without having to kneel down or cut fabrics directly on the floor.
Make sure the room has plenty of light so you can easily see what you're doing. If your sewing room doesn't have a lot of natural light, bring in task lights like floor and table lamps.
Corral scraps of fabric, scissors, and other accessories with stylish baskets. Place the baskets on your shelves and label each one so you can quickly grab what you need as you work.
Avoid too many colors or an overabundance of décor in this room. You want this space to be calming and provide you with a neutral palette to work from. If it's too cluttered, it can make it more difficult to stay focused on the task at hand.
Set up your sewing room so that it's functional. Arrange furniture in a way that makes it easy to move from one area to the next without missing a beat.
Ready to Alter Your Space?
Whether you decide to install vinyl planks, cork, or laminate, your sewing room flooring can make this space functional without compromising on style. Avoid tile since this flooring material is prone to damage, and carpet can make pins and needles disappear. With the right flooring and some creative designs, your sewing room will become your favorite place to express your creativity at home.
---
---