Scratch Resistant Engineered Hardwood Flooring for Dogs
Dogs are part of the family. They live where we live. They play where we play, and they require flooring that can withstand all that living and playing. Just like the children in our lives, they track in dirt and grime; however, those claws can wreak havoc on beautiful engineered hardwood flooring.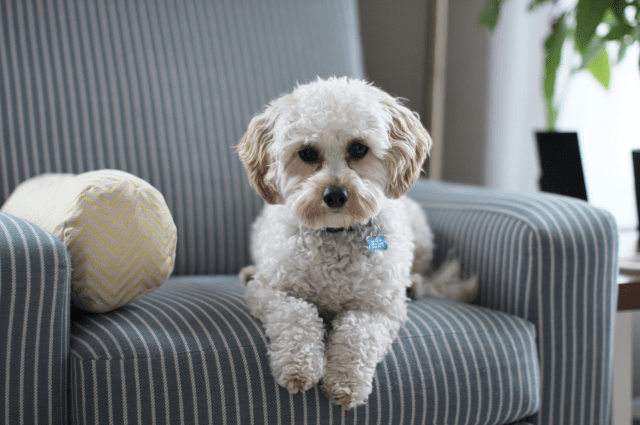 Engineered hardwood flooring provides the same warm wood feel and has the same range of hardwood species, colors, and finishes as solid hardwood but with a much higher level of durability. The finish is the secret. Aluminum oxide protects against scratches and scrapes from your furry friends, oxidation, and seals the flooring's surface.
Underneath the engineered hardwood flooring's surface layer is a multi-layer core made up of three or more layers of fiberboard. These layers provide a level of dimensional stability that makes engineered hardwood flooring less susceptible to shrinking, swelling, and warping.
Things to Consider When Choosing Scratch Resistant Flooring
This may be your first flooring purchase or perhaps you've purchased your fair share of flooring products. Regardless, you know that finding the perfect flooring isn't easy. With so many things to consider, how do you know which flooring product is best for your home and your canine companion?
The Top Layer
The top layer, or veneer, of engineered wood flooring is constructed using real hardwood and treated with multiple layers of aluminum oxide for protection against scratches. For the highest level of protection, it is important that you select an engineered hardwood floor with a robust finish and a high Janka hardness score.
Use the Janka hardness scale to compare the hardness scores of each wood species; the harder the species of wood, the more durable it is. For example, Hard Maple has a Janka rating of 1450 compared to the much lower score of American Black Cherry at 950.
A Tighter Fit
Due to the cross-bonded layers, engineered hardwood is stronger than solid wood when it comes to dimensional stability. If exposed to environmental elements like heat and humidity, there is minimal expansion and contraction, making for a tighter fit especially during the winter months when the air is dryer.
Density
Sandwiched between the veneer layer and the backing layer is the core layer. It is important to consider the density of the core of the engineered wood flooring when shopping for a high-performance floor. The core layer is typically made up of high-density fiberboard (HDF) or medium-density fiberboard (MDF). Both provide a high level of stability, but HDF is preferable for maximum performance.
Feel/Aesthetics
Engineered hardwood offers the same warmth and timeless aesthetic as solid hardwood. The veneer is milled from the same wood as solid hardwood flooring which means that whatever solid hardwood flooring you prefer, there is an engineered wood equivalent.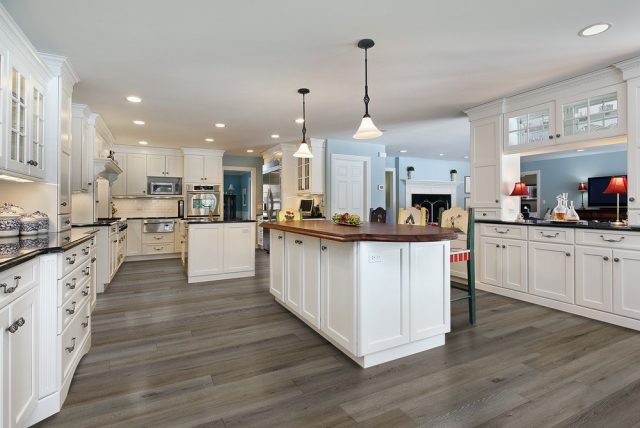 Cost
Engineered hardwood flooring is considerably cheaper than solid hardwood. Engineered hardwood flooring can run anywhere from $2 to $10 per square foot compared to solid wood flooring at $3 to $15 per square foot.
Material Comparisons
Tile
Ceramic and porcelain tile are, by their very nature, scratch and water-resistant; however, tile does not provide the same underfoot comfort and warmth as an engineered hardwood floor.
Vinyl
Not all vinyl is equal. In order to achieve the same level of scratch resistance as engineered hardwood, a luxury vinyl floor rated for heavy residential or commercial use is recommended. Even then, the floor will still lack the warmth and texture of a real wood top-layer.
Laminate
Laminate flooring is certainly a scratch-resistant, durable flooring option. It is perfect for high traffic areas, but it is not capable of offering a waterproof option like engineered hardwood flooring and does not have as natural a texture as engineered hardwood flooring.
Engineered Hardwood
Engineered hardwood flooring has it all! It is scratch-resistant, water-resistant or waterproof, soft underfoot, warm, and boasts the same beautiful aesthetic as solid hardwood.
5 Reasons Why Engineered Hardwood is the Best Choice For Dog-Friendly Flooring
1. Traditional Hardwood Flooring is Prone to Scratches
Solid hardwood flooring's ability to withstand scratches is based on the species of wood chosen, the grain pattern within that wood, and the finish. The finish quality is only as good as the installer performing the work, and some finishes are more durable than others. To keep your solid hardwood floor looking great, you will have to sand and refinish your floor multiple times and keep your pet's nails trimmed.
2. Engineered Hardwood Maintains a Warm, Real-Wood Feel
Engineered hardwood offers the same wide range of wood species as solid wood. The beautiful wood veneer layer provides a level of warmth underfoot and a real-wood feel throughout your home.
3. You Can Safely Install Engineered Hardwood Directly Over Concrete
Engineered hardwood is less susceptible to moisture and humidity that lead to warping and swelling. A floating engineered hardwood floor is the best option for safe installation directly over concrete where solid hardwood is unsuitable.
4. Less Expansion and Contraction
If solid wood is exposed to moisture, it swells or expands, and in the presence of a heat source or an increase in temperature, solid wood shrinks or contracts. Engineered hardwood's multiple layers work together to counteract the effects of heat and moisture exposure.
5. Engineered Hardwood Can Be Installed over Radiant Heated Flooring
Solid wood flooring is not suitable for installation over radiant heat; it dries out which causes the boards to shrink, cup, and buckle. Since engineered hardwood is less susceptible to climatic changes, it is a great candidate for installation over radiant heat flooring.
Where to Buy Scratch Resistant, Engineered Hardwood Flooring
Engineered hardwood flooring provides a flooring solution for pet owners that is beautiful, timeless, and high-performing.
Are you ready to take the plunge? BuildDirect offers a wide range of scratch-resistant engineered hardwood flooring options that are perfect for the areas in which homeowners live and play. Our available engineered hardwood flooring selections come in a variety of wood species, colors, cuts, finishes, and textures. Choose from the Jasper and Vanier premium engineered wood floor lines to get a floor that is beautiful and durable for years to come.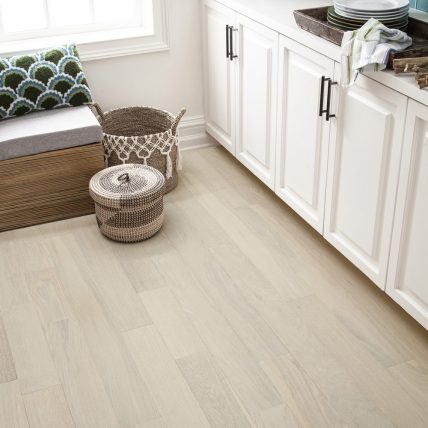 As a pro, there are many benefits of working with BuildDirect. You'll have access to the best prices on hundreds of flooring products. We also offer a 60-day return policy and free samples in 2 business days. You can call, text, or email our flooring experts if you have any questions or issues with the products. Become a pro member today to simplify your next flooring project.


---
---