Benefits of Laminate Flooring: 5 Reasons Why It's Better Than Ever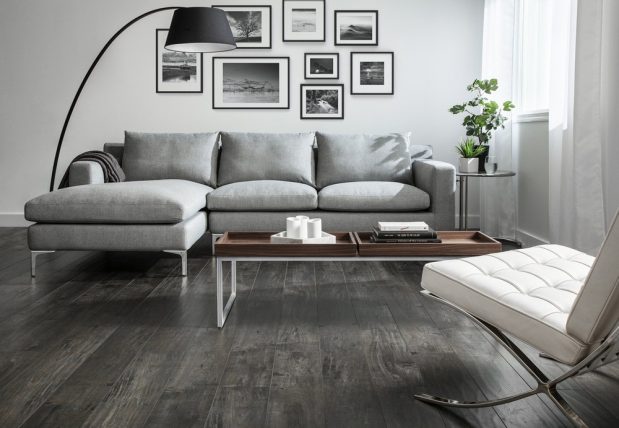 Laminate flooring has graduated from being a floor one settles for into one of the most sought-after floors around. Here are some of the ways this is happening.
***
People know laminate flooring as a more affordable hardwood or stone substitute. Price, however, isn't the only benefit of laminate, especially these days. In the decades since laminate flooring first came on the market, it has become so much more than just a type of flooring that looks like hardwood or natural stone, and installed as a stop-gap.
Attention to detail and a sense of realism that is balanced against practicality has always driven the industry. With new design innovations that give laminate flooring more intricate texture, better water resistance, and environmental friendliness, modern product lines shows that laminates have evolved into a seriously smart flooring choice designed for long-term use. Here are 5 ways modern laminates have advanced in recent years.
5 Benefits of Laminate Flooring
1. More detailed surface textures.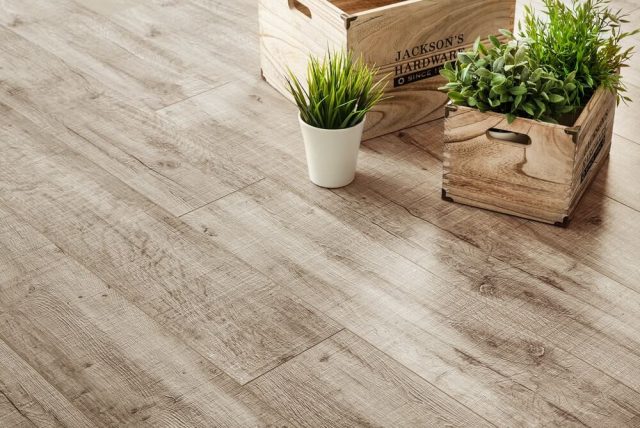 The surface textures in laminate flooring come in many varieties, from smooth to intricate. Many people don't know that laminate flooring can also mimic tile or stone. You don't have to go for a hardwood look if your design needs something different.
The traditional finishes for laminate flooring are smooth and embossed. Yet the finishes on even the simplest smooth surface laminate have noticeably improved in recent years. From glossy finishes to matte finishes, attention to detail is still the primary driver in terms of image resolution, and replication of varied color ranges that make modern laminates strikingly beautiful, up close and at a distance.
Along with this next-level attention to detail on standard boards, the best laminate flooring has evolved to include more precise surface details and textures that bring it much closer to looking and feeling more like real hardwood. One of the newest innovations is handscraped, brushed, and otherwise distressed laminate floors, or more accurately the appearance of them being distressed.
Laminate flooring isn't really distressed by hand, of course. The effect is simply another facet on how accurately the industry has made them look as though they have been. Now laminate options give you more of a range to achieve that rustic or shabby chic look you're after.
These days, the disconnect between visual pattern and tactile texture has been solved in modern laminates. When the authentic, wood-grain feel on each board is as important to your interior design as its look, you can confidently turn to laminate flooring to get it. Embossed in register laminate has more texture and is as close to an exact hardwood match as laminate has ever come in this respect.
Embossed in register products are perfect when you have a critical eye for detail, or when you want your home or space to be authentic to a specific period or vision. With this direction, your floor will be one of your room's features, indistinguishable from real wood to the untrained eye.
2. More selection in plank widths.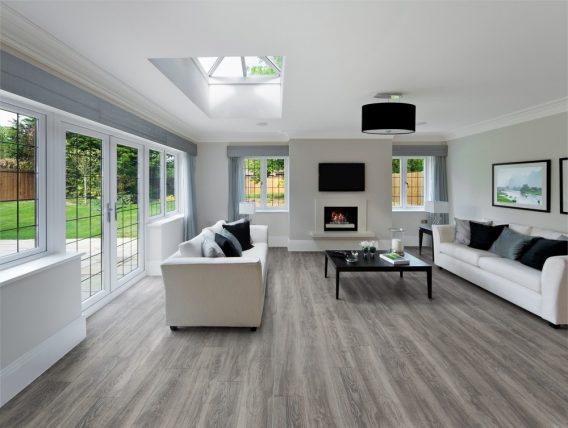 Your floor isn't just about texture and pattern. Visually speaking, plank width matters just as much. Laminate flooring comes in many plank widths these days, from a narrow 5 inches to a beautifully wide range from 6.5 inches to over 7 inches.
When it comes to showing off exotic textures or adding a burnt finish, the width of the plank can make or break the effect you're after. Luckily, new flooring products give you a range of options.
An antique chestnut floor, with whorls and imperfections included in the design, is stunning with a wider board and creates the feel of a log cabin or a rustic resort. Oak with gentle wood grain designs and a light finish looks beautiful in a narrower board, so you can focus on the overall effect and not on the intricacies within the design. Choose where the eye goes first in your design by using board width to highlight different characteristics of your floor.
3. Greater durability.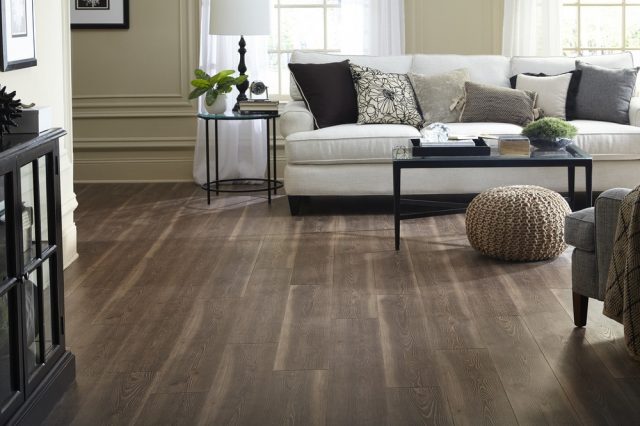 Laminate flooring reacts to the elements of moisture and humidity much like any wood floor; it can shrink, expand, bow, and crack if exposed to excessive moisture. One of the most exciting laminate flooring innovations in recent years is greater water resistance. Once an impractical choice for your kitchen or your bathroom, now the possibilities have opened up a bit more.
Another area of evolution with modern laminate floors is the wider availability of AC4 and higher-rated surfaces. Usually set aside for commercial purposes, these floors are now happily available for more and more residential uses, with a greater selections of colors, patterning, and other effects.
In addition to that, the reverse layer of the boards are shored up with extra durability too. This refers to selections of laminate flooring that feature an attached underpad layer, which also saves you a step during installation.
Underpad layers help to correct minor variances in your subfloor, add a level of moisture resistance from below, and in some cases add some soundproofing qualities, too.
4. Healthier flooring.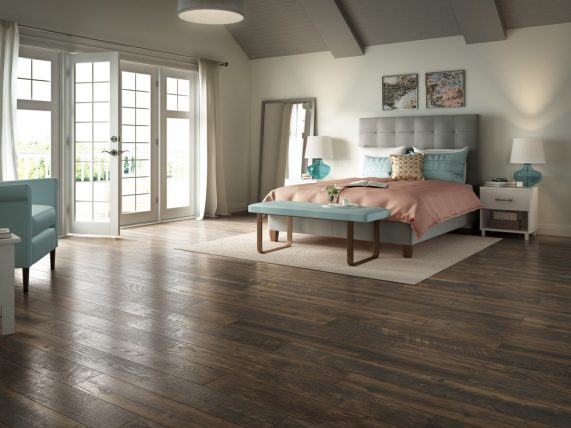 You have lots of design style, but you also care about the environment and have tailored your interior to reduce your carbon footprint and use of various noxious chemicals. Laminate with a Greenguard Certification fits the bill.
At the gold level, this certification indicates that the materials in the laminate have low VOCs. The California Air Resources Board has a list of environmental specifications that some laminate manufacturers ensure they meet. These are the laminate choices of many schools and healthcare environments and are especially safe for homes with children or allergy sufferers.
5. Easier cleaning and maintenance.
When you have a beautiful floor, keeping it clean is essential. At the same time, you don't want to worry about it being damaged easily during the process. With modern laminate flooring, edges are manufactured to make them less vulnerable to moisture than they were in the past. And with a laminate floor, you never have to wax it or sand it. Just a damp mop will do.
Picking up dust and debris from a laminate floor is simple thanks to the laminate floor wear layer, which is designed in part to keep materials from adhering to the floor surface. A dry mop, broom, or vacuum will do the job after that. Use acetone nail-polish remover to remove marker, oil, paint, and other tough markings.
If part of your floor becomes damaged, replacing laminate flooring is cheaper than replacing hardwood. Ordering extra planks at the time of your order should be a matter of course. when you first buy laminate floors seven to ten perecent extra is the standard to account for installation errors and any damage sustained later.
Modern laminate floors are designed to be durable, resistant to spills, and easy to take care of all around. So go ahead and let the kids play on the floor, have a dinner party, or enjoy lots of company. Your laminate floor will look great and set off the rest of your design scheme, but it'll hold up if someone spills their drink or drops something from their plate.
An Eye for Design
Laminate flooring has come a long way, even in the last five years. The attention to detail it offers, and the expanded visual features that are open to the style-minded has made it a go-to floor surface more so than ever before. Installing laminate flooring opens up your design possibilities by providing you with durable, affordable options that fit the many looks you might want to achieve.
---
---