4 Cool Floors to Help You Cool Down This Summer
With summer approaching, many homeowners are bracing themselves for high energy bills. However, cranking the air conditioner isn't the only way to stay cool in the summer months — the key to lowering your energy bills and enjoying a cool, sustainable home might be right under your feet. For a much cooler home that doesn't cost you or the planet a fortune, consider these cool flooring alternatives.
The Science Behind Cool Flooring
There's a scientific explanation for why these floorings feel cooler underfoot. Every flooring material has a property called heat conductivity — how well the material conducts heat. When you touch any object, including a flooring surface, the heat from your body transfers to the object at a rate proportional to its conductivity. The higher its rate of heat conductivity, the quicker it will transfer the heat from your body, and the cooler it will feel to the touch.
Carpet is mostly made of air. Since air is a poor heat conductor, so is carpet. In contrast, because the flooring materials mentioned above are solid, they're much better conductors of heat. When you walk over carpet, it can't remove the heat from your feet as easily as tile can, so carpet feels warmer. Since the tile can easily remove this heat, it feels much cooler when stepped on.
It's worth noting, though, that this process relies on your feet being warmer than the surface you're touching. This is usually the case in summer, but if a tiled floor is hotter than your feet, it will feel even warmer, because it will transfer heat to your body faster. That's why the pavers on an uncovered patio can feel scorching on a searing summer's day.
Natural Stone: Naturally Cooling
Natural stone floors are an excellent option if you want to keep your house cool in summer. Stone stays cool to the touch in warm weather, so walking across it in bare feet on a summer's day feels heavenly.
Stone is also nonporous, so it doesn't provide spaces for dust and other allergens to hide. That makes it easy to keep clean — and a good choice for allergy sufferers.
It's no accident that many ancient civilizations chose stone for their monuments. Stone is virtually indestructible, which makes it ideal for high-traffic areas in your home. It also virtually never requires refinishing or replacing and needs very little maintenance to continue looking its best.
Due to its durability, stone is also one of the few flooring materials that will work just as well indoors and outside. Doing so can create a beautiful, seamless flow between your indoor and outdoor flooring.
There are a variety of different stone flooring materials that all share these properties. Consider their costs and looks when deciding which one best suits your home.
4 Flooring Options To Assist with Staying Cool Around Your Home
1) Slate: Popular Natural Stone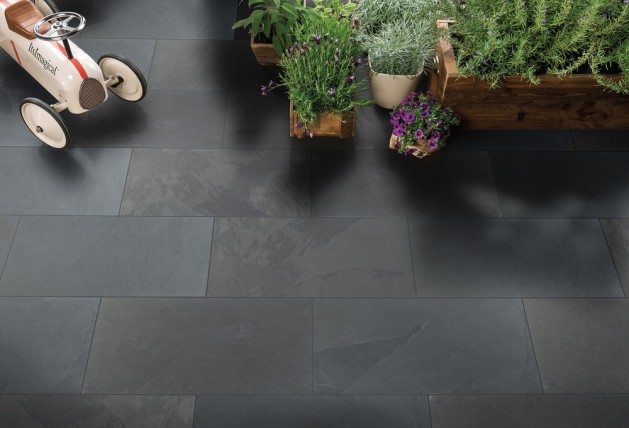 Cabot Slate Tile / SKU: 15188434
Slate is one of the most common types of natural stone used for flooring. It's a metamorphic rock that easily splits into thin sheets, which can then be turned into stone tiles.
Like other natural stone materials, slate feels cool to the touch. It also offers slip resistance, which makes it ideal for high-traffic areas. Its dark finish is modern and rarely looks dirty. In addition, it's also very easy to clean, just like other natural stone flooring is. Slate tiles are also very cost-effective, which may be another reason behind their popularity. The denser the slate, the more durable and expensive it is. It should only be installed by a professional, so remember to factor installation costs into your budget as well.
2) Travertine: Polished Stone Surface
Kesir Travertine Tiles – Honed and Filled / SKU: 10071429
For a different look, you might choose travertine, which comes in a wide variety of colors and patterns. This natural stone is often sold as marble or limestone, but it's neither. Instead, this sedimentary rock is made of calcite, which makes it a little softer than limestone. However, that doesn't mean that it's not durable. The Trevi Fountain in Rome is made of travertine, and it's still standing 300 years after its construction.
Travertine tiles feel cool and a little soft underfoot. They will scratch and show stains a little more quickly than slate will, so they tend to suit low-traffic areas and households without children. Keeping the alluring shine travertine starts with is difficult, but the natural matte finish is also quite alluring on its own.
3) Ceramic Tiles: Porcelain and Non-Porcelain Tiled Floors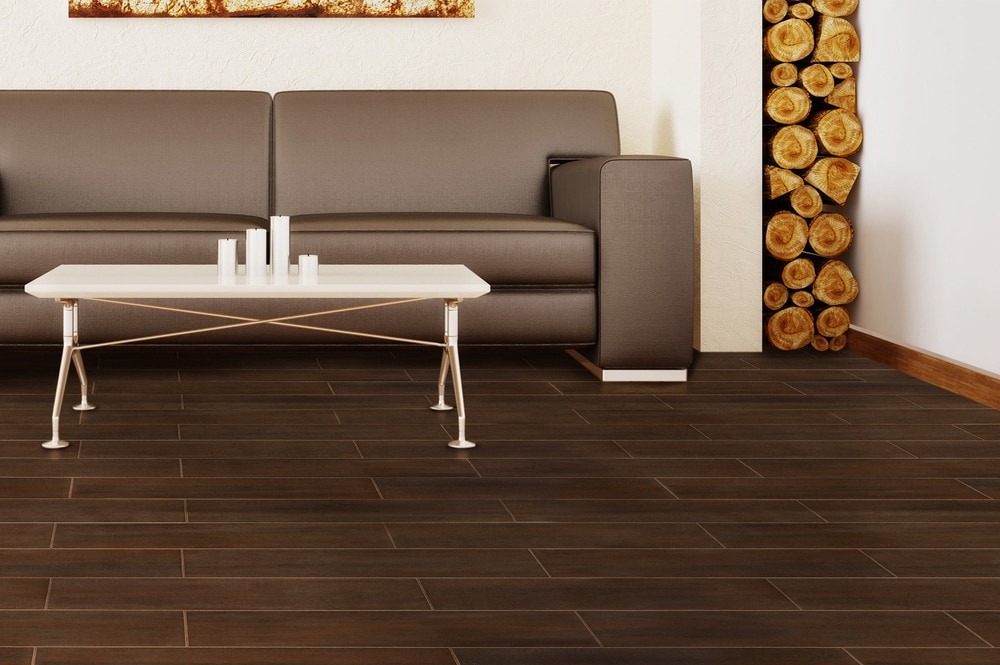 Kaska Porcelain Tile – Aztec Series in Espresso. SKU: 10088433
Ceramic tiles are most commonly used in bathrooms and kitchens. However, these cool flooring materials can work in almost any area of your home. They are made from clay materials that are formed into a mold. Most ceramic tiles are classed as non-porcelain, being made from a mix of clay and other minerals. Porcelain tiles are made of these materials as well as a powdered crystal called feldspar. This melts into a glasslike material, bonding all the other elements of the tile together.
Both types of tile flooring can be unglazed or glazed and can have a matte, semigloss, or high-gloss finish. Glazed tiles are more resistant to scratches and stains, and they also absorb less water. This makes them a particularly common choice for flooring. Some ceramic and porcelain tile is available in a wood grain, as seen above. Non-porcelain ceramic tiles are the most affordable, but they aren't as durable as porcelain ceramic tiles are.

4) Outdoor Pavers: Cool Surface Outside
Your indoor spaces aren't the only ones that can benefit from cool flooring materials. Many outdoor pavers are more effective than others at staying cool.
Concrete pavers do not hold as much heat as brick pavers do. They also tend to be a little cooler than solid concrete surfaces, as they can shed some of their heat from the spaces between them.
Travertine is another great choice for outdoor areas, as its light color and porous surface helps it stay cooler than other natural stone pavers.
Shell stone pavers are the coolest of all, though. Pavers made from natural stone embedded with fossilized shells and coral can have a surface temperature as low as 94 degrees Fahrenheit on a 90-degree day in full sun.
Adding shading to your outdoor spaces will help these pavers stay even cooler during summer.
Cranking the air conditioner isn't your only option for staying cool around your home this summer. The right flooring materials can make a big difference to your comfort without raising your power bills.

---
---