Laminate Flooring Ideas: 19 Styles for Home Design
Laminate is one of the most versatile flooring options on the market. A budget-friendly alternative to hardwood, laminate has a wide range of colors, styles, and designs. There are seemingly limitless options, so it can be challenging to find the perfect look for your project.
These 19 ideas should give you some excellent inspiration:
19 Laminate Flooring Ideas for Stylish Home Design
1. Antique Pearl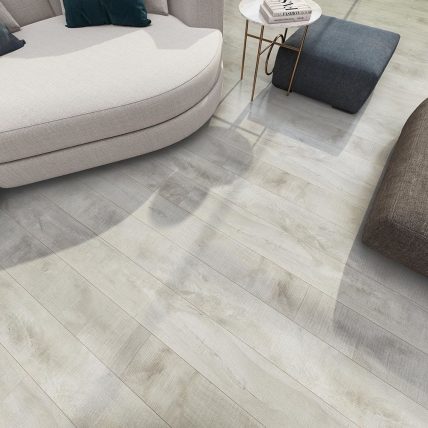 Try an embossed, glossy laminate in an off-white shade to add a luxurious elegance to any room. Antique pearl style laminate pairs perfectly with high-end décor and subdued contemporary design.
2. Barn Oak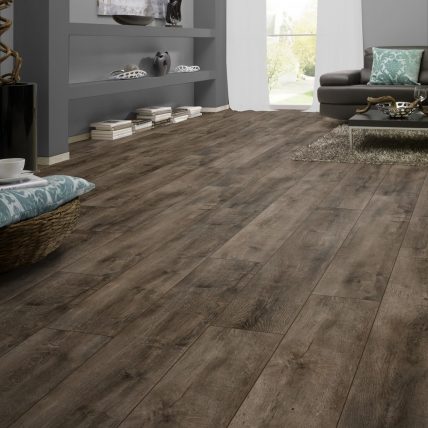 Barn oak resembles the wood found in barns. The knots, cracks, and deep rich brown mimic the look of real wood planks. These dark, wide planks add a timeless and comforting quality to farmhouse homes or other rustic and cozy design themes.

3. Classic Oak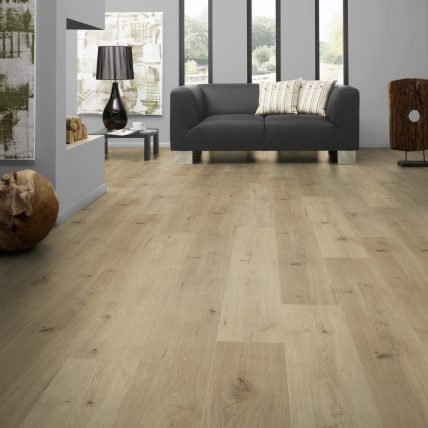 The look of classic oak laminate looks excellent in almost every design aesthetic. Pair it with contrasting dark furniture and decoration to make it really stand out.
4. Odessa Grey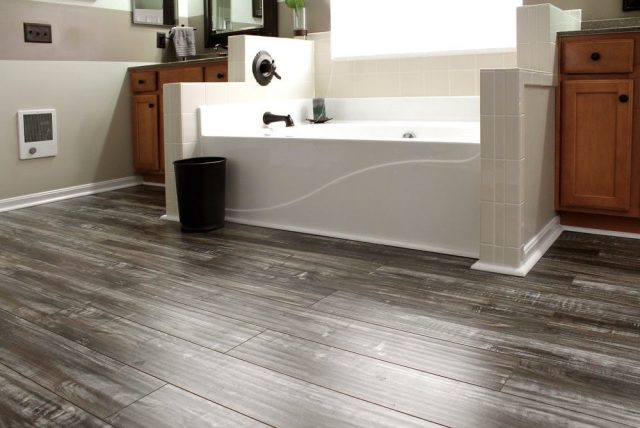 The hand-scraped touches ranging from charcoal gray to white help elevate the wood grain appearance of these Odessa Grey planks. Each of these planks is one-of-a-kind, creating a truly unique space. You can use the contrasting shades of the laminate to elevate contrasting-colored designs. It fits nicely in modern and contemporary designs.
5. Refined Brass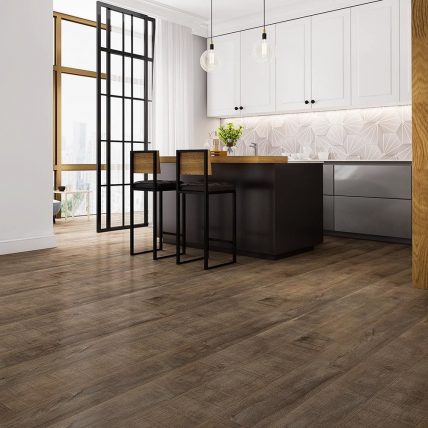 Cut marks, graining, and wood knots create the refined brass style that is embossed and made to look like real hardwood. Its interesting shade makes it a perfect match for edgy, industrial designs.
6. Bandsawn Laminate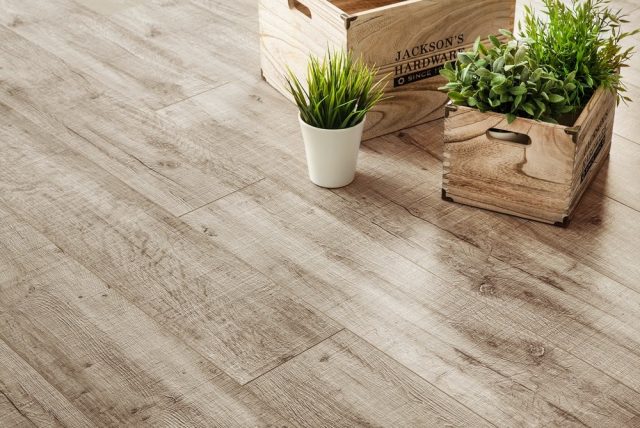 Bandsawn laminate has exquisite details that make it a top choice for those looking for an authentic hardwood look. This particular grain has a more traditional and unassuming appearance and pairs wonderfully with greenery and laid-back designs.
7. Roasted Hickory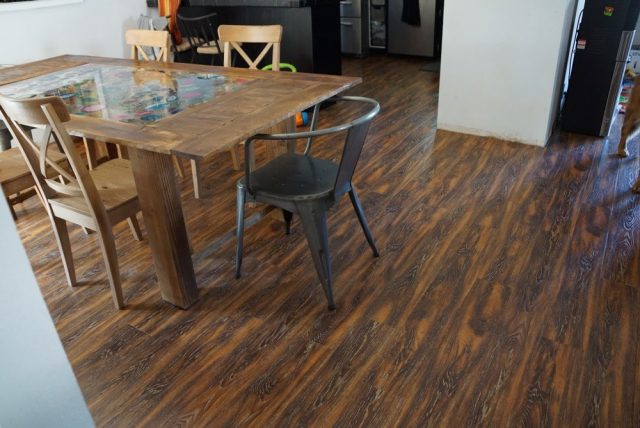 Warm, welcoming, and textured, this elegant and detailed laminate design is perfect for creating cozy dining rooms and inviting living spaces. It pairs wonderfully with other warm-toned furniture and decorations.
8. Ash Blonde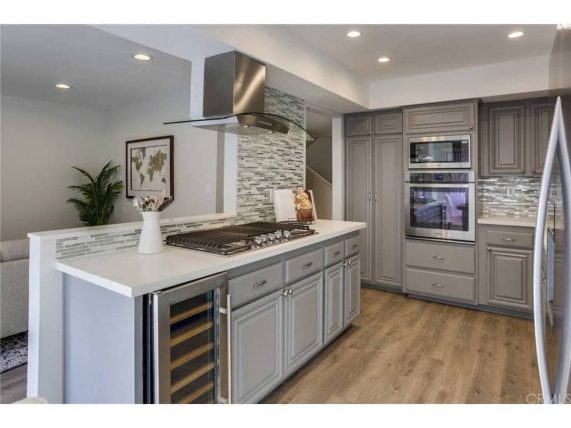 This classy, wide plank design looks excellent with modern and sophisticated design motifs. Pair it with metallics and whites to increase the refined aesthetic.
9. American Cherry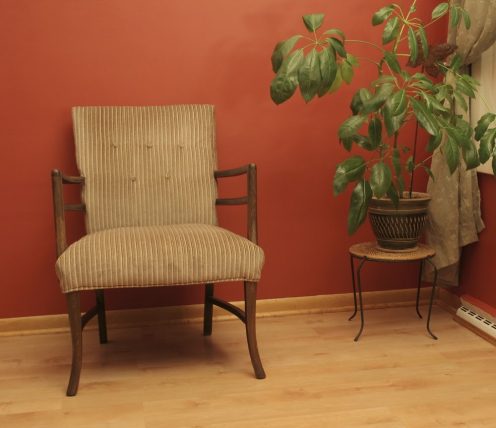 This popular honey-colored laminate is a perfect choice to brighten any space. It doesn't have any knots or cracks, giving it a smoother, cleaner appearance.

10. White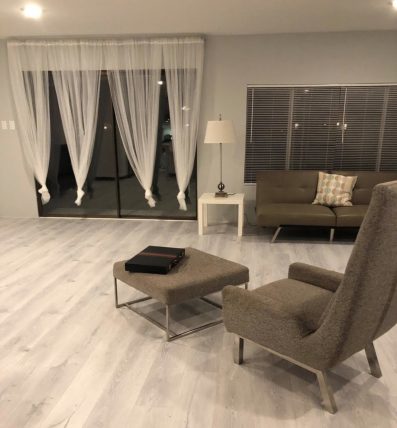 White floors are sure to make an impact – especially when paired with complementary furniture and decoration. These wide, wood-grain embossed, white, laminate planks complete any contemporary room.
11. Wide Plank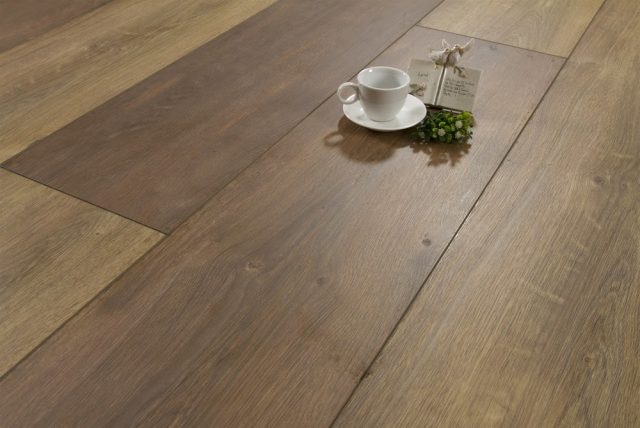 Wide plank laminate can add an immediate welcoming feeling to any room, and it does a superb job at mimicking a hardwood floor. Choose neutral color planks, like this warm sand design, for traditional and classic looks.
12. Cement Gray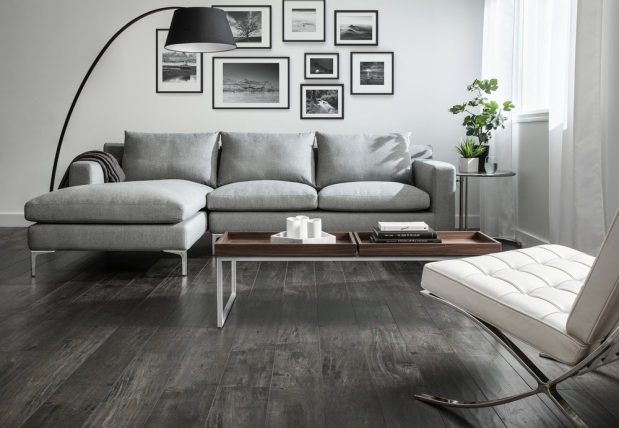 Cement gray laminate's low gloss, low fuss finish looks great with modern designs. Pair it with other shades of gray for the ultimate industrial feeling space.
13. Acacia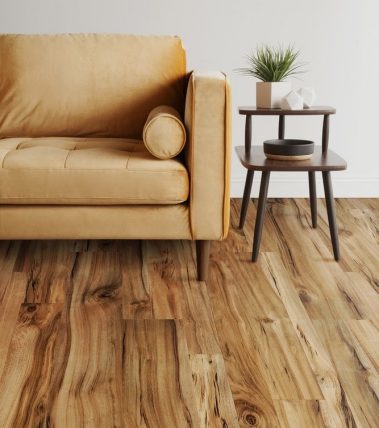 The rich honey color and deep brown accents of this laminate add an elegant finish to any room. It's perfect for cozy and contemporary designs alike. Be sure to pair it with complementary colored furniture to maximize its appeal.
14. Ebony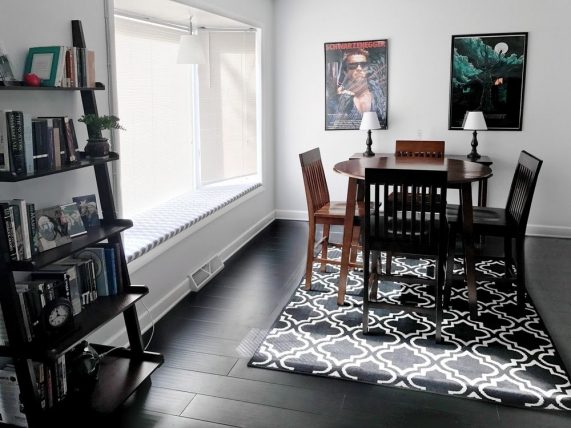 Ebony laminate-styles are perfect for exotic and bold designs. They look best in artistic and contemporary spaces. It's important to keep the walls and other features light and bright with dark floors; otherwise, you risk making the space feel smaller than it is.
15. Balinese Rosewood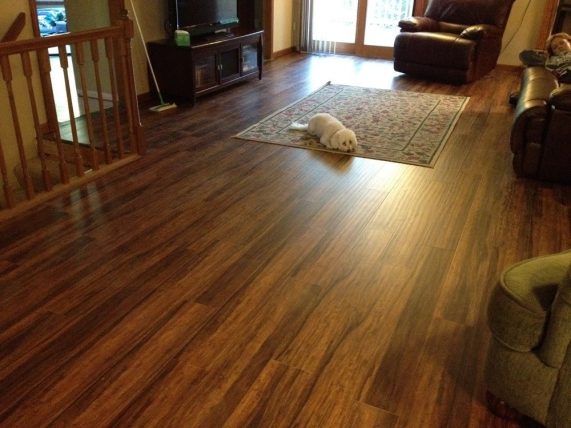 The grain pattern and hand-scraped surface of Balinese Rosewood mimic the look of exotic hardwoods. This elegant shade looks best in cozy dens and traditional studies. Pair it with leather furniture, ornate decoration, and antique design touches to really enhance its elegance.
16. Sand Gray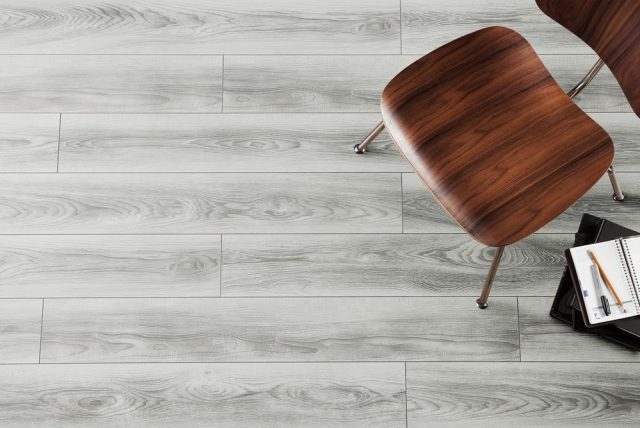 Light and bright gray floors are in style, and this sand gray-colored, French oak-styled laminate is a perfect choice to be on-trend. The unpretentious sophistication of this light wash laminate looks perfect paired with dark-colored furniture or accents.
17. Dark Chocolate Brown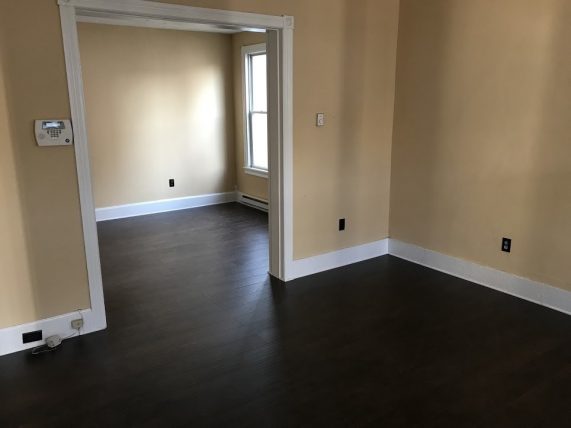 This dark chocolate brown laminate style mimics the look of French oak and adds a classy sophistication to any space. Many people pair dark woods with dark décor, but this dark chocolate brown also looks terrific contrasted with light and bold wall colors.
18. Canyon Oak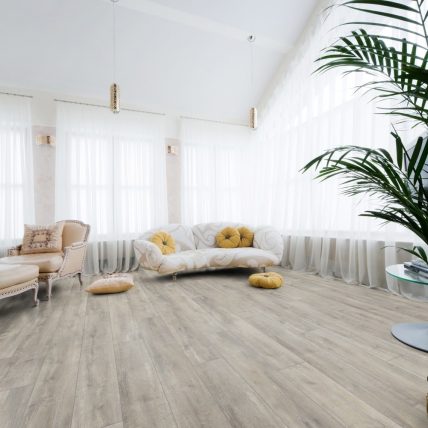 Neither white nor gray, this neutral laminate color falls somewhere in the middle. It mimics the look of real oak and lightens any space, making it a great addition to minimalistic and classy design motifs.
19. Sandblasted Pine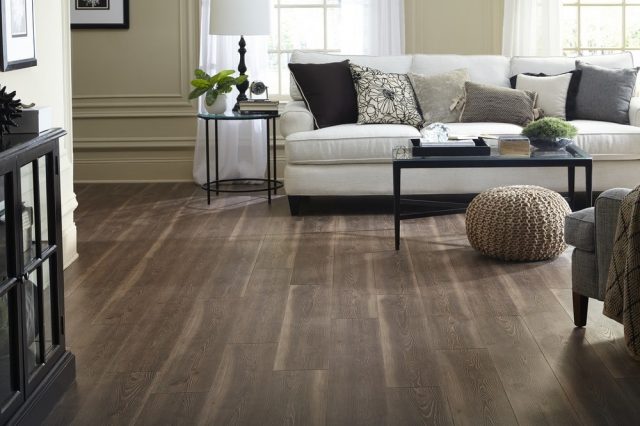 The warm look of this faux pine laminate is enough to cozy up any space. Actual pine wood floors ding and dent easily, but this laminate version is durable with the same rustic look as the real thing.
The Best Place to Find Laminate Floors for Any Design
At BuildDirect, we offer laminate flooring in a wide variety of styles, colors, textures, durabilities, and price points. No matter what your design aesthetic is, we're sure to have a laminate that fits the bill.
Take a look at all of our laminate options, and be sure to join our PRO Rewards program while you're here. As a PRO Rewards member, you get 5% credit, unlimited samples, 30-day money-back guarantees, and more. Become a PRO Rewards member for free now.

---
---