When to Choose Engineered Hardwood vs. Laminate Flooring
Technological advances have made engineered hardwood floors and laminate flooring competitors for the attention of homeowners that want the look of wood when installing a new floor. There was a time when hardwood was only available in solid wood flooring and laminate was a poorly made, cheap alternative. Times have changed and comparing engineered wood flooring to laminate flooring is no longer just about price.
Both give you the look of real wood (one is!).
Laminate flooring is gaining acceptance in the wood flooring market due to higher quality standards in manufacturing.
Laminate flooring can offer the look of some exotic species of wood that are not legal to harvest and therefore unavailable.
Some engineered hardwood flooring is waterproof — allowing it to be used in bathrooms and kitchens.
Is one flooring superior to the other? We are going to make a side-by-side comparison of the pros and cons of both types of flooring to see which one is best suited for a particular use. For instance, is the foot traffic in your home light or are there young children and pets? Are you a handy homeowner with basic tools and willing to install the flooring yourself, or are you a trained professional with experience to put in the work? Will you want the option of refinishing the flooring instead of replacing it in the future?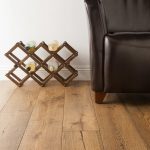 Installing new floors in your home is a big expense and requires a careful analysis of short- and long-term goals before you jump in. Are you installing a new floor because you are getting ready to sell your home? Maybe you have made some major decor changes and new flooring will be necessary to compliment them? Engineered wood and laminate both have pros and cons depending upon the results you are trying to achieve.
There is still a lot of confusion as to the difference between laminate and engineered wood flooring. Are they the same? Both terms give the impression that they are constructed of man-made materials, but there is a vast contrast in the way the two flooring products are manufactured. The choice you make will be based on these differences.
What is Engineered Hardwood Flooring?
Composition
Cross-grained construction is what makes engineered wood flooring strong and long-lasting. It is composed of a backing layer that is either man-made in the case of waterproof products, or actual plywood. The backing layer is attached to a solid high density fiberboard core, latticed layers of plywood or a waterproof HDPC Core (high density plastic composite).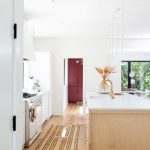 The top layer (or wear layer) is real hardwood and is measured in mm. The thickness of this layer will determine if your flooring can be refinished. A 1mm thick wear layer can never be refinished, while a 3mm wear layer can be refinished 2-3 times and a 4mm wear layer can be refinished 3-5 times effectively giving you a floor that can last 50-100 years.
Pros
This is real wood. The surface you are walking on is a piece of the actual hardwood species that you purchased.
Engineered hardwood floors are more stable than laminate floors or solid hardwood and can be used in areas with a high moisture content where laminate and solid wood cannot.
Engineered wood floors are easier to maintain than solid hardwood.
The product is environmentally friendly because the veneer is sliced rather than cut, so the process creates no sawdust or waste. Since engineered hardwood uses only a thin layer of the log, it reduces the number of trees required to supply the marketplace.
Engineered hardwood flooring manufactured with a HDPC core makes the product waterproof, durable and comfortable — three things most homeowners are looking for in a flooring product. This technological breakthrough allows you to add the look of real hardwood in the bath and kitchen area.
Depending upon the thickness of the top layer, you may be able to refinish your engineered flooring but you need to check with the manufacturer's instructions as you could potentially damage the product if done incorrectly.
Engineered hardwood flooring is DIY friendly.

Can be glued, stapled, nailed, or installed as a floating floor
Can be installed over concrete
Can be refinished (if wear layer allows)
Tends to be trend resistant as wood flooring is always in demand

Engineered hardwood comes in many textures: hand-scraped, wire brushed, smooth and distressed surfaces, giving you many options beyond species and color.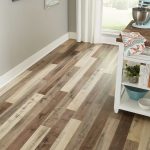 Cons
The cost of engineered wood is often as much as solid hardwood and more expensive than laminate, but, as in the case of solid hardwood, it increases the homes resale value and can be easier to install than solid wood.
Some styles are installed as floating floors and are easy projects for the handyperson, but those that require glue and nails are better left to the professionals.
Unless you purchase waterproof engineered hardwood with an HDPC core, it is not recommended for high moisture areas such as bathrooms, kitchens and laundry rooms.
Like any other real wood floor, engineered hardwood can fade if exposed to direct sunlight for long periods. Shades are recommended in those areas to help reduce this effect.

What is Laminate Flooring?
Composition
Laminate flooring is a synthetic product consisting of 4 layers: a backing layer, MDF Core, image layer, and wear layer. Laminate flooring is manufactured in thicknesses from 7mm to 12mm and priced accordingly.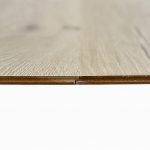 It is normally made to replicate the look of wood or stone and some laminate flooring products have also been engineered to give the feel of real wood through an embossing process. Higher quality laminate will have an aluminum oxide wear layer which is one of the hardest surfaces found on flooring and though it is not bullet-proof, it will survive scratching and denting better than wood.
Pros
Laminate flooring has a very durable and hard surface area that is recommended for heavy traffic areas and is the most affordable wood looking option on the market.
It is eco- friendly since it is made from composites instead of real wood.
It is economical and pet-proof.
It is not photosensitive so it won't fade like hardwood in areas of high sun exposure.
High end laminate will have an embossed surface that gives a realistic wood appearance.
Laminate is DIY-friendly and generally easier to install than engineered wood because it is a floating floor and does not have to be physically attached to the subfloor below.
It never requires refinishing and requires little maintenance.
It resists staining better than hardwood.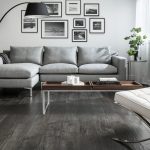 Cons
The image layer has come a long way in replicating the surface material of natural flooring products like wood, stone and metal, but there is still a difference in the look and texture.
The pattern of the tile is often repetitive.
Thinner products tend to be noisy when walked on with heels.
It cannot be installed in high moisture areas.
It cannot be refinished.
When to Choose Engineered Hardwood Flooring
When you need to have real wood, there is no substitute. Engineered hardwood gives you the beauty of solid wood and the stability of cross-grained construction. Discerning clients will demand real hardwood when shopping for a new home and if resale value is a concern, hardwood flooring will give you the highest return on investment.
Current selections of engineered hardwood offer a solid core that makes the flooring waterproof and will allow installation in bathrooms, kitchens and other areas where water damage could be a problem. This innovation also allows you to obtain the value of hardwood in below-grade applications like basements.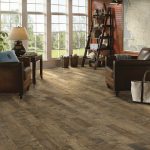 Even if your immediate concern is not resale, some engineered hardwood flooring can be refinished 1-5 times, depending upon the thickness of the wear layer allowing you to have a new floor in 7-10 years without the hassle of tearing out the old floor to replace it.
When to Choose Laminate Flooring
Laminate flooring is an excellent choice when the look and feel of real wood is desired, but cost is a major concern. Part of the overall cost savings derived from installing laminate is in labor. Almost anyone can install a laminate floor and get professional results.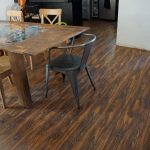 Laminate flooring is an excellent choice for high traffic areas and where damage from pets is a concern. It is also an excellent choice for many commercial applications where scratch damage is a major concern.
Versatility is another factor to consider when choosing laminate. If you aren't trying to get the look of wood, laminate offers stone, metal and ceramic patterns as well.
Get the Perfect Engineered Hardwood or Laminate Flooring Solution With BuildDirect
Choosing between engineered hardwood and laminate flooring requires you take many factors into consideration and it is helpful to know that there is a place to have your concerns addressed before you buy.
BuildDirect.com offers one of the largest selections in the country of engineered hardwood flooring options — including waterproof designs — as well as laminate planks, in a variety of colors and patterns. We have a full-time customer service department that is available to assist you Monday through Friday 9:00 AM to 7:30 PM and Saturday from 10:00 AM to 6:00 PM (EST).
We understand your need for quality flooring at affordable prices and we meet that need with regular sales events and clearance pricing throughout the year. If you are an installer, we have a PRO Rewards program that can help you build your business and increase your bottom line.
Order free samples today to get your next project started on the right foot.


---
---