DIY Flooring: Should I Install My Flooring Myself or Hire a Professional?
Whether you're a new homeowner or are looking to renovate your home, you might have been looking at some new flooring options to freshen up the space. Flooring installation projects can be completed by a professional or as a DIY project, and making the right decision on how the flooring will be installed depends on several factors.
Whether you're planning to install marble tile flooring in the bathrooms, hardwood flooring in the hallway, or in the kitchen, here's a closer look at the pros and cons of a professional versus DIY floor installation.
What Type of Flooring Will You Install?
When you decide to update your flooring with tile, hardwood, carpet, or other types of flooring, you'll need to consider the type of material, the size of the space, and several other factors before the project starts.
Choosing the right color and style of flooring for your space is an important step that's easy to overlook. You'll want to start by thinking about performance and traffic. Is this floor for your home or office? Is it high traffic with many people? Are there pets? What room will it be installed in? Then, you'll want to make sure your furniture, decor, and walls complement the type of flooring you're putting down and that you won't need to change your mind later.
For example, wood-look and lighter shades of bamboo flooring are becoming increasingly popular, but they don't always work well with more contemporary furniture styles and chic decor. You'll need to take your time to explore product catalogs of different manufacturers, see showroom samples, and talk to flooring specialists to help you narrow down your options.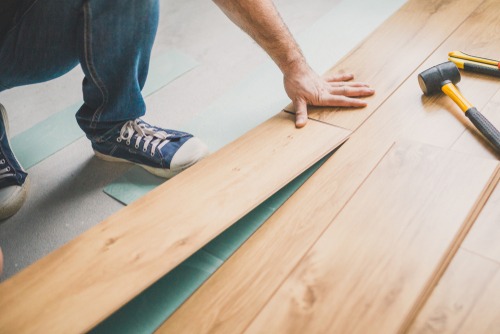 Understanding the Floor Installation Process
Once you've decided what type of flooring you plan to install, you need to decide if you're going to do the work yourself or hire a professional. Here's a general overview of what the job looks like (Remember, these steps vary based on the material and installation method):
Measuring the space accurately.

You'll need a tape measure or laser measuring device to note the exact measurements of the rooms that are getting a flooring makeover.

Calculating the amount of flooring needed, in square feet.

You'll need to take your square-foot measurements and add a percentage to accommodate for any loss, broken planks or tiles, or mistakes.

Removing existing flooring.

This can be a job in itself if you don't have the right tools. You'll need an efficient way to remove existing carpet, tile, hardwood, vinyl, or other types of flooring without damaging the subfloor or walls.

Of course, there are some types of vinyl flooring, like 'peel and stick', that can be installed on top of existing flooring.
Cutting down planks or tiles to size.

You may need special tools to cut down the flooring to the appropriate size and prepare them for the installation.

Laying down underlayment if needed.

Unless you're installing floating floors, you will need to

install some type of underlayment

or padding as a layer of protection or to provide soundproof cushioning.

Assembling the first row of flooring.

You'll need to lay down the first set of planks or tiles in a straight line and make sure there are no gaps between the top and bottom sides.

Using spacers between the floor and planks for expansion.

Spacers help keep the first row away from the edges of the walls to accommodate for any expansion that occurs when the flooring settles.

Stapling the boards if needed. Certain types of floor design projects will require stapling the planks down into the floor with a nail gun.
Cutting down flooring for new rows.

You'll need to continue cutting down the planks or tiles to size and making sure everything fits perfectly together, seam to seam.

Assembling the second rows. The next row of planks or tiles can be laid down and secured in place with staples or adhesive or left to float with the other pieces.
Tapping planks or tiles into place.

This ensures the flooring is aligned properly and that there are no gaps between the seams.

Checking for gaps and adjusting flooring.

This step ensures there are no spaces, and that everything is still in alignment.

Installing final rows.

This finishes up the project. Some planks or tiles may need to be cut down vertically to fit the space.

Applying sealant to the perimeter.

Sealant can be applied all the way around the room to ensure everything is secured in place.

Installing the baseboard.

This strip runs around the perimeter, between the crown molding and the floor, to hide the gap between the floors and wall and also to seal the flooring.
Now that you have a fair idea of what the process entails, you can decide whether it's something you want to do yourself or you want to hire a professional. But before you make your decision, consider these pros and cons of professional installation vs. DIY.
Benefits of Professional Floor Installation
When you work with a flooring contractor, the cost of new floors and the overall floor design project includes installing the flooring, removing old flooring, and cleaning all the work areas properly. These include: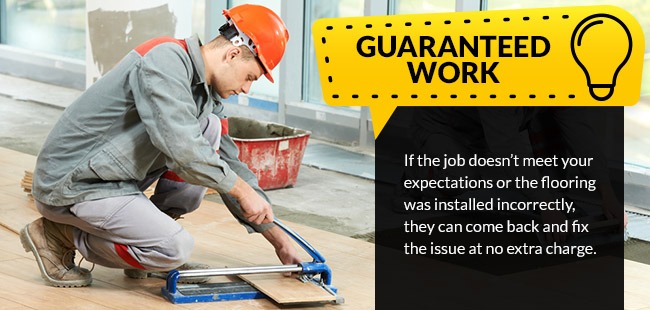 Efficient Installation

– Since flooring contractors do this type of work almost every day, they can complete a basic job within a day or two. You can schedule the installation at a time that works for you and know it will be complete within a certain timeframe.

Access to Range of Flooring Options

– Many contractors are familiar with quality floor products and where they're manufactured. They can make professional recommendations on the

right type of flooring for your specific needs

. They may be more knowledgeable about certain brands and types of flooring that would be suitable for the space you are renovating or installing new floors so you can make an informed decision.

Guaranteed Work –

Many flooring contractors provide a guarantee of their work and some type of warranty on materials and labor. If the job doesn't meet your expectations or the flooring was installed incorrectly, they can come back and fix the issue at no extra charge. This type of guarantee is especially valuable when you are doing a floor installation for an investment property or commercial spaces.

No Effort on Your Part

–

Contractors do all the work for you

. This means you can focus on your day-to-day while your home or office is transformed.

Flooring Removal

– Almost all professional installers will remove old flooring and clean up the area before they begin the installation of new flooring. This means you won't have to worry about tearing up old carpet, hiring someone else to remove existing flooring, or taking care of any cleaning duties related to the flooring removal. All of this can be included as part of the contractor's quote.

Provides All Tools and Supplies

– A professional contractor will come prepared with all the specialty tools, saws, and supplies he or she needs to get the job done. You won't be responsible for providing any tools and materials.

Checks Subflooring

– Many contractors include a clause in their contract that states they will check the sub flooring when the carpet or old floors are removed to check for water damage, mold, and other issues. If they detect a certain level of damage, they may recommend getting that fixed before they move forward with the installation. This is valuable information that you may not have access to otherwise.
Drawbacks of Professional Floor Installation
While working with a flooring contractor offers the benefit of convenience and guarantee of work, there are still some drawback to keep in mind. These include: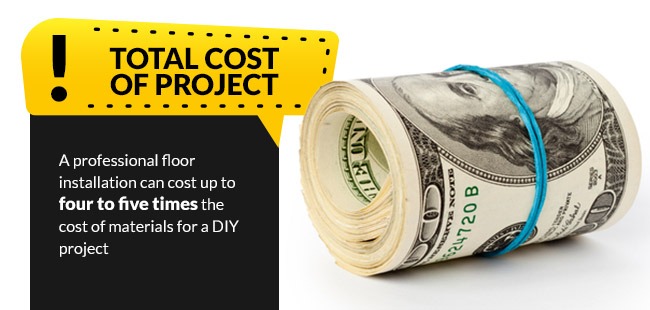 Total Cost of Project

–

A

professional floor installation can cost up to four to five times the cost of materials

for a DIY project. The cost of the actual flooring is only a fraction of the total cost of the project, so you need to consider with whom you are working and whether it's worth spending more on a professional installation.

Limited Availability

– If you want to work with a particular contractor, you may end up on a waitlist if they are too busy to take on the work. This might put your project on hold for a few weeks, which can delay your other renovation plans.

Sales Pressure

– Professional installers are only sent to your home after an initial conversation with a sales manager or project manager who confirms the type of flooring you need and when the project will begin. You may need to sit through a sales presentation to learn about different types of flooring and recommendations based on what your goals are. There can be some pressure to choose a product, sign a contract, and get the job started. If you aren't comfortable with that and prefer to shop for your own flooring products, you might not be able to work with certain flooring contractors.
Benefits of DIY Floor Installation
For many people, going the DIY route with a floor installation project usually comes down to budget. Since most of the cost of a professional installation comes down to labor, it might make sense to complete the project yourself. Here are some ways that a DIY floor installation makes more sense: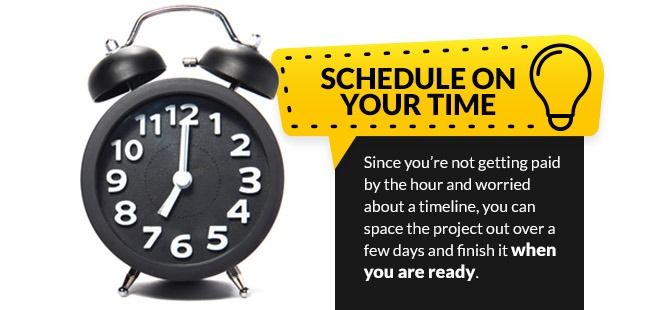 Saving Money

– Since you won't have to pay for the cost of labor, shipping materials, and other charges related to a professional installation, you can cut the cost of the project significantly by handling the labor yourself.

Schedule on Your Own Time

– You don't have to work around the schedule of a professional installer to get the job done. You can schedule the work on your own time and take your time doing it. Since you're not getting paid by the hour and worried about a timeline, you can space the project out over a few days and finish it when you are ready.

You Can Add Help Later

– If you're confident in your DIY skills, you can fix some common mistakes with the flooring installation project relatively easily and quickly. But it's possible that you'll hit a snag and need to hire a professional to come in and fix the mistake or re-do the job—but at least you tried!
Drawbacks of a DIY Floor Installation
While there are several benefits of installing flooring yourself, there are some drawbacks to keep in mind. Even though you might be saving a significant amount of money on the cost of labor and even materials, there may be some hidden costs associated with the project. Here are some reasons why a DIY floor installation might not be a good decision: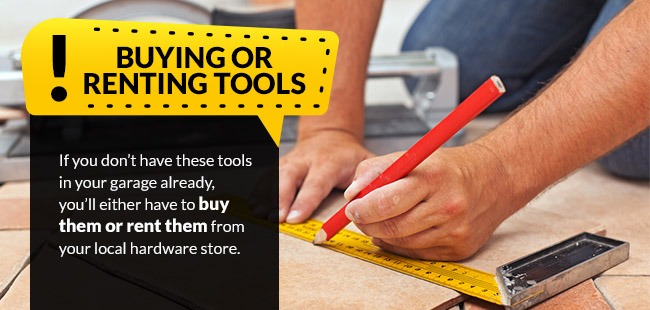 Can Take Longer Than Planned –

If this is your first flooring project or the first time you're working with a certain type of flooring, the entire project could take much longer than you had planned. Professional installers have been doing this type of work for months and years on end, so they are fairly efficient at what they do. What takes them 5 hours could end up taking you 10 or 15 hours because you're learning as you go.

Little Room for Error –

Unless you've installed different types of flooring before, you will make mistakes. Tile flooring and certain types of wood flooring can be trickier to install than others, and fixing mistakes isn't always easy. You should be prepared to fix mistakes quickly or risk ruining the entire project.

Removing Old Flooring –

Almost all flooring contractors will remove the old carpet, flooring, and underlayment and dispose of it properly for you as part of the project fee. When you have to do this yourself, you'll need to pack all that material on a truck and take it to the dumpster. You'll also have to take care of all cleanup duties to prepare the area for the new flooring.

Buying or Renting Tools and Equipment

– Some types of flooring require cutting and reshaping using specialty saws and tools. If you don't have these tools in your garage already, you'll either have to buy them or rent them from your local hardware store. If you've never used these tools before, you might need to find someone to show you how to use them properly and practice using the tools before you start cutting your floor planks and tile.
Installing new flooring in the home can be a major renovation or a smaller project to update a room or hallway. New flooring can transform the living space, however, its beauty is dependent on the installation being done correctly. It's important to always consider the pros and cons of starting a DIY installation project yourself. Remember to give yourself time and start small. And if anything goes wrong, with the floor installation there are contractors available to set you right and ensure your floor looks exactly the way you imagined.
---
---