Dos & Don'ts Of Creating Wood Floors & Carpet Cohesion

Wood floors, area rugs, and carpeting are not either/or options. Here are some design dos and don't to hold each flooring surface in harmony with each other.
***
Comfortable homes need a mixture of flooring that can stand up to high traffic and display personality. Today's designers, however, promote the trend of one vast group of wood or carpet for dramatic visual impact. It's a striking look, but in the real world, homes work best with combinations of flooring materials that work hard and look great.
Are you struggling to make flooring combinations work for you and your family? It's easier than you think. Read on to learn how to mix flooring materials.
Design dos and don'ts of wood floors
Wood floors are beautiful, durable, and easy to clean, although they have unique maintenance requirements. They add both elegance and authenticity to kitchens, dining rooms, and family living spaces. What they lack, however, is noise absorption and warmth. To get the most from hardwood floors:
Do:
Use wood floors as a design element to tie your rooms together.
Choose light flooring colors to open up tight spaces or darker woods to make large spaces more intimate.
Pair hardwood with area rugs to define functional spaces.
Don't:
Match wood floors and wood cabinets by choosing complementary hues.
Use wood in high-traffic areas if you have dogs or wear heels.
Design dos and don'ts of carpet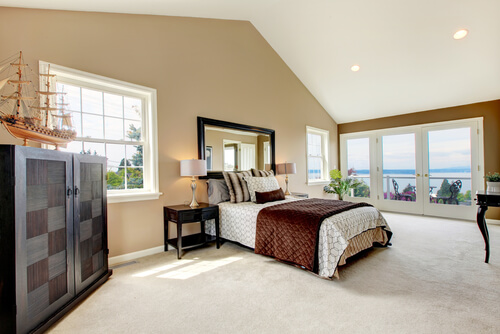 On the plus side, carpet will mute noise and is warm underfoot. On the other hand, it also absorbs dirt and odors, and it's difficult to keep clean.
Do:
Use carpet in bedrooms and living spaces where comfort and warmth are key.
Combine carpet with area rugs to anchor furniture groupings.
Emphasize style and decor with neutral colors and analogous textures.
Don't:
Install carpet in rooms where food preparation or dining takes place.
Use carpet to make a bold color statement.
Mix and match carpet styles in adjoining rooms or spaces.
Design dos and don'ts of area rugs
Image via Flickr by JoeInSouthernCA
Area rugs are perhaps the most versatile and high-impact element in flooring choices. They pair comfortably with wood, tile, and carpet, and serve three essential functions: They define spaces, enhance the decor, and protect flooring from dirt, wear, and tear.
Do:
Choose the right sized rugs. Most rooms, including bedrooms, living rooms, and dining rooms need at least an 8 x 10 foot rug. However, a 5 x 7 foot rug might work in a child's room or breakfast nook.
Mix patterns, proportions, and style when selecting rugs to coordinate with other floorings.
Incorporate an area rug with hardwood flooring in a kitchen or dining room.
Don't:
Put a tiny rug in a large space; match the size of the rug to the scale of the room.
Hide a beautiful design with a piece of furniture.
Be afraid to explore custom options such as carpet tiles and carpet remnants to create an area rug.
Today's most popular flooring options have always been allies; hardwood blends with wall-to-wall carpet and area rugs to create a beautiful and functional whole. Don't be afraid to combine colors, textures, and flooring materials when decorating your home.
---
---