The Best Flooring Options for a Tiny Bathroom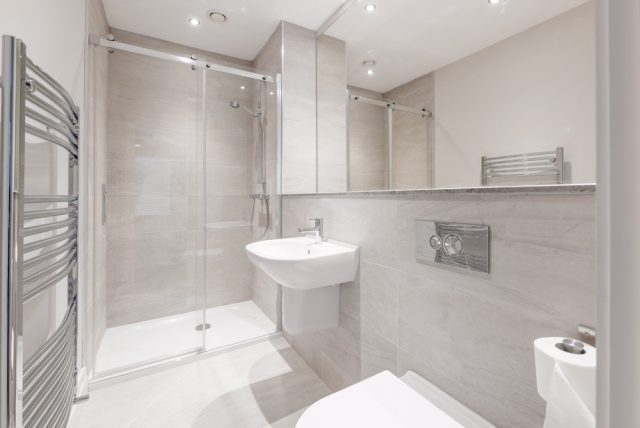 A tiny bathroom can be a big design challenge. You want it to look fabulous, but you've got to keep it fairly simple to avoid overwhelming the space. Small bathroom design starts with the floor, which sets the tone for the room. Here are some flooring options and design ideas for your tiny bathroom.
Our Top 3 Picks
The most important consideration for bathroom flooring is water resistance. Here are three water-resistant floors that look great in the bathroom.
1. Ceramic and Porcelain Tile
The classic bathroom flooring choice, ceramic tile is impervious to water and is easy to install, especially in a small bathroom. While you might think that smaller tiles are best for a tiny bathroom, large tiles actually create a sense of openness, which can make your bathroom seem bigger – or at least less cramped. If you prefer the look of smaller tiles, consider a retro look with one-inch hexagonal tiles, or try a colorful glass mosaic tile. While highly contrasting grout can be gorgeous in a larger room, it can overwhelm a small bathroom, so choose a neutral grout that blends with the tiles.
2. Natural Stones
Natural stone tiles, including marble, travertine, slate, and granite, give your bathroom a luxurious vibe, and you can find a stone tile for any decor. Think an ultra-modern bathroom with sleek slate floors or an opulent powder room with a chandelier and marble floors. The downside of natural stone is that it generally needs sealing every year, since it's rather porous. Natural stone is rather pricey, but since you're working with such a small space, it may just fit into your budget.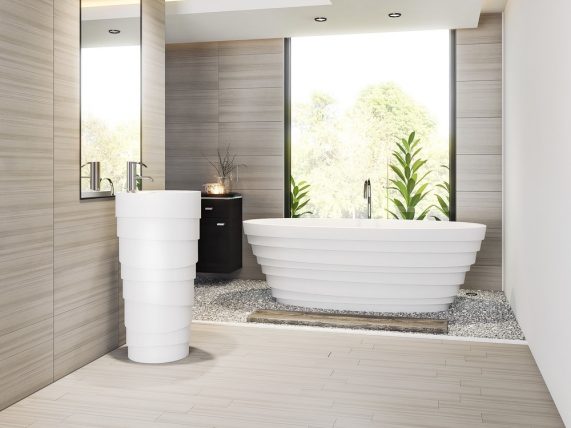 3. Luxury Vinyl Planks
If you want the look of hardwood but know better than to put solid hardwood floors in a wet space like the bathroom, consider high-end vinyl planks. Luxury vinyl planks are made with a strong, solid core. A vinyl sheet with a high-resolution photograph of wood or stone is glued to the core, and a final clear coat protects the vinyl against scratches and stains. Vinyl is 100 percent waterproof, making it ideal f2or the bathroom. Vinyl planks are installed as a floating floor and don't require glue or nails, making installation a breeze–especially in a tiny bathroom. Choose a narrow-plank look instead of opting for wide planks, which can overwhelm a small space.
Flooring Design Ideas for Your Small Bathroom
Just because your bathroom is small doesn't mean you can't get creative with your flooring. While you don't want to overwhelm the senses with too many colors, you can certainly play with layout and tile shape. Here are a couple of ways to add some clever funk to your small bathroom remodel.
Use Unconventional Tile Shapes
Squares and rectangles are just two of the many shapes of tile available for your small bathroom reno. Choosing unconventional shapes adds interest to your bathroom and can even become a major focal point. Give your bathroom a luxurious makeover withpenny glass or arabesque tiles. These 1×4-inch rectangular mosaic tiles create a striking look on the floor.
Try Rich Textures
Make your bathroom floor a show-stopper with highly textured tiles. These Iron porcelain tiles resemble rusted iron and work well with a rustic motif. Some marble look tiles have bold lines and eye-popping natural colors.
Tips for Installing the Floor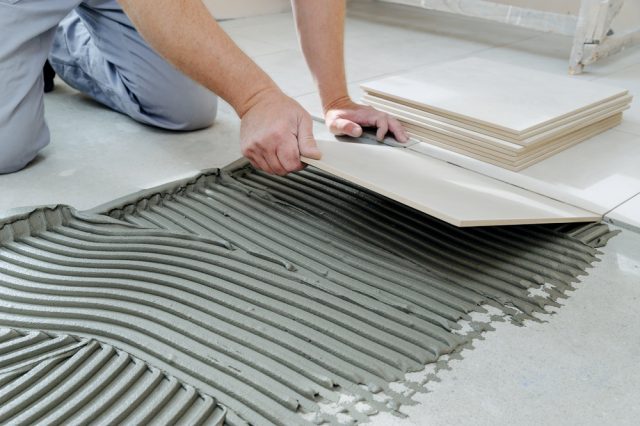 Here are some tips for making your bathroom flooring job a wild success.
Measure carefully. Accurate measurements are essential for deciding how much flooring to buy. Running out of flooring before the job is done is not only a headache, but it can also present serious design problems if your retailer happens to be out of the style you need.
Buy extra. It's imperative to calculate for waste, which can range from 15 to 20 percent. If your small bathroom has lots of corners, a diagonal layout, or other quirks that will require a lot of cutting, you'll want to err on the higher side for waste. Keep any leftover flooring in the event damage occurs and you need to replace a tile or plank.
Opt for simplicity. Too many colors and patterns in a small bathroom can make the room feel cluttered and even smaller than it is. Choose a single color for the floors and walls, which will make the room feel more spacious. If you want more variety, choose two or more colors in soft hues that are a few shades darker or lighter than one another.
Go diagonal. Installing your bathroom floor in a diagonal direction is a neat trick that can make the room seem larger, since it tricks the eye to note the length and width at the same time, conveying motion and fluidity. However, diagonal patterns require more planning and precise measuring and cutting. Use graph paper to design the layout, and mark the floor accordingly.
Choose matte finishes. Glossy tiles and polished stone give larger bathrooms an air of luxury, but they can be too much for a small bathroom. Opt for matte finishes on the walls and floor to prevent glare and give the room a more spacious vibe.
Consider heated floors. Heating cables laid beneath your bathroom flooring will keep your small bathroom toasty warm in the winter. Since the room is tiny, heating the floors is an affordable luxury you'll be happy you chose.
When it comes to bathroom flooring, your options are truly limitless. What you choose ultimately boils down to your personal design aesthetic. Choose a flooring you love, and chances are, you'll be happy with it.
---
---