About Handscraped Laminate Flooring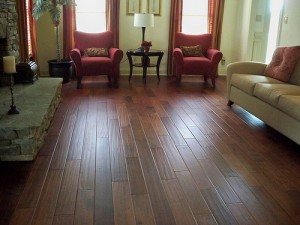 Handscraped laminate flooring is a curiously named product.  It's actually something of a misnomer, in that it's not really done by hand. Scraped laminate flooring is more accurately described as 'extruded', as that's how it's made.  But, this is really just about semantics.  What you as the consumer are looking for when it comes to handscraped laminate flooring is the effect it delivers.
That effect is what the designers of this style of floor hand in mind; a product that looks like it's been made by hand. Scraped laminate flooring, even if it's created by way of a process of extrusion, looks just like the artisan-crafted solid hardwood product.  And this is another advantage to buying a handscraped laminate flooring product; the look of a solid wood floor, with the convenience that laminate offers the do-it-yourselfer.
But, let's get back to the effect, which is the real point of the handscraped laminate floor.  What you're getting is a contoured surface that adds visual punch to any space.  It adds a refinement of a surface that, even if it's manufactured on a line, looks as though it's been individually treated by hand. These floors have risen in popularity as a result of this refinement, which is available to consumers who require a floating floor, or a below-grade installation.  With a handscraped laminate floor, you add a surface that in turn adds subtle visual flair.
Handscraped laminate flooring opens the possibilities for homeowners looking for the aesthetic of a floor treated by hand. This range of flooring, even if it's not technically "scraped", offers convenience, affordability, and versatility, too. Ask your chosen vendor about things like thickness, AC rating, core, warranty information, too.  The rules of regular laminate floors apply, and having important conversations about your space with your vendor is a great place to start when looking to buy it.  But, stylistically, this subset of floor is a great interior design strategy which can transform any space.
Happy installing!

---
---