Choosing the Right Flooring Type for Every Room in the House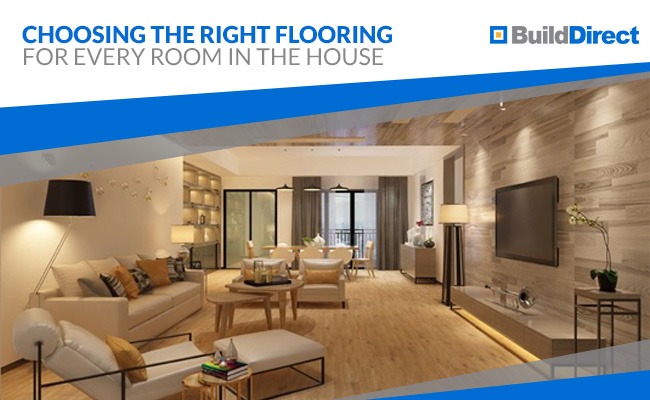 Like a fresh coat of paint, new flooring has the potential to completely revive and reinvigorate a space. Since we quite literally walk all over it, the occasional flooring replacement is necessary to keep our homes looking great, especially if we're dealing with new construction or are renovating an out-of-date space. A fresh floor design helps make an already delightful room even more warm, welcoming, and all-around practical, and taking the time to select the right one can really go a long way.
If you're getting ready to hop head-first into an all-new flooring project, it's important to consider both the fashion and function aspects of each flooring candidate. Of course, your floors should be beautiful—that's a given!—but they should also serve you over the long term and perform well when faced with the particular demands of the room or your household. Know that not all flooring is created equal, and certain flooring types bring unique benefits that may make them better suited to different spaces.
When selecting flooring for a particular room based on function, ask yourself the following questions:
How often do I have to clean it?

Will the room have any big, heavy furniture?
Once you've decided which type of floor will best serve your space based on the answers to the above questions, you're ready to start focusing on the floor design. Luckily, flooring comes in all sorts of colors, finishes, textures, and patterns, with some flooring types available in more variants than others. Naturally, your aesthetic preferences will come into play when you're making your final decision.
Living Room: Relaxed and Durable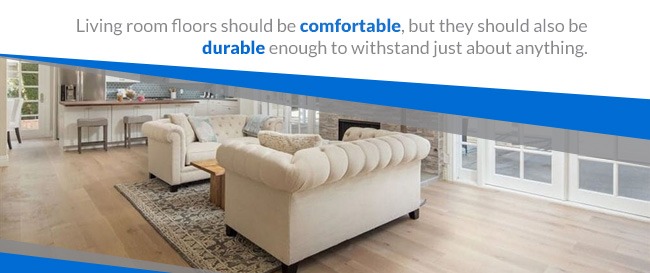 Whether you call it a living room, a family room, or an everything room, this is the place where everyone wants to hang out. It's the central hub of the home, where family and friends come together to enjoy one another and relax. In many houses, the living room serves as the "anything goes" room, where movies are watched, games are played, homework is done and—admittedly—dinner is occasionally eaten.
So, what does this mean when it comes to choosing a flooring type? First and foremost, living room floors should be comfortable, but they should also be durable enough to withstand just about anything.

Hardwood (plus Area Rugs)
How could hardwood beat out carpet in the living room, you ask? While both are fantastic choices, hardwood flooring is the best flooring type for the living room due to its durability, easy-cleaning appeal and longevity. The truth is that, in busy rooms like the living room, no flooring will look like-new forever, but hardwood will outlive carpeting by decades, due to the fact that it can be refinished. Plus, it will undoubtedly add to your home's resale value. To protect hardwood, add comfort, and coordinate with your personal décor style, you'll want to top your floors with plush rugs.

Carpet
Carpet is certainly not a bad choice, either, especially if you're looking for lower up-front costs. This kind of flooring makes a room especially relaxed and cozy and can coordinate with almost any décor. It's also great for dampening sound or concealing beat-up hardwood that can't be restored or easily removed. Carpet is also more affordable and straightforward when it comes to flooring installation, so labor costs will be lower. Just make sure you select an option that has been treated with a stain- and spill-proof finish to accommodate the occasional accident.
Kitchen: Water-Resistant and Easy-to-Clean
The kitchen is everybody's favorite room, and for good reason. It's where we convene at the end of busy days, to celebrate special milestones, and to connect with our loved ones through food. It's also the room in the home that takes the hardest beating—the overflowing dishwasher, the accidental grease fire, the flour and frosting all over everything after a marathon of baking holiday cookies … it all goes down in the kitchen. No room in your home bears the brunt quite like this room, so your flooring selection is especially important.

Porcelain Tile
In the debate about best kitchen flooring, porcelain tile still takes the crown. Though it tends to be more expensive than ceramic, porcelain has features that make it well-suited to handling dirt- and moisture-prone kitchens. It's stronger and more resistant to staining and moisture, so you can expect it to last longer than ceramic tile. All types of tile are great for the kitchen—they're low-maintenance and easy to clean. Tile also comes in a broader range of colors, patterns, and textures than other types of flooring.

Engineered Hardwood
In the flooring world, engineered hardwood floors have gained some serious steam in the past decade or so. Unlike solid hardwood, engineered hardwood is made with various layers and typically features a highly stable, water-resistant core that makes it more durable against water damage and prevents the wood from expanding or contracting when exposed to moisture or humidity. Engineered wood floors still have a top layer of 100-percent wood, so they can be refinished a few times over their lifetime. Note that solid hardwood is able to be refinished more times than engineered hardwood.
Bathroom: Majorly Moisture-Resistant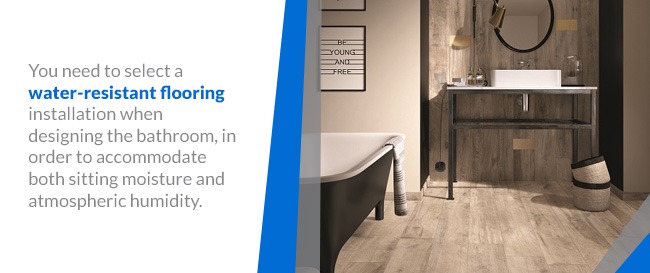 The primary consideration regarding bathroom flooring is moisture. Obviously, you need to select a water-resistant flooring installation when designing this room, in order to accommodate both sitting moisture and atmospheric humidity. We can safely conclude that this rules out solid hardwood and carpet in the bathroom. Note that you should never allow water to puddle with any floor type, as prolonged water exposure can permanently compromise most materials, especially solid wood. With that being said, there are flooring options that handle wetness much better than others.

Waterproof Vinyl Planks
If you've ever dreamed of having hardwood in the bathroom but understand what a bad idea that is, you'll LOVE vinyl plank flooring! This ultra-durable vinyl flooring is attractive, versatile and especially water-resistant. It's also a popular pick due to the fact that it looks a whole lot like real wood, so it goes with just about design motif or color scheme. DIY-ers love vinyl planks because they're very easy to install and feature user-friendly, innovative locking systems.

Ceramic Tile
Ceramic tile isn't altogether out! In fact, it may be the perfect choice for your bathroom design. Ceramic differs from porcelain in that it's made with a clay base mixed with minerals, whereas porcelain contains a mix of clay, sand, and feldspar, which adds strength. Still, ceramic bathroom tiles are relatively impervious as well—some may also offer an absorption rating of as low as 0.5 percent, depending on the specific tile—but they are generally not as strong or as stain-resistant as porcelain. For these reasons, ceramic is more affordable up front.
Entryway: Welcoming and Durable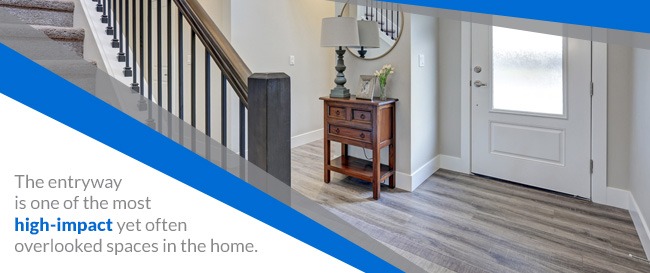 You know what they say—"first impressions are everything"—so why not make a big one when people walk into your home? The entryway is one of the most high-impact yet often overlooked spaces in the home, and it deserves all the love for saying "Come on in!" Whether a grand foyer showcasing elaborate Italian marble or a practical mudroom that can handle dirt-tracking pets and kids, the right flooring is crucial in the entryway. The culprit here is dirt, but even that's no match for certain types of flooring.

Porcelain or Ceramic Tile
It's the durability and easy-cleaning appeal of clay-based tile flooring that make it a popular option in modern entryways. Because this is the area of your home that sees the most dirt and gunk, it acts as a sort of receptacle so that dirt, mud, moisture, and salt don't get tracked throughout the rest of the house. Ceramic and porcelain are both ultra-dense tiles, so they can be thoroughly wet-cleaned on the regular. They also come in many attractive styles, including patterns that look a lot like natural wood, allowing them to set the stage for the rest of your home.

Luxury Vinyl
Luxury vinyl flooring, including luxury vinyl tile (LVT) and luxury vinyl planks (LVP), is another great choice for the foyer. Though it's made of durable, easy-to-clean vinyl, this type of material can be engineered to look like natural wood, stone, and various other materials. It's appropriate for the entryway because it's extremely water-resistant and easy to clean. Luxury vinyl makes a great DIY flooring installation, as well, and is relatively straightforward to install. It's also generally one of the more affordable choices, so it will appeal to the budget-minded renovator.
Bedroom: Comfortable and Low-Maintenance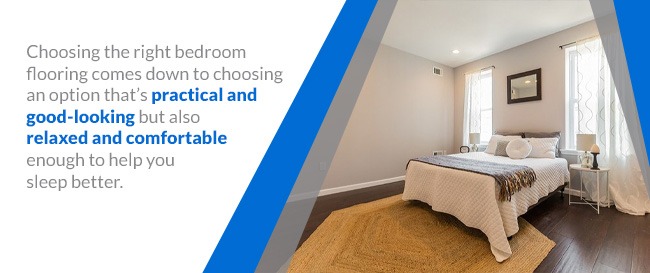 Your bedroom is your sanctuary—the place where you go to enjoy peace and quiet away from the hustle and bustle of the rest of the house. It also serves the primary function of helping you sleep, and everything in it should honor that purpose.
Choosing the right bedroom flooring comes down to choosing an option that's practical and good-looking but also relaxed and comfortable enough to help you sleep better. It's also a great idea to look at low-maintenance flooring options in the bedroom. We all know the bedroom tends to get deep-cleaned far less often than the rooms mentioned above.

Hardwood
As a general rule, hardwood beats out all other flooring types in any room where moisture is not a concern. The truth is that hardwood lasts, plain and simple. In fact, it's not unusual to see 150-year-old-plus hardwood floors in historic homes, with many in pretty incredible shape. Hardwood flooring is an investment in your home that can bring big returns now in the form of beauty and enjoyment and in the future in terms of higher resale values. Few things are quite as luxurious as hardwood in the bedroom, especially when paired with plush area rugs.

Carpet
Carpet is also an excellent choice for the bedroom (especially for kids); it helps you achieve total silence, thanks to its sound-absorbing qualities. It's also, by and large, the most comfortable and relaxed type of flooring out there, so it will help you sink into a state of serenity when you're winding down at the end of the day.
It also comes in a massive array of solid colors, patterns, and textures, so it'll suit your specific design scheme. The primary drawback of carpet in the bedroom is that it can trap dust and allergens, so regular vacuuming is vital, especially for those of us who suffer from allergies.
Other Flooring Types to Consider
As you can see, there are undoubtedly a few flooring types that beat out the rest. Solid and engineered hardwood, ceramic and porcelain tile, carpeting, and vinyl remain the undisputed flooring heavyweights. In fact, they're crushing the competition in terms of style, durability, and longevity. With that being said, there are absolutely benefits to less popular flooring types, such as bamboo, cork, and laminate. Bamboo, of course, is one of the most eco-friendly flooring options out there, while cork is hypoallergenic and a natural insulator.
The above selections are the gold medal winners, but they're by no means the end-all-be-all of flooring, and all options should be considered by the homeowner.
No Matter the Room, Maintenance Is Key
The flooring material can only provide durability and strength to a certain degree. It's up to you to maintain it so that it stays in great shape for the long-run. Protect your floors at entryways and in high-traffic areas with mats or rugs, and ask everyone to remove their shoes before walking on the floor. Be sure that you're only using floor cleaners and care products made specifically for your flooring type, and stick to a regular maintenance schedule to get the longest life out of your floors.
BuildDirect is always on hand to help you select the right floors and protect your investment for decades to come.
---
---