Bamboo Kitchen Floor Tips
Bamboo is a beautiful choice for flooring that also has sustainable, eco-friendly properties. Whether it's your main living space or other areas of your home, bamboo flooring is an excellent way to give a room an upgrade. Since it has many excellent properties, it's easy to see why so many homeowners are choosing a bamboo kitchen floor. If you currently have a bamboo kitchen floor or you're considering getting it, read on for some helpful tips and information to help you get started on your quest.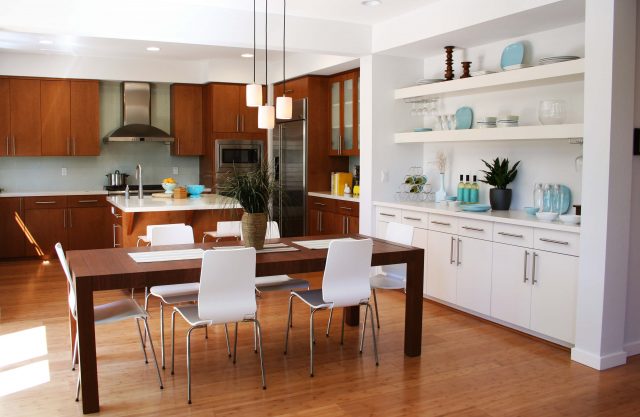 Bamboo: A Durable Material for a Kitchen
Bamboo flooring comes in various formats including solid, engineered, and strand woven. Since this natural material is extremely hardy, it makes a perfect choice for kitchens. Even with fluctuations in temperature, moisture levels, and humidity, bamboo can withstand these changes without any damage. Kitchens are especially vulnerable to moisture due to things like spills, humidity from cooking, and potential plumbing leaks. Unlike some other forms of flooring, bamboo won't warp or buckle if you clean up spills quickly. If you want something extremely durable for your cooking space, consider engineered bamboo flooring. This material has a waterproof layer on the bottom of the planks to protect your subfloor.
How Susceptible is Bamboo to Water?
Any type of flooring can undergo damage if it's exposed to water, particularly if the water sits on the surface for a long period of time. However, bamboo is much more durable and able to handle water than hardwood floors, which tend to absorb moisture and expand. In general, a bamboo kitchen floor can resist water for about 30 hours. As long as you address and clean up the spill within this timeframe, your floors should be unaffected. Some bamboo flooring styles are more resilient than others.
Do your research and learn more about each type and manufacturer so you know which bamboo will suit your needs best. Strand woven bamboo has approximately 20 hours of water protection. Never allow moisture to sit on top of your bamboo floors, and they should last for many years.
Is Bamboo Difficult to Clean?
The kitchen is without a doubt one of the messiest places in your home. From spilled food and water to lots of foot traffic, you want to make sure that your bamboo kitchen floor is easy to keep clean. To remove crumbs and dirt, use a vacuum cleaner without a beater bar, as this could scratch the floors. A broom and dustpan make cleaning up small debris a cinch without worrying about causing any damage. For deep cleaning, use a mop with a soft microfiber head.
Make sure any commercial cleaning products you use on your bamboo kitchen floor are pH neutral. This will preserve your floor finish, as anything that's too acidic can eat away the surface and create unsightly spots. Always read the ingredients and directions on any floor cleaning products before you buy them or use them on your bamboo. For quick spot cleaning, a simple spritz of water and a paper towel or soft cloth should suffice.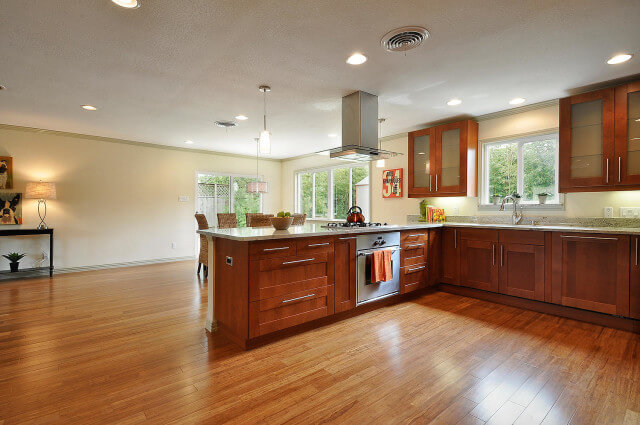 Decide on a Style of Bamboo
Bamboo flooring is available in three basic styles: solid, engineered, and strand woven. Each one has its own unique properties, price points, and advantages. It's important to understand the differences between these bamboo styles before you make a decision. Once you know more about them, it's much easier to determine which one will work best for your budget, your home, and your lifestyle. Let's take a closer look at these bamboo floor styles:
Solid
This type of bamboo has the most natural look of all the different styles. Solid bamboo is more labor-intensive when it comes to installation, but it also has a beautiful aesthetic. The material can be sanded down and refinished if you want to give it a new look or remove stubborn dents or stains. Since this material is glued or nailed to the subfloor, you should be especially vigilant about cleaning up spills to avoid any issues due to moisture exposure.
Engineered
When it comes to affordability, engineered bamboo flooring is an excellent choice. This material is manufactured by applying a very thin later of natural bamboo over an engineered backing material. The result is a bamboo look without the high price tag, and it performs well in kitchen areas. Engineered bamboo is very moisture resistant, however, it cannot be sanded or re-stained. With proper care, engineered bamboo should last for many years.
Strand Woven
This flooring is made from weaving bamboo fibers together at a 90-degree angle. The result is a flooring material that has exceptional strength and durability. Similar to solid bamboo flooring, strand woven styles can be sanded and refinished if you desire. Since it's a highly durable option, it's perfect for busy kitchens and busy households. This bamboo is twice as strong as oak and is also the most environmentally friendly of all three styles.
There are Many Tones and Colors to Choose From
When you shop for a new bamboo kitchen floor, you may wonder about the availability of colors and tones. Bamboo floors typically come in colors similar to those you'll find in hardwood or wood-look laminate. Everything from warm walnut to rich cherry is available so you can create the kitchen of your dreams. You'll even find bamboo floors in modern, trendy colorways like gray that can enhance a rustic or farmhouse-inspired kitchen.
Browse the many options that are available to help you find the perfect tone for your home. Whatever color you choose, make sure that it coordinates with the other flooring in your home. Compare and contrast the different finishes so that you can install the bamboo kitchen floor that fits your personal style and décor goals.
Whether it's solid or strand woven, bamboo is an excellent option for kitchen floors. This extremely durable material is a great way to spruce up your kitchen while choosing floors that are good for our environment. Maintain your bamboo floors and they should provide you with a beautiful kitchen for many years to come.
---
---