Deck Tiles: Where And Why You Should Be Using Them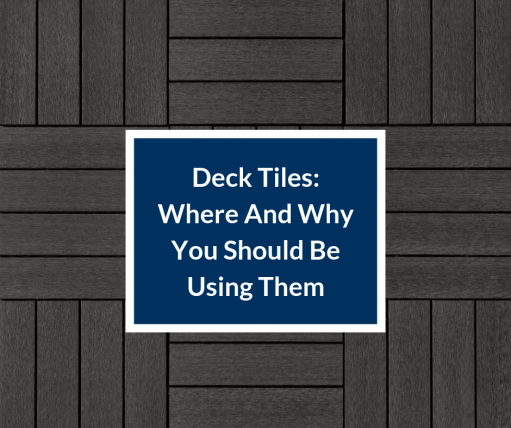 Deck Tiles are inexpensive, easy to install, and require no major work! You'll be surprised at how many ways you can use them too! Here's the lowdown on deck tiles:
What are deck tiles?
If you are not familiar with deck tiles, it's time you were! Deck tiles are an easy way to switch up not only your deck, but many other surfaces as well. Deck tiles are offered in wood, composite, porcelain, stone, rubber, and plastic varieties, now one of the more popular choices in home renovations.
They are typically mounted on plastic footings to ensure good drainage, and are designed to be installed easily on a flat, clean, and dry surface. They are an inexpensive option that truly gives the look, performance, and durability of the expensive alternatives!
Why use deck tiles?
The interlocking deck tiles are incredibly easy and quick to install, even by beginners – no staining or finishing required! As easy as they are to install, they are even easier to maintain, as they need no major maintenance, and cleaning requires no separate products.
Deck tiles come in a variety of finishes, colors and patterns so you can get any look you want, and you should also use them on more than just your deck! Use basic tiles to create a traditional looking wood or stone surface, or mix up the colors and patterns to get a truly unique look that everyone will be talking about. Get tired of them, want to just change a section, or you love them but you're moving? Pull them up – it's as easy as installing them.
Where to use deck tiles?
You won't believe the versatility of deck tiles. The name is deceiving because deck tiles are meant for so much more than decks!
Deck tiles are most commonly used for decks and patios, but that's not where their uses end! Some other options are wherever else you may currently have a floor that needs to be re-done such as a shed, or a gazebo.
You can even install them where you would like flooring such as children's playhouses,  also to be used as roofing for these structures as well. garden walkways and around pool edges.
Deck tiles inside
Yes – believe it or not, some of the best uses for deck tiles are INSIDE the home!
If you have a sunroom or mudroom attached to your outdoor patio, use deck tiles to keep the indoor/outdoor flow between the spaces – you should use the same, or a similar type or pattern of tiles for the look.
Deck tiles are also fabulous to put in attics and basements to make the floor more stable and easy to maintain.
Kitchen and bathroom floors can be done in deck tiles – especially if you are unsure of the surface you want, or think you may wish to change it soon – remember these are inexpensive and easy to put down, and take up – which make them the ideal choice in these situations.
Where do/will you use deck tiles?
As you have seen deck tiles make an excellent choice for almost anywhere inside – or outside – your home! Have you installed deck tiles, or plan to? Where have you put yours down?
---
---