Herringbone Laminate Flooring: Easy, Opulent, and Inexpensive
Options for flooring are truly endless, and choosing the right flooring for your rooms isn't an easy task. If you love the look of herringbone floors, you can achieve it with a variety of materials, including wood, vinyl planks, and tile. Hardwood herringbone floors are the most traditional type, but they are very expensive to buy and labor-intensive install. Laminate herringbone floors are less expensive and easier to install, making them an ideal home improvement project for more experience DIYers.
The History of the Herringbone Pattern
The storied herringbone pattern originated with the Romans, who laid bricks in this pattern to create strong, stable roads. The pattern wasn't used in flooring until the 16th century, when it enjoyed immense popularity until the later half of the 18th century. Generally adored for its grandeur and opulence, herringbone wood floors were typically reserved for the wealthy and noble, installed in castles, palaces, official residences, and stately homes across Europe.
Although herringbone purists insist the pattern has no place in modern structures, most designers beg to differ. In fact, herringbone can transform any room, adding another layer of texture and movement to the space. However, you don't want to go overboard and give every room in your house a herringbone pattern. Save it for a special room or a grand entryway.
Benefits of Laminate vs. Hardwood for a Herringbone Pattern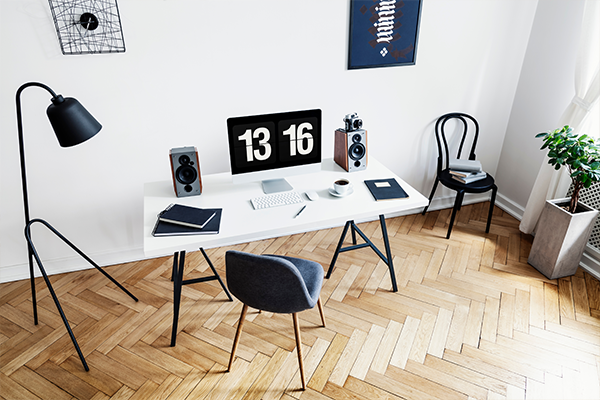 Laminate wood flooring isn't wood at all. It's a thin fiberboard planks printed with an image of wood and covered with a transparent wear layer. Unlike traditional hardwood floor planks, which are generally 3/4-inch thick, laminate planks are typically 5/16- to 1/2-inch thick. You can, however, get 12mm laminate, which is more durable and comfortable than thinner planks. Laminate wood flooring comes in a huge variety of colors and "wood" species, including exotic woods.
Installing laminate flooring is a fairly simple DIY project, since boards snap together easily and typically don't require nails or glue. Solid hardwood typically requires professional installation, especially for something as elaborate as a herringbone pattern. While laminate flooring is always installed as a floating floor that doesn't need to be secured to a subsurface, solid hardwood requires nailing, stapling, or gluing the planks down.
Laminate flooring is typically laid over a plywood subfloor, but its design allows it to be installed over existing flooring. Unlike solid hardwood and most engineered hardwood floors, some laminate floors can be installed below grade or in high-moisture locations like laundry rooms.
The lifespan of laminate flooring is around 10 years, after which it usually needs to be replaced. Solid hardwood flooring can be repeatedly refinished and will therefore last for generations. However, for those on a tight budget, solid hardwood flooring can be cost-prohibitive, while laminate is much less expensive.
Laminate herringbone floors are super easy to maintain. They're moisture-, scratch- and dent-resistant, and they're easy to install. They're ideal for high-traffic areas and households with lots of kids or pets, and they can easily be installed over radiant heating systems.
How to Lay Laminate Flooring in a Herringbone Pattern
The size of your herringbone pattern should depend partly on your personal aesthetic and partly on the size of the room. Larger rooms can sustain a larger, more sprawling herringbone pattern, while smaller rooms look better with a smaller, more compact pattern.
Laying a herringbone floor can be tricky. A fairly experienced DIYer can pull it off with patience and careful attention to detail. Just a fraction of an inch in deviation in one plank can make a mess of the whole floor. Here's how it's done, in a nutshell.
Put down the underlayment.
Laminate flooring requires a thin underlayment. This evens out irregularities on the installation surface and provides a soft cushion for the laminate. Most installers use 1/8-inch thick foam, but other options include thicker padding. It reduces the loud, hollow clicking of shoes on the floors and makes it sound more like real wood.
Find the center of the room and establish the field and border.
Use a tape measure to find the center of the room, and snap a chalk line all the way across the room at the center point. Lay out the rectangular field that the herringbone pattern will occupy. If you're going to include a border, establish it with a chalk line.
Create a nailing blank.
The nailing blank is a template you'll use to make sure your planks line up perfectly. Cut a right triangle from a piece of 1/2-inch plywood, with the short sides of the triangle equal to the length of your planks. Draw a centerline down the middle of the nailing blank, and position the blank on the center chalk line. Screw it down.
Lay the floor.
Position the first plank against one side of the nailing blank. Place the second plank against the other side of the blank so that it overlaps the end of the first plank. Use a mallet and board to tap the planks tightly together. Continue laying two planks at a time to form the herringbone pattern across the room. When you reach the end of the first row, unscrew the nailing blank. Move it to the opposite border so that the long side now faces the side of the room where you began.
Continue laying planks, using the nailing blank to stay perfectly even with the existing courses. Continue moving the nailing blank and installing rows. When you're done laying the entire floor, there will be empty spaces where the nailing blank was. Fill them in, then trim each side of the floor with a circular saw so that it's flush against the border line. Install the border, and voila! Enjoy your beautiful new herringbone floor.
The Benefit of Herringbone Laminate Floors
A herringbone laminate floor will add depth and interest to your home. It's easier and less expensive to install than a solid hardwood or engineered hardwood herringbone floor. Laminate is the ideal choice for homeowners who love sumptuous architectural details but who don't have a huge budget to work with. You can also get waterproof laminate flooring, which is great for the kitchen or foyer. Laminate flooring makes it possible to create a beautiful and durable herringbone floor for a fraction of the cost of solid wood.
---
---