Commercial vs. Residential Flooring and the Versatility of Choices We Offer
Updating your flooring should be fast, easy, and simple. Unfortunately, it's often none of those things when you go to a big box store for your home improvement needs.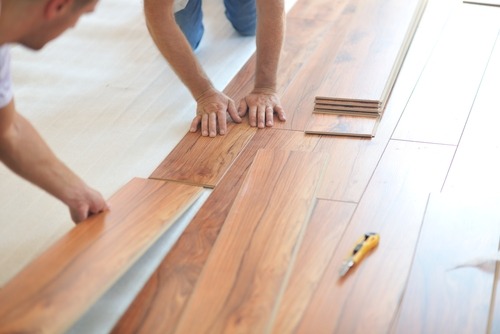 At BuildDirect, we know that choosing the right flooring can be a daunting task. We've simplified the process for homeowners and business owners alike by giving them access to a huge inventory of supplies. By obtaining products straight from manufacturers, we have the ability to offer customers the best residential and commercial flooring products at a price that fits any renovation budget.
What else can our flooring do for your commercial or residential application? 
A Glimpse at the Incredible Versatility of our Commercial and Residential Flooring
Durable, High-Performance Flooring
Whether you're looking for vinyl, laminate, solid hardwood, porcelain, or ceramic tile for your home or business, you can always count on BuildDirect for high-performance and durable flooring products. We stand behind our quality products with a 30-day money back guarantee—if you don't love it, send it back for a full refund on your order.
Our flooring products are designed to withstand the wear and tear of everyday living. Whether you need high-performance vinyl plank flooring for your business that can withstand the rainy season or unglazed porcelain tile for your backyard patio, you can rest assured that your flooring from BuildDirect is premium quality.
While not all flooring will be a good fit for your home or business, we offer floor designs with the following attributes that are ideal for both residential and commercial applications:

Floor Designs to Suit Your Style
Your flooring will set the tone for your business or living space. Why limit yourself to a poor selection of products offered by big box stores?
At BuildDirect, we offer an infinite selection of floor designs so you can find the ideal flooring that suits your style and specific needs. Want to bring warmth and tradition to your home? Our solid hardwood and engineered hardwood flooring will feel comfortable underfoot and add charm to any space.
Are you an eco-conscious business owner who prefers to use "green" building materials? We carry a wide selection of cork, bamboo, and eco-friendly hardwoods.
With innovative floor designs being introduced all the time, there is an endless number of flooring styles to choose from. If you're struggling to choose the best option for your space, you can't go wrong with a timeless and versatile dark wood floor.

At BuildDirect, We've Got Your Back
Committing to a brand-new flooring installation is a big decision. For homeowners, it's an investment in their home that will hopefully get them a decent return on investment. And, for business owners, flooring can dramatically impact their bottom line, for better or worse.
You want to be sure that you're making the best decision possible with your flooring. However at BuildDirect, we not only help you choose the right flooring for your specific application, we're also there for you with helpful tips and guides to make your DIY flooring installation easier.
If you need any assistance with your flooring selection or have specific questions, reach out to the flooring experts at BuildDirect. We've got you covered, from start to finish.
---
---