Caring for Composite Decking in Winter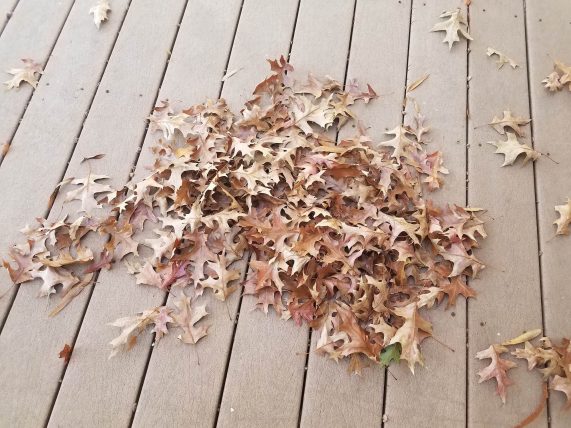 Outdoor spaces have a way of making any home feel larger while providing an inviting area for family and friends to gather. When you live in climates that experience extreme heat or extremely cold temperatures, finding the ideal decking material can be a challenge. When you're challenged by a cold and wet climate, reach for beautiful and incredibly durable composite decking. Preserving your outdoor spaces for many years to come is all about properly caring for composite decking in winter.
What is Composite Decking?
Traditionally, decks are crafted of wood planks. Unfortunately, wood planks are susceptible to rotting, warping and splitting, especially in extreme temperatures. Composite decking offers the look of wood but provides the durability needed to make it suitable in extreme climates. Composite decking is a man-made material that combines wood and plastic to create longer-lasting panels that are easy to care for.
The process of creating the planks involves mixing all the products together, which results in one consistent color throughout the lumber. The consistent coloration throughout makes any scratches minimal in appearance because the same color is below the surface of the board as well. The plastic component can contain one of three different plastics. Understanding the differences can help you choose the right composite decking material for your space.
Polyethylene: This material is by far the most commonly used in composite decking because it is the material used to create soda and water bottles. It does have a tendency to expand and contract slightly in hot and cold temperatures, which may cause the composite decking in winter to get loose or shift slightly.
Polypropylene:  This material has grown in popularity when it comes to the manufacturing of composite wood because it is more tolerant of extreme temperatures. Because it is less likely to expand and contract, it is the ideal choice for composite decking used in climates that experience extreme summers or winters.
Polyvinyl Chloride: Most often referred to as PVC, this is the least desirable component of the three plastic materials. When this material is used for decking it is not used in conjunction with wood or wood powder. PVC decking is crafted of only plastic, making it too susceptible for breaking in extreme temperatures.
Keeping Your Composite Decking Protected from Snow and Ice
Even with the addition of plastic, composite decking should be properly cared for in the winter months to keep it looking great for many years to come. When a light snowfall and layer of ice are possible, take the time to sweep away any fallen leaves, dirt, or debris in advance of the snow. This will help to prevent the wet debris from leaving stains behind mud, grime, and stains.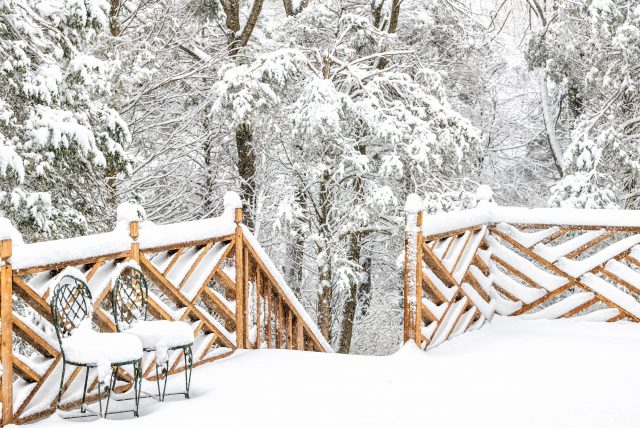 Getting Ready for A Winter Storm
When a storm is on the way, a little prep will save from repairs after the event. Start by clipping and trimming any branches that hang over the deck to prevent them from scratching up against boards or falling onto the deck and leaving a dent. Even strong branches above a deck are an opportunity to form icicles that can fall and break on the deck.
With the space surrounding the deck cleared, pack up or cover up all the outdoor furniture and remove light items that may blow away in the storm. If possible, move deck or patio furniture to the garage or a storage shed. Give the whole deck a good sweep to rid the area of any debris.
Using the Right Tools to Clear Away Snow
After the snowfall is over or the storm has passed, you'll likely have a layer of snow and possibly ice on the deck and railings. Before you reach for your shovel and start plowing away the snow, consider the potential damage that shovel gauges could cause when you reach that final layer. The plastic component of composite decking protects it against the moisture of the snow, so you don't have to worry about warping from moisture exposure.
Save the shovel for the driveway and reach for a soft broom instead. Sweep away any light snow. If you hit a layer of dense snow or ice underneath, use a calcium chloride ice melt product to get rid of anything the broom didn't clear. Should the de-icer leave a white residue on the boards, use a mild soap and water to rinse the residue away and make your composite decking look like new again. If you absolutely must use a shovel, make sure to use a plastic shovel with the flex needed to avoid scratching the decking.
Inspecting Composite Decking for Damage
Even with all the proper preparations, there is a chance that some damage occurred during the storm. With the deck cleared, take a moment to perform a quick inspection of the material. Keep your eyes open for any cracks, areas the composite is peeling, or loose screw boards that may need refastened to the joists below. If you do notice any damage, take the time between storms to make a quick repair to prevent the situation from getting worse with subsequent storms. A few simple touchup materials can help you mend any small scratches or chips that do occur.
Composite wood isn't just a popular choice for decking, it is also used to craft strong and incredibly durable outdoor furniture as well. Whether you are refurbishing an existing deck or building a new deck, choosing composite decking is a great way to get the traditional look you want while keeping the outdoor space low maintenance.

---
---